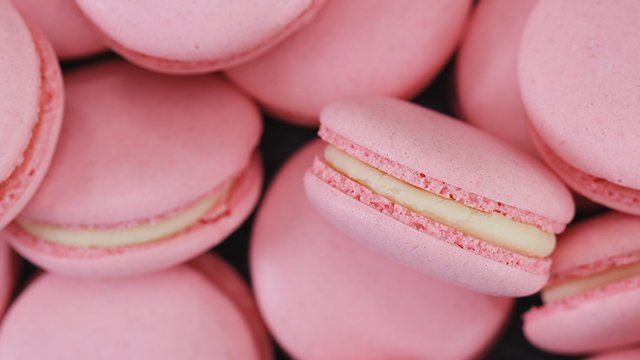 Macarons have been a favorite ever since it made its first appearance in the early 2000s. Almost a decade later and its fame has weathered the fad, it's still as delicious as when you first had a bite. 
Georgia Chu of Empire Macaron shares how she makes these gorgeously-hued macarons with white chocolate ganache filling, just in time for Valentine's Day or any other special occasion. 
Macarons
 
Takes 70 minutes
Makes 70-75 rounds or 35-36 paired macarons
 
For Shells: 
200 grams almond flour
200 grams confectioner's sugar
150 grams egg whites, divided into 2 75-gram halves
1/4 teaspoon cream of tartar
200 grams caster sugar
50 grams water
Food colouring (we used pink gel food coloring) 
 
 
For the Filling: 
6 ounces Belgian white chocolate circles
1/4 cup cooking or all-purpose cream
 
 
1 Preheat oven to 300F/150C. 
 
2 Combine almond flour, confectioner's sugar, and 1 75-grams egg whites in one bowl. Add food coloring of your choice; stir. Set aside. 
 
3 Put caster sugar and water in a saucepan on medium heat. Insert a candy thermometer and bring to a simmer. Syrup should reach 230F/110C. 
 
4 While syrup is heating up, place the remaining 75 grams egg whites and cream of tartar in a mixer bowl. Using the whisk attachment on medium, whisk until frothy. As soon as the sugar syrup reaches 244F/118C, remove from heat and let the bubbles settle a little before pouring slowly, in a steady stream, into the frothed egg whites. When all the syrup is poured into the mixing bowl, switch to high speed for about 12 minutes or until the meringue is very shiny, sticky, and holds its shape. 
 
5 Add the meringue into the almond flour and egg white paste, and gently fold the ingredients all together until you reach a thick, well mixed consistency. Transfer onto a piping bag fitted with a tip (hole should be about 1/2 inch in diameter) and pipe 1 to 1 1/4 inch rounds on to a tray covered with a silpat. Place inside preheated oven and bake for 11-13 minutes. 
 
6 Make the Filling: In a Bain marie, heat cream gently until hot to the touch. Add white chocolate and stir gently until all of the chocolate is melted and ganache is smooth. Remove from heat and refrigerate until room temperature. Ganache should be able to hold its shape at room temperature. Transfer to a bag fitted with a 1/4-inch tip and pipe filling into 1 macaron shell. Top with another macaron shell and enjoy!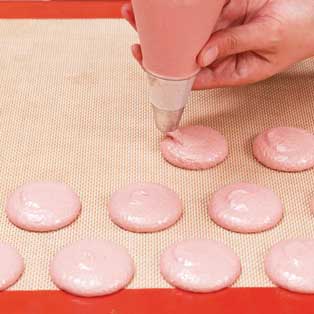 How to Make Basic Macaron Shells
Posted in:
Baking