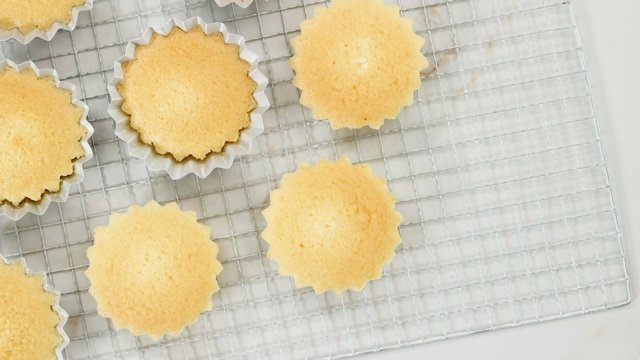 Mamon is Filipino-style sponge cake that is a very popular afternoon snack. Try this recipe for deliciously light and fluffy goodness. Pair with a cup of hot coffee.
3 large eggs, separated
1/4 cup water
1 teaspoon vanilla extract
1/4 cup canola oil
1 cup cake flour, sifted
1/2 tablespoon baking powder
1/2 teaspoon salt
1 cup caster sugar, divided
1 Preheat oven to 325°F and grease mamon tins. Set aside.
2 In the bowl of a stand mixer, beat egg yolks, water, vanilla extract, and oil. Beat on Low until just combined. Add flour, baking powder, salt, and 3/4 cup sugar and beat until just combined. Increase speed to Medium-High until mixture is well mixed while scraping the sides and bottom of the bowl as needed. Transfer to a large bowl. Set aside.
3 Make the meringe: clean and completely dry mixing bowl. Replace beater attachment with the whisk on the stand mixer. Add egg whites to the bowl, and whisk on Medium-High until foamy. Gradually add the remaining sugar. Whisk only until stiff peaks.
4 Scoop out 1/3 of the meringue, and add to the cake batter. Using a whisk, fold in meringue. Once well mixed, add the remaining meringue in batches, folding while being careful to not over mix the batter. Divide mixture evenly into greased mamon tins.
5 Place mamon tins in the oven, and bake for about 15 minutes or until a toothpick inserted into the center emerges clean and the tops are golden brown. Remove from the oven, and transfer to a wire rack to let cool slightly. Once edges pull away from the sides, flip tins over and tap until each mamon releases from its tin. Repeat with remaining mamon. Serve.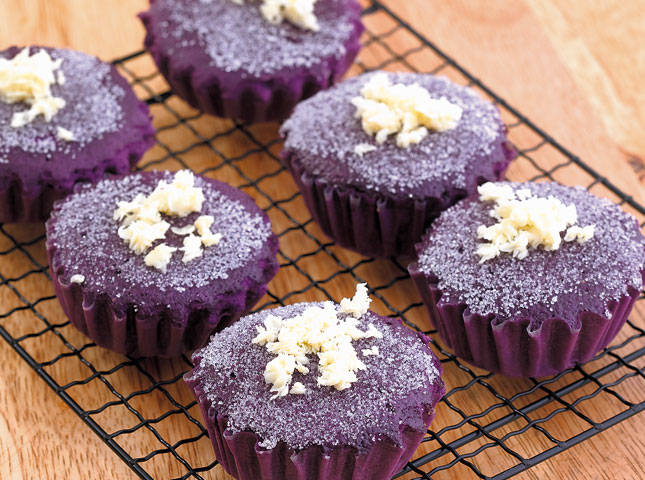 Mini Ube Mamon
Posted in:
Recipe