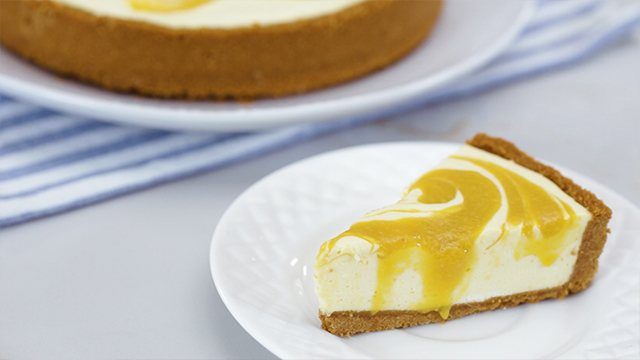 Love mango pie but don't have an oven? This no-bake dessert recipe is the dessert for you! A traditional graham cracker crust creates the perfect layer to house the creamy cream cheese confection infused with mango puree. You know exactly what you're eating since even more mango puree is used as a topping. It's gorgeous and stunning as a centerpiece on any table! 
So, if you love mangoes, you should make this decadent no-bake dessert recipe for yourself and everyone else who loves mangoes. 
No-Bake Mango Pie
Takes 30 minutes plus chilling  
Makes 1 (8-inch) pie
For the crust:
1/2 cup salted butter, melted
1 1/2 cups crushed graham crackers
2 teaspoons granulated sugar
For the mango swirl:
1/2 cup mango puree (about 1 mango with pulp removed)
Juice of 1/2 lemon
2 tablespoons granulated sugar
For the pie filling:
1 bar (8 ounces) cream cheese, softened
1/2 cup powdered sugar
1 teaspoon vanilla extract
1/2 cup mango puree (about 1 mango with pulp removed)
Juice of 1/2 lemon
1 pack (10 grams) unflavored gelatin
1/2 cup water, cold
2/3 cup heavy cream, whipped to stiff peaks
1 Make the crust: Mix the melted butter, graham crackers, and granulated sugar together to form a sandy mixture. Press down into an 8-inch springform pan with at least 2 inches of the crust going up the sides. Refrigerate until ready to use.
2 Make the mango topping: Place the pulp of 1 mango into a high-powered blender and blend until smooth. Mix in the lemon juice and granulated sugar, and cook in a small pan over low heat for around 15 minutes or until thickened. Set aside, and let cool completely.
3 Make the pie filling: In a small microwave-proof bowl, mix the unflavored gelatin and cold water together. Set aside to bloom. Place the pulp of 1 mango into a high-powered blender and blend until smooth. In the mixing bowl of a stand mixer, beat the cream cheese with the paddle attachment until fluffy. Add and mix in the powdered sugar followed by the vanilla extract, and beat on medium speed until completely combined. Add the mango puree and lemon juice, and mix on low speed until completely combined. Set aside. 
4 Place the bloomed gelatin into the microwave and heat until the gelatin is completely dissolved. Alternatively, you can transfer the gelatin into a small pot and stir over the stovetop on low heat until the gelatin dissolves. Set aside to cool for 5 minutes.
5 Meanwhile, in another mixing bowl, whisk the heavy cream until stiff peaks.
6 Mix the cooled gelatin into the mango mixture until completely incorporated. Beat in 1/3 of the whipped cream into the mango mixture to lighten up the filling. Gently fold the rest of the cream into the cream cheese mixture until the filling is light and fluffy. Pour into the prepared crust.
7 Use a spoon to drop small dollops of thickened mango puree over the cream cheese pie filling. Use a stick or a butter knife to create swirls. Refrigerate for 4 hours or overnight until completely set. Slice and serve cold.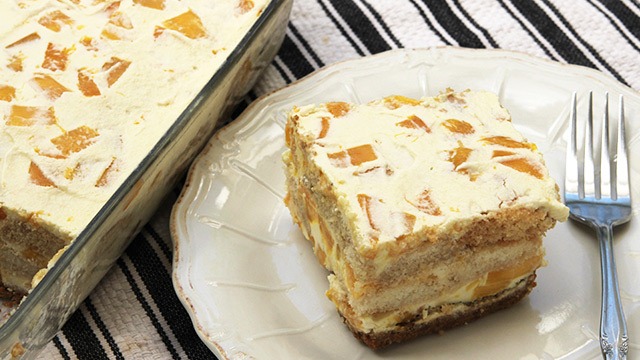 Everything You Need To Make Mango Float
Posted in:
Baking
ADVERTISEMENT - CONTINUE READING BELOW
Recommended Videos