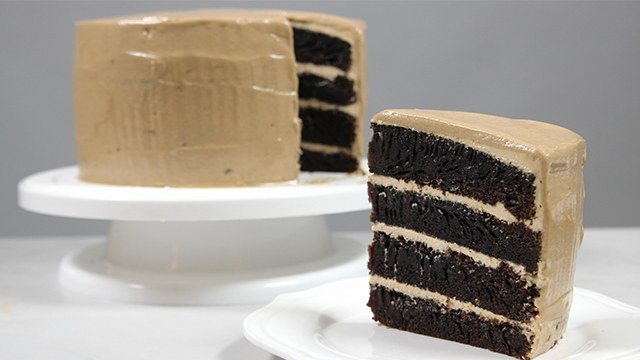 Coffee and chocolate marry into a delicious, moist mocha cake that's doubly flavorful. Double the recipe to make 4 layers to serve to friends and family!
Takes 1 hour 20 minutes plus cooling
Makes 2 cake layers (serves 8)
1 cup fresh milk
1 tablespoon white vinegar
1/4 cup instant coffee granules
1 cup water
2 tablespoon cocoa powder
2 1/4 cup all-purpose flour
1 3/4 cup granulated sugar
2 teaspoon baking soda
1 teaspoon baking powder
1 teaspoon salt
2/3 cup vegetable oil
2 large eggs
1 1/2 teaspoon vanilla extract
Butter, softened, as needed
For the Coffee Buttercream (covers a 2-layer cake):
1 tablespoon instant coffee granules
1/4 cup fresh milk
1 cup unsalted butter
4 cups powdered sugar, sifted
1 Preheat oven to 350?F. Generously butter and line with parchment paper 2 8-inch cake pans. Set aside.
2 In a measuring jug or bowl, make buttermilk by combining milk and white vinegar. Set aside for 5 minutes. In another measuring jug or bowl, dissolve coffee granules in water. Set aside.
3 In a large bowl, sift flour, sugar, baking soda, baking powder, salt and cocoa. Mix well and set aside.
4 In a large mixing bowl, blend coffee mixture, oil, eggs and vanilla extract until smooth.
5 Gradually beat in flour mixture alternating with milk mixture into the egg mixture just until blended. Transfer to prepared cake pans. Bake 25 minutes or until toothpick inserted into the center emerges clean. Remove from the oven and set aside to cool completely on a cooling rack.
6 When ready to frost, make the Coffee Buttercream: dissolve coffee granules in milk. Set aside. In a large mixing bowl using a whisk, cream butter until creamy. Add powdered sugar alternating with coffee mixture in batches until smooth and creamy. Whisk vigorously one last time to incorporate air into the buttercream.
7 Remove cake layers from cake pans. Remove parchment paper and discard. Using a serrated knife, level the tops of the cakes, setting aside tops for another use. Place a cake layer onto a cake turner. Using a spatula, add a layer of buttercream onto the cake and spread evenly. Place the second cake layer onto the first upside down (bottom of cake is facing up). Smooth a thin but even layer of buttercream onto the top and sides of the entire cake, then chill until buttercream is firm. Once firm, use remaining buttercream to add the final layer to the cake. Slice and serve at room temperature.
ADVERTISEMENT - CONTINUE READING BELOW
Recommended Videos