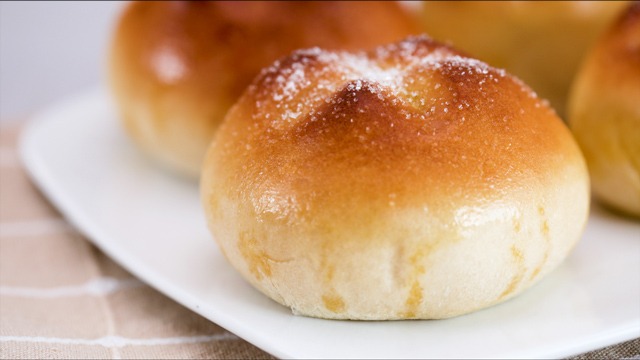 Monay is also known as Pan de Monja and is a popular dense bread roll commonly found in most small bakeries in the Philippines. It has a distinct indentation on the middle of the bread, dividing the bread into halves. This easy recipe allows you to make your own monay at home! 
Monay Recipe
Makes 12 pieces 
3 cups bread flour
1 teaspoon instant dry yeast
1 teaspoon salt
2 tablespoons baking powder
1/2 cup brown sugar, packed
1/3 cup powdered skim milk
1 cup and 3 tablespoons water
1/8 cup margarine
extra margarine and white sugar, for topping
1 In a large clean bowl, add flour, yeast, salt, baking powder, brown sugar, powdered skim milk. Make sure the yeast and the salt are not touching each other. Make a well in the center.
2 Gently pour in the water into the well.
3 Mix with a spatula until combined and the dough is ragged.
4 Once the dough forms a ragged mass, transfer to a lightly floured surface and then knead until the dough is smooth and glossy.
5 Transfer to a lightly-oiled bowl and then cover with a kitchen towel. Let the dough rise for 1 hour or until it doubles in size.
6 Deflate the dough and then transfer to a lightly-floured surface.
7 Divide the dough into 12 equal pieces and then roll tightly into a ball. Place on a baking tray. Make an indentation on each ball with scissors. 
8 Cover with a damp towel and let it rest (proof) for 1-1/2 hours.
9 Preheat oven to 400F (200C).
10 Once sufficiently proofed, bake for 10 to 12 minutes or until golden brown.
11 Brush tops with margarine and then sprinkle with white sugar.
ALSO READ:
ADVERTISEMENT - CONTINUE READING BELOW
Recommended Videos