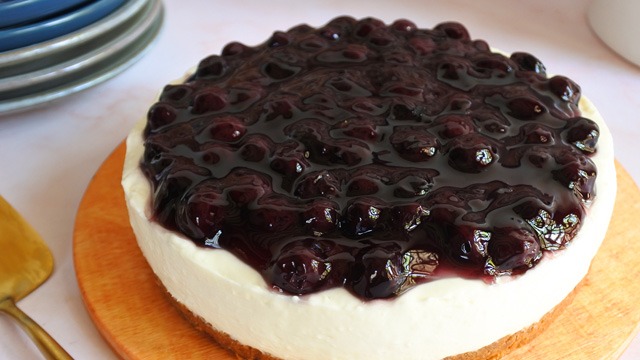 This cheesecake recipe + blueberry filling is also a no-bake recipe. It's going to be your new favorite dessert to make at home. It's the perfect creamy cake with enough cream cheese to give a delicious and creamy tang and a chunky blueberry topping to crave a bite after every meal.
This recipe doesn't use gelatin but if you want your cheesecake to be stiffer and not too soft, feel free to add gelatin to the cream cheese mixture. Remember to bloom the unflavored powdered gelatin in cold water first and then dissolving it in a little hot water. Let this cool slightly before adding to the softened cream cheese mixture. It should be around room temperature so it won't seize when you pour in the gelatin. Do this before chilling it overnight for that picture-perfect slice. 
To make sure this recipe is easy to make, we have a springform pan trick that will make releasing the cheesecake from the pan super easy: Just flip the bottom plate over. See how it's done when you watch the video and make the cheesecake this weekend. 
Here's the recipe: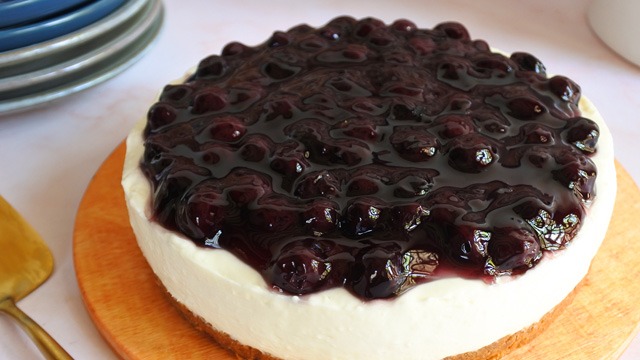 No-Bake Blueberry Cheesecake Recipe 
Takes 30 minutes plus overnight chilling
Makes 6-inch cake
No-Bake Blueberry Cheesecake
 Ingredients
3/4 cup crushed graham crackers
2 tablespoons white sugar
1/4 teaspoon salt
1/4 cup unsalted butter, melted
1 227-gram block cream cheese, softened
1/3 cup white sugar
1/2 cup all-purpose cream
1 teaspoon calamansi juice
1 cup ready-made blueberry pie filling
How to make No-Bake Blueberry Cheesecake
1 Prepare a 6-inch springform pan: lightly oil or butter the sides and place pieces of parchment against the sides. Leave the bottom of the pan ungreased and unlined. Flip the removable bottom of the pan over so the bottom sits higher up against the pan. (This makes releasing the cake later easier.)
2 Make the cracker crust: Mix cracker crumbs, sugar, and salt in a bowl. Mix and make a well. Add melted butter and mix until the mixture looks like wet sand. Transfer to the prepared pan and using a spatula, measuring cup, or even a spoon, press the crumb mixture firmly and evenly over the bottom of the pan. Chill in the refrigerator until ready to use. 
3 Make the cream cheese filling: Beat the softened cream cheese in the bowl of a stand mixer set to medium until softened and smooth. (You can also use a big bowl and an electric mixer, whisk, and a big spoon.) Add sugar and cream well. Scrape the sides as necessary. 
4 Pour and beat in the all-purpose cream and calamansi juice. Mix until well-blended. 
5 Transfer the cream cheese mixture into the prepared crust. Smooth out the top then cover with plastic wrap or silicone cover. Chill overnight or at least 4 hours until firm. Top with blueberry filling. 
6 When ready to serve, remove the cover and unlock the springform pan. Remove parchment paper from around the cheese. Use a large metal spatula to transfer the cake to a serving plate and slice. (Use a knife dipped in hot water for the cleanest slice.)
***