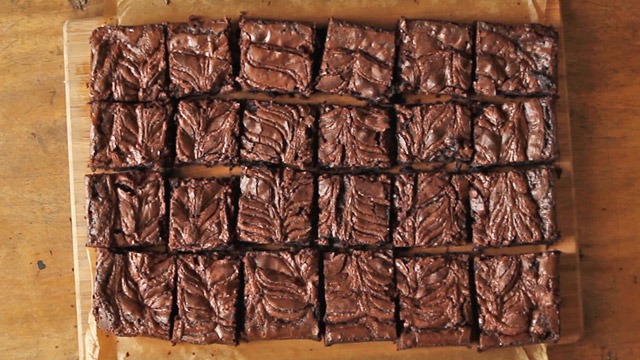 These decadent brownies are flavored with Nutella in place of traditional baking chocolate, which makes these brownies extra thick and gooey.  For a little sweet and salty action, top these with a generous drizzle of Nutella and sea salt.
Nutella Brownies Recipe 
1 cup all-purpose flour 
3/4 cup cocoa powder 
1/2 teaspoon baking powder 
1 cup salted butter, melted 
2 cups brown sugar 
4 large eggs 
1 cup Nutella
1/2 cup Nutella, for piping 
Salt, to taste 
1 Preheat oven to 350 degrees F (180 degrees C). Lightly grease and line a 9-inch by 9-inch pan with parchment paper with an overhang. Set aside. 
2 In a large bowl using a whisk, combine flour, cocoa powder, and baking powder. Set aside. 
3 In another large bowl, mix butter and sugar. Beat on High speed until well combined. Add eggs, one at a time, beating well after each addition. 
4 Add the flour mixture to the egg mixture. Stir in Nutella. 
5 Transfer brownie batter into the prepared pan. Spread to the edges using a silicone spatula. Pipe more Nutella across the top of the brownie batter. Using a knife, score the batter in alternating directions. Sprinkle salt on top. 
6 Bake the brownies for 45 minutes or until the brownies separate from the sides and is just set in the center. Cool completely on a wire rack. 
7 Release the brownies from the pan by running a knife along the edge where the brownie meets the pan only. Grasp the parchment overhang using both hands and lift the brownies from the pan onto a cutting board. Slice and serve. 
CLICK HERE for more BROWNIE RECIPES
ADVERTISEMENT - CONTINUE READING BELOW
Recommended Videos