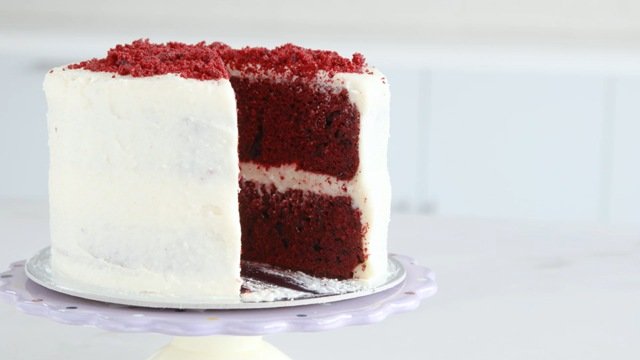 A red velvet cake is a classic dessert known for its bright red cake layers offset by a white cream cheese frosting. This red velvet cake recipe has a moist cake with a mild chocolate flavor covered in a rich and nutty cream cheese-almond frosting.
Takes 1 hour plus cooling and chilling
Makes 1 2-layered 6-inch cake
1 cup buttermilk*
2 large eggs
1 teaspoon vanilla extract
1 cup vegetable oil
2 tablespoons liquid red food coloring
1 teaspoon white vinegar
2 1/2 cups cake flour, sifted
2 tablespoons cocoa powder, sifted
1 teaspoon baking soda
1/2 cup white sugar
1/2 cup brown sugar
1 teaspoon salt
For Cream Cheese-Almond Frosting:
2 cups cream cheese, softened
3 cups powdered sugar, sifted
1 cup almond flour**
1/3 cup fresh milk
*You may purchase buttermilk in Rustan's Marketplace (check the refrigerated dairy aisle), in Salcedo Saturday Market, or in SIDCOR Sunday Market. Alternatively, measure 1 cup of full cream milk minus 1 tablespoon of milk, then add 1 tablespoon of distilled vinegar and let sit for 15 minutes until slightly thickened.
**You may purchase almond flour in Wonderbake (click here to see a list of their locations). Alternatively, pulse 1 1/4 cups of whole, unsalted almonds in a food processor until very fine and powdery. Remember to measure 1 cup of almond flour after pulsing for this specific recipe.
1 Preheat oven to 350°F. Lightly oil and line with parchment paper two 6-inch springform cake pans. Set aside.
2 In the bowl of a stand mixer with the beater attachment, add buttermilk, eggs, vanilla extract, vegetable oil, red food coloring, and white vinegar. Beat on medium speed until mixture is well mixed. Turn off mixer.
3 Add cake flour, cocoa powder, baking soda, white sugar, brown sugar, and salt. Mix until just combined.
4 Divide mixture evenly between the prepared cake pans. Bake until a toothpick inserted in its center emerges clean, about 20 minutes. Remove from oven, and cool completely on wire racks. Remove parchment paper and level tops of each layer before frosting. Crumble excess cake to use to decorate cake as desired.
5 Meanwhile, make frosting: In a large mixing bowl with the beater attachment set on low, beat cream cheese until softened and creamy. Gradually add in powdered sugar, scraping the bowl regularly until fully incorporated. Increase speed to Medium and beat until fluffy. Decrease speed to Low, and fold in almond flour. Loosen mixture with milk until light and fluffy.
6 Frost and decorate cake as desired. Chill before slicing and serving.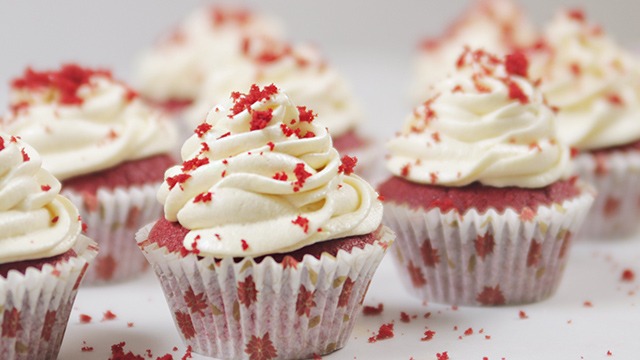 WATCH: How to Make Red Velvet Cupcakes
Posted in:
Baking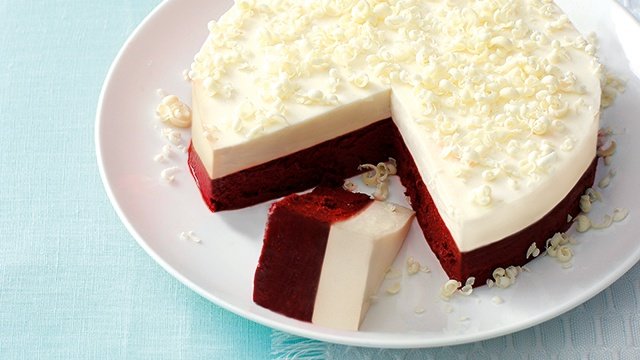 Red Velvet Cheesecake Recipe
Posted in:
Recipe