This holiday dessert is a moist cake soaked in rum sauce. Add this rum cake to your holiday spread and make your menu more festive.
Rum Cake
Prep time 25 minutes
Cooking time 1 hour 20 minutes
Makes 1 8-inch cake
1/2 cup butter, softened
1 2/3 cup sugar
3 pieces medium egg
3 tablespoons rum
2 3/4 cup cake flour
3 teaspoons baking powder
1 teaspoon vanilla extract
1 cup milk
For the rum syrup:
1/2 cup softened
1 cup sugar
1/3 cup water
2 tablespoons rum
1 Preheat oven to 350°F. Oil and lightly flour a non-stick Bundt pan. Set aside.
2 In a large bowl, cream the butter and sugar until light and fluffy. Beat in the eggs one at a time until well blended. Beat in vanilla extract and rum.
3 In another bowl, mix the flour and baking powder. Add about a third of the flour mixture to the batter until well blended. Pour in half the milk. Add another third of the flour mixture, then the remaining milk, and finally, the remaining flour mixture, blending well after each addition. Pour into the prepared pan. Place in the oven and let bake for 30 minutes until a toothpick emerges cleanly from the center of the pan. Remove from the oven.
4 Meanwhile, make the Rum Syrup: Place softened butter, sugar, water, and rum in a saucepan over medium heat. Let boil a few minutes then simmer at least 5 minutes or until all the sugar has melted. Do not stir. Let cool.
5 Using a barbeque stick or long toothpick, poke holes in the cake. Pour half the syrup over the cake and let soak overnight. Slice and serve with more of the syrup drizzled over the slices.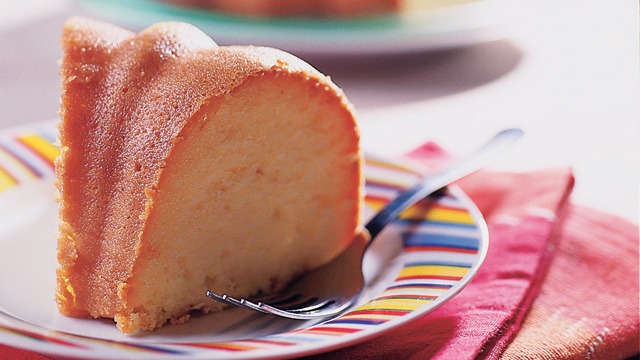 Quick Orange Rum Cake Recipe
Posted in:
Recipe
ADVERTISEMENT - CONTINUE READING BELOW
Recommended Videos