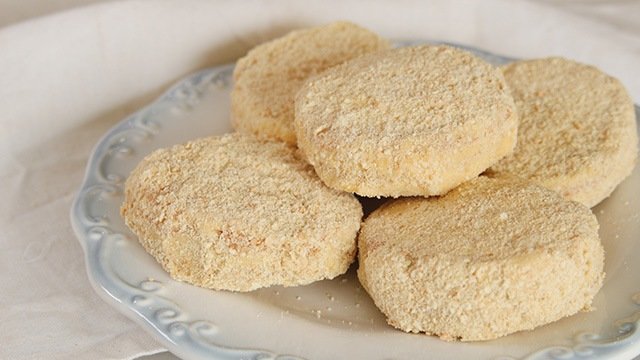 Even before the French macaron, we had Sans Rival and silvanas. Sub out the French macaron's almond powder for cashews, and you've got the cookie base of a Pinoy favorite that's crunchy, crumbly, buttery, and chewy–all at the same time. Yum!
Silvanas Recipe 
Takes 50 minutes plus cooling, chilling
Makes 8 cookies
For the meringue cookies:
3 large egg whites, room temperature
1 tablespoon white sugar
3/4 cup powdered or confectioner's sugar, sifted
1 cup cashews
For buttercream:
1 cup butter, softened
1 cup powdered sugar
1 teaspoon vanilla extract
For crumbs:
1 cup digestive biscuits, broken up
1 Create a guide on the parchment paper: on the underside of 2 pieces of parchment paper, pencil 8 2-inch rounds 1-2 inches apart each. Line 2 baking sheets with the stenciled parchment paper with the pencil marks facing down. Set aside.
3 Make meringue cookies: In the stainless steel bowl of a stand mixer with the whisk attachment, whip egg whites on medium speed until it forms soft peaks. Gradually sprinkle in sugar while whipping until whites form stiff peaks. Be careful not to over-beat the whites. Set aside.
4 In a food processor, process cashews until finely chopped. Transfer to a bowl, and mix with powdered sugar.
5 Using a spatula, fold cashew mixture into the egg white mixture, a spoonful at a time, until mixed. Scoop mixture into a piping bag with a large tip. Pipe meringue thinly on stenciled rounds on the prepared baking sheets. Use an offset spatula to fill in any gaps and even out the tops of each cookie.
6 Bake in the oven for about 15-20 minutes, or until tops are dry and barely springs back when slightly pressed in the middle. Let cool a few minutes on a wire rack before loosening from the parchment using an offset spatula. Let cool completely.
7 Meanwhile, make crumbs: in a food processor, finely process biscuits into fine crumbs. Set aside.
8 Make the buttercream: In the bowl of a stand mixer with the beater attachment, cream butter until light. Add powdered sugar, by the spoonful, beating until fully incorporated, scraping sides regularly. Add vanilla extract, and beat until mixed. Transfer to a bowl.
9 To assemble silvanas: prepare cooled cookies, buttercream, and crumbs. Using an offset spatula, spread buttercream onto the underside of a cookie. Top with another cookie, pressing down slightly. Set aside onto a parchment lined baking sheet. Repeat until all the cookies are filled with buttercream. Spread remaining buttercream onto the top, bottom, and sides of the sandwich cookie then roll in biscuit crumbs until completely covered. Chill until firm. Keep and serve while cold.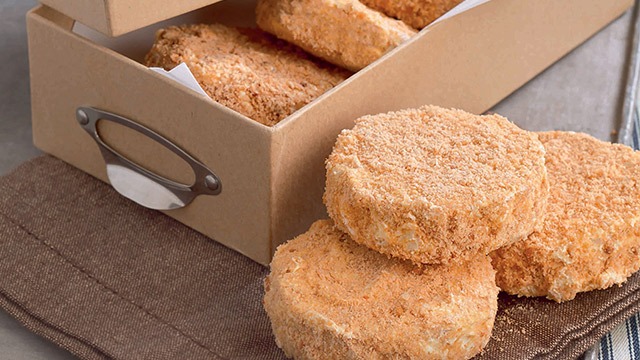 Silvanas Recipe
Posted in:
Recipe