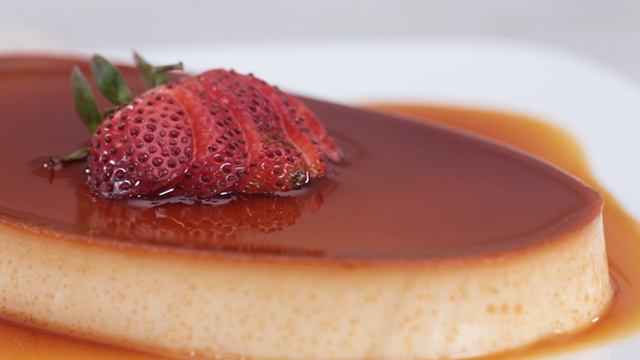 You may think the easiest way to flavor your leche flan is to use bottled flavorings, but we have a delicious chack for you! This easy strawberry leche flan hack creates an even more delicious version that we think is the easiest and the tastiest way to change the flavor of your flan without having to change anything more than switching out an ingredient: strawberry milk. 
This, we believe, is the closest thing to using real strawberry puree into your leche flan but without having to change the way you normally would make a leche flan. Think about it: strawberry milk is incredibly flavorful on its own and if you're using the best-tasting milk you can afford, that plays a crucial part in ensuring that this flavored leche flan is just as delicious, if not even more, luscious and mouth-watering than your usual leche flan. 
Strawberry Leche Flan
Takes 40 minutes
Makes 2 llaneras
6 tablespoons white sugar
8 large egg yolks, separated
1/2 cup evaporated milk
1 cup strawberry milk
1/2 cup condensed milk
Strawberries, to garnish
1 Prepare a steamer. Alternatively, preheat oven to 350 degrees F/180 degrees C and prepare a water bath.
2 Place sugar in a saucepan over medium heat. Melt sugar, swirling as needed to avoid burning the melted sugar, until all the sugar has melted and caramelized into a dark amber color. Immediately pour and divide caramel between into 2 llaneras. Set aside.
3 In a large bowl, add yolks, evaporated milk, strawberry milk, and condensed milk. Using a spatula, break yolks then gently stir (don'?t whisk!) together yolks and milks. Slowly pour mixture through a strainer trying to avoid creating bubbles. Divide egg mixture (1 1/4 cups each) into the two prepared llaneras. Pop or spoon out any bubbles that form. Cover with foil. Place llaneras into the steamer. Steam flans until cooked through, about 20 minutes. Edges will be firm and centers will jiggle slightly. Remove from steamer and place on a wire rack to cool completely. Alternatively, bake in the water in the preheated oven for 1 hour. Chill at least 4 hours or overnight and ready to serve. 
4 When ready to serve, slide a knife around the edges of the leche flan. Place a serving dish over the llanera and quickly flip over. Gently tap llanera bottom to release flan and lift to remove. Garnish with fresh strawberries, if desired. Serve cold.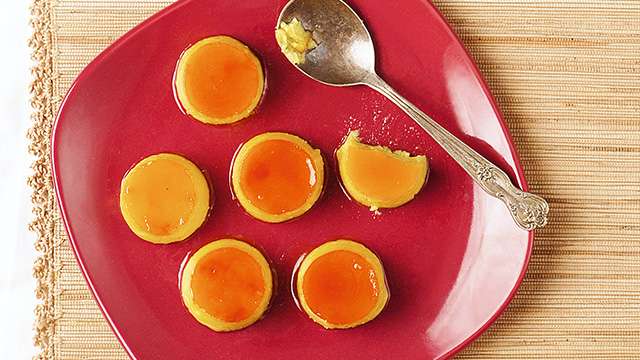 How To Make Leche Flan Using Flavored Milk
Posted in:
Baking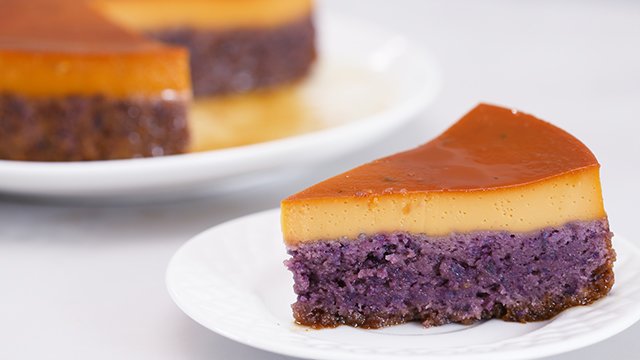 WATCH: How To Make Ube Leche Flan Cake
Posted in:
Baking
ADVERTISEMENT - CONTINUE READING BELOW
Recommended Videos