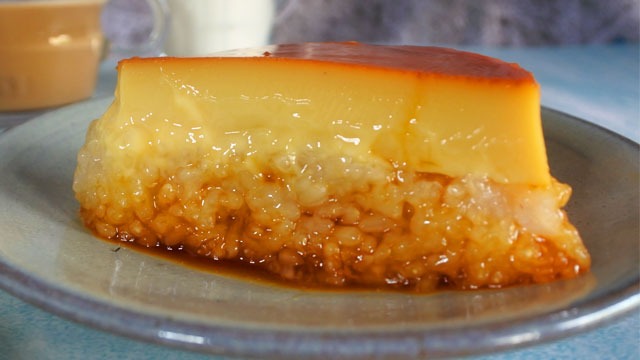 What do you get when you mash together suman and leche flan into one dessert? You get this awesome Filipino kakanin recipe. 
Leche flan may a favorite dessert for Pinoys. You can't help but be lured to anything that's got that creamy egg custard! If you love anything that has leche flan, then you're sure to want to try this kakanin fusion recipe. 
Suman With Leche Flan Recipe
Takes 1 hour 30 minutes plus overnight chilling 
Makes 6 servings
Suman With Leche Flan Ingredients 
For leche flan: 
1/2 cup sugar
6 large eggs, yolks only
1 168-ml can sweetened condensed milk
1 154-ml can evaporated milk
For suman: 
3/4 cup glutinous rice (malagkit), rinsed, soaked overnight, drained
1 cup water
1/4 cup sugar
1/2 teaspoon salt
How To Make Suman With Leche Flan
1 Prepare a steamer. Alternatively, preheat an oven to 350 degrees F or 175 degrees C and prepare a water bath if baking.
2 Make the leche flan: In a 6-inch aluminum cake pan, add sugar. Place it over low heat and melt and caramelize it. Set aside and let cool completely.
3 In a large bowl, combine yolks, sweetened condensed milk, and evaporated milk. Mix gently to prevent bubbles. Pour into the cake pan with the caramel. Cover with foil and steam until cooked through, about 15 minutes. Remove the lid to cool slightly before removing it from the steamer. Set aside to cool completely. Chill until ready to use.
4 Meanwhile, make the suman: In a small saucepan with a lid, add soaked malagkit rice, water, sugar, and salt. Place on the stove heat over high heat. Cover. Bring to boil, and lower heat to simmer until cooked through. Stir occasionally to prevent sticking. Once rice is cooked, set aside to cool until just warm.
5 To assemble, remove foil from the chilled leche flan. Gently place kakanin onto the leche flan. Smooth out the top. Cover with foil then chill it until completely cold.
6 When ready to serve, run an offset spatula or small knife around the sides of the pan. Place a plate over the cake and flip it over. Remove the cake pan. Slice and serve. 
*** 
ADVERTISEMENT - CONTINUE READING BELOW
Recommended Videos