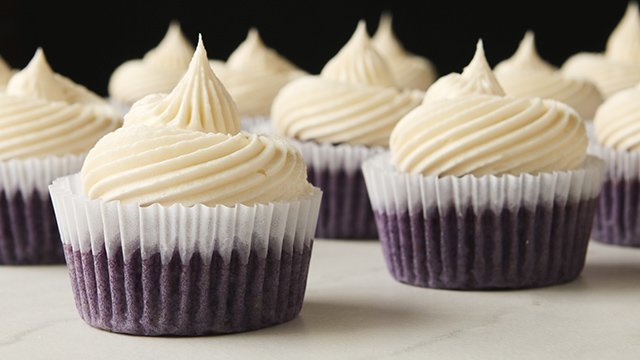 This cupcake recipe is infused with ube halaya to make bright and moist ube cupcakes. Top it off with a rich coconut buttercream for a really delightful confection.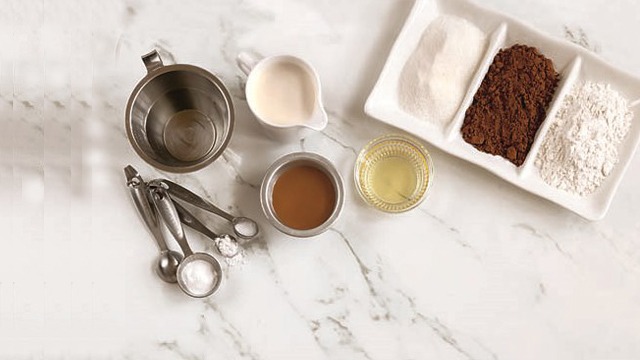 7 Secrets Every Pro Baker Knows
Posted in:
Baking
Takes 40 minutes
Makes 14 cupcakes
For the cupcakes:
2 large eggs
3/4 cup sugar
1/2 cup vegetable oil
1 cup ube halaya
1 1/2 teaspoon ube color and flavoring
1 cup cake flour
1 teaspoon baking powder
1/2 teaspoon salt
For the coconut buttercream:
3/4 cup unsalted butter, softened
4 cup powdered sugar, sifted
1/2 cup coconut cream
1 Preheat oven to 325°F. Line a 12-cup muffin pan with cupcake liners Set aside.
2 In the mixing bowl for a mixer with the beater attachment, beat eggs, oil, and sugar together until well mixed. Add ube, and beat until well combined. Stir in ube flavoring.
3 Sift cake flour and baking powder together over ube mixture. Sprinkle in salt and fold in flour. Mix until just well blended. Using an ice cream scoop, divide batter into cups.
4 Bake cupcakes in the preheated oven for 12 minutes or until tops spring back when lightly pressed and a toothpick inserted into the centers of each cupcake emerges cleanly. Cool completely a wire rack.
5 Meanwhile, make buttercream: In the bowl for a mixer with the whisk attachment, cream butter until light and creamy. Add sugar by the cupful, alternating with coconut cream. Whisk until light and fluffy.
6 To assemble, decorate cooled cupcakes with frosting and macapuno strands as desired.