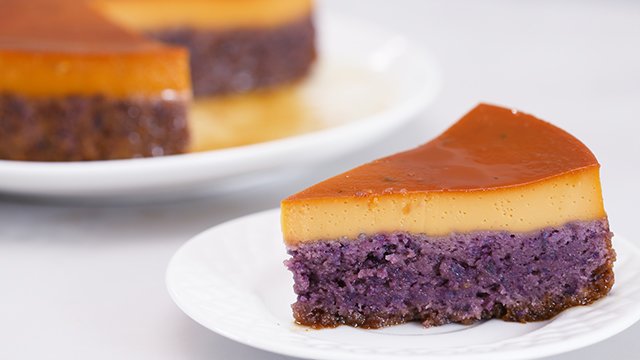 There are few things more decadent than combining an ube cake and a creamy leche flan into one mouthwatering dessert.
But the best part of knowing the recipe for this cake is that, since this is homemade, you can make and share this dreamy cake with family and friends for both Noche Buena and Media Noche. After all, the gift of food is one that's best shared with loved ones. 
Ube Leche Flan Cake
Takes 60 minutes plus cooling time
Makes 10 servings
For Leche Flan Layer:
1/2 cup sugar
8 large egg yolks
1/2 cup condensed milk
1 1/2 cups evaporated milk
For Ube Cake Layer:
3 large eggs
3/4 cup sugar
1/2 cup vegetable oil
3/4 cup ube halaya
1 cup all-purpose flour, sifted
1 1/4 teaspoons baking powder
1/2 teaspoon salt
1 Preheat oven to 350°F. Place tray with water for the water bath in the oven on the rack.
2 Make the Caramel for leche flan: In a saucepan, add sugar. Place over medium heat. Let stand until edges begin to melt and brown, then swirl the pan, away from the heat as needed to prevent burning, to completely melt the remaining sugar and caramelize. Keep hot.
3 Pour caramelized sugar into the hot pan. Tap and swirl the pan as needed to spread the caramel evenly over the bottom of the pan. Set aside.
4 Meanwhile, make the Leche Flan: In a large bowl, whisk sugar, egg yolks, and condensed milk, then evaporated milk until smooth. Set aside.
5 Make Ube Cake: In a large mixing bowl using a whisk, whisk eggs, oil, and sugar together until well mixed. Add ube, and whisk until well combined.
6 Add flour and baking powder. Sprinkle in salt and fold in flour. Mix until just well blended.
7 To assemble, pour leche flan batter over the caramel in the cake pan. Pop any bubbles that form on the surface. Slowly pour the ube cake batter over the leche flan batter. Cake batter will float on top.
8 Place cake pan in the oven with the water bath, and bake for 50 to 60 minutes or until the cake is completely set. Remove from the oven and place on a wire rack. Immediately run a knife around the edges and down to the flan underneath the cake. Place a plate with a rim over the cake pan and quickly flip over. Caramel should gradually pool onto the plate. If not, gently tap or run the knife again around the pan to help release the flan from bottom and remove cake pan. Let cool completely. Chill until cold. Serve cold.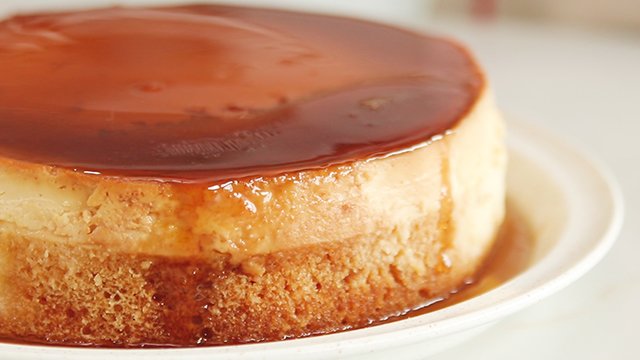 WATCH: How to Make a Leche Flan Cake
Posted in:
Baking
ADVERTISEMENT - CONTINUE READING BELOW
Recommended Videos