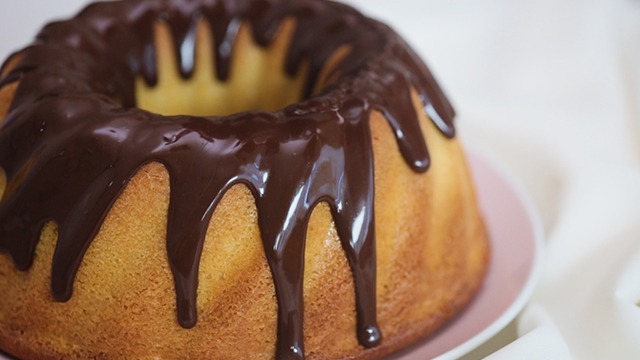 If you ever find a simple yet moist vanilla cake to be boring, drizzle on some chocolate and you may change your mind. As if making a cake is not enough, this otherwise normal vanilla cake is made better, more appetizing and totally delicious with a generous drizzle of a deep dark chocolate glaze.
Use a bundt cake pan to bake this cake into a more festive shape but a regular cake pan with high edges will work just as well.
Vanilla Bundt Cake with Dark Chocolate Glaze Recipe
Takes 90 minutes
Makes 12 servings
 
2 1/2 cups all-purpose flour
1 tablespoon baking powder
1 teaspoon baking soda
1/2 teaspoon salt
1 cup sour cream
3/4 cup fresh milk
1 1/2 cups unsalted butter, softened
1 1/2 cups sugar
4 large eggs
2 teaspoons vanilla extract 
For the Chocolate Glaze:
1 cup semi-sweet chocolate chips
3/4 cup all-purpose cream 
2 tablespoons unsalted butter
 
 
1 Preheat oven to 350°F. Lightly grease and flour the inside of an 8-cup Bundt pan (tube pan with fluted edges). Set aside.
 
2 In a large bowl, whisk flour, baking powder, baking soda, and salt. In a measuring jug, combine sour cream and milk. Set aside.
 
3 In the bowl of a stand mixer fitted with the paddle attachment, mix butter and sugar on Medium speed for 3 minutes or until light and fluffy. Turn the speed down to Low and add eggs one at a time, mixing well between each addition and scraping sides as needed.
 
4 With the mixer on Low, alternately add the flour mixture and the sour cream mixture, starting and ending with the flour mixture. As soon as the batter is combined, turn off mixer and scrape down the sides of the bowl.
 
5 Scoop mixture into the prepared Bundt pan, spreading evenly with a spatula. Lightly tap the pan on a flat surface to remove air bubbles. Bake for 45 minutes to 1 hour or until a skewer inserted in the middle of the cake comes out clean.
 
6 Meanwhile, make the chocolate glaze: place chocolate, cream, and butter in a heatproof bowl. Heat in the microwave on High for 30 seconds, mixing then heating again until the mixture is smooth. Let stand, stirring occasionally, until slightly thickened.
 
7 Spoon ganache over the bundt cake. Slice and serve while still warm. 
Here are other delicious yet easy on the budget cakes and desserts you can make this holiday season: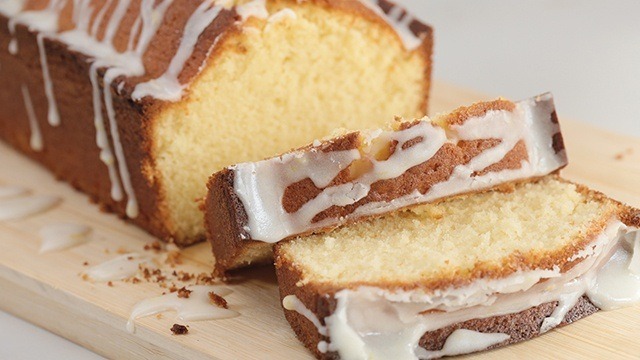 WATCH: How To Make A Butter Cake
Posted in:
Baking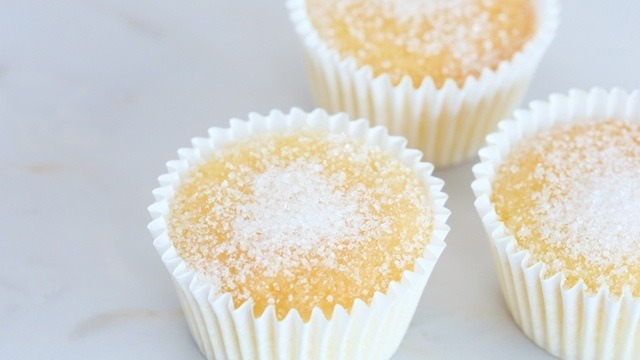 WATCH: How To Bake Taisan Cupcakes
Posted in:
Baking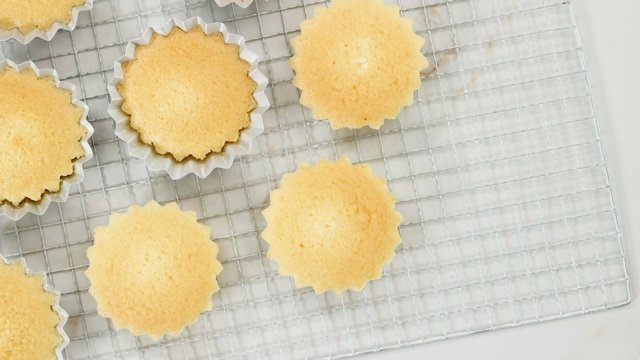 WATCH: How to Make Mamon (Sponge Cake)
Posted in:
Baking
ADVERTISEMENT - CONTINUE READING BELOW
Recommended Videos