If you love cheesecakes, there are good reasons why you should be baking cheesecakes at home. Here are a few: You know exactly what goes into your cheesecake. You don't have to be stingy about ingredients and can use the best quality ones you can afford. You can eat as many slices as you like, without anyone – especially stranger—judging you about how much you love cheesecakes. Plus, you can serve it as you like it, topped with blueberry filling, dotted with fresh strawberry chunks, swirled with chocolate, or made tangier with drops of lemon juice stirred right into the cream cheese batter.
Whatever your reason, the best of these is that you made it: it's homemade.
However, even the best home bakers can fail when they try to make it at home. That's because, despite the fact that it looks like an easy recipe, the actual baking of the cake is where the tricky part comes in. Many recipes call for a water bath to ensure that it has a moist and creamy texture. Others require more ingredients than the basic cream cheese, eggs and flavorings to help stabilize the texture as it bakes. Some bake it at a lower temperature for a long time; some bake at a higher heat first which is lowered for the rest of the time it's baking.
While all these ways of baking the cheesecake may differ, the most tricky part is actually how to tell if its cooked through enough. Experience can determine how you know but there is a simpler, easier way to tell when it's okay to remove from the oven and let it cool.
You can tell the doneness of your cheesecake by gently shaking it.
Here's what you do:
Before you pull it out using oven mitts, grab the cheesecake's baking pan with both hands. Then gently shake the pan while keeping an eye on the center and the edges of the cake. The cheesecake should be firm around the edges but the center should still jiggle slightly. This jiggly center is perfectly okay because the texture of the cheesecake will firm up when cold, usually overnight in the refrigerator until it's completely cold and chilled through or for at least 6 hours after cooling on a wire rack.
If the center jiggles too much and the edges are not set, it may need another 10 to 15 minutes in the oven to further firm up. Adjust accordingly as needed. If it doesn't jiggle at all, remove from the oven immediately and let cool before it cracks.
This is not an exact science but experienced cheesecake bakers swear by this shake and jiggle method. You should try it too the next time you think about baking a cheesecake as a treat for yourself.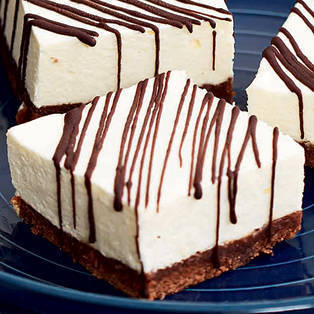 How to Make Brownie-crust Cheesecake Bars
Posted in:
Baking