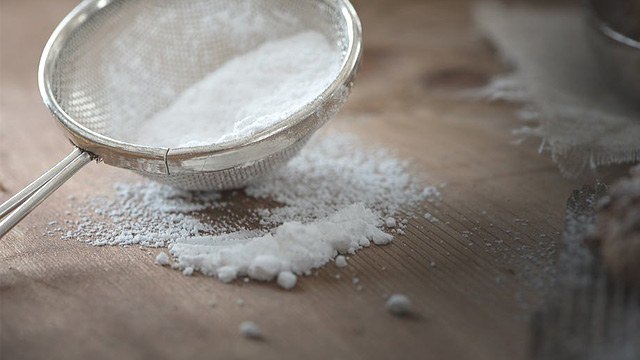 If you've ever baked or even made a pancake from scratch, you've no doubt come across baking soda or baking powder. If you've ever made bread, you would have come across yeast. You might be wondering what they're for or why measuring them correctly is so important.
These different ingredients are leavening agents or also known as raising agents. They make your batter or dough rise and become light and soft by creating air pockets in the baked product as it bakes. 
There are three ways to "leaven": biological, chemical or synthetic agents, or through physical or mechanical aeration.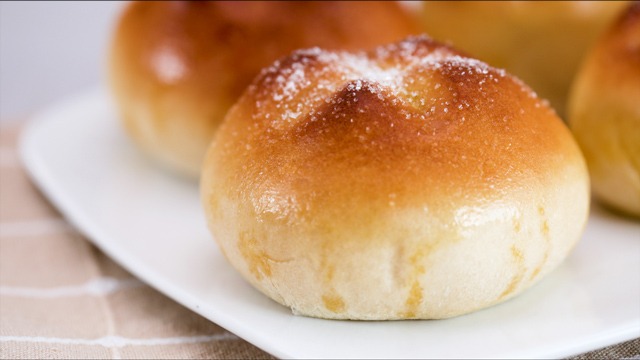 1 The Biological Leavener: Yeast
Did you know that yeast is a single-celled fungus? When used, it eats the sugar in your batter or dough and releases carbon dioxide, which is then trapped as air bubbles. It's a slow process that usually takes hours of rising, which is why only "strong batter" or dough with enough gluten formation is used for it.
Strong batter traps can trap the air for a long time, unlike liquid batters which cannot. Examples of strong batters are bread, Belgian yeast waffles, and classic doughnuts. Also, yeast will not just rise your dough, but also give it a distinct delicious aroma and taste. 
Because yeast is alive, it's important to be careful with your temperatures when using. Heat speeds up the process of fermentation which is why rising dough is placed in a warm oven or corner of the house, and warm water or milk is used to activate the yeast. However, if you go too hot, it is possible to kill the yeast.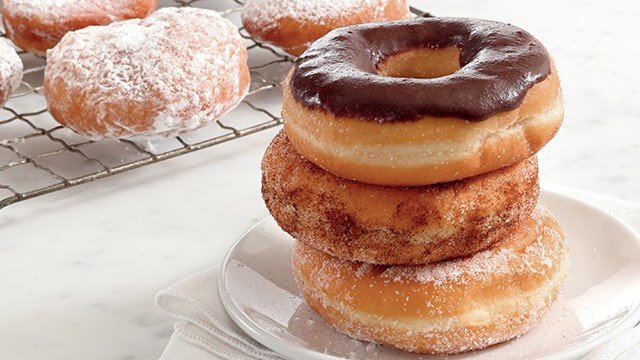 Homemade Doughnuts Recipe
Posted in:
Recipe
How to test if the yeast is still active
You don't want an anticlimactic surprise of deflated bread, so make sure you test your yeast before going ahead with a recipe. 
Your recipe should include a part where it is stirred into warm water or milk, and sugar, then given a few minutes. If your yeast is still active, it should dissolve completely, and you should have bubbles in your liquid.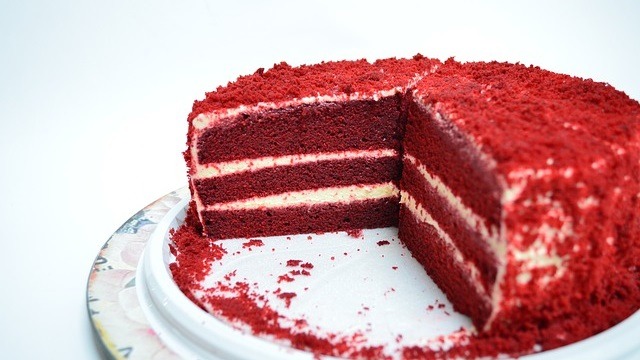 2 Chemical Leavening Agent: Baking Soda 
Also known as sodium bicarbonate, baking soda is actually found in nature as alkaline crystals, but are ground for use in baking. Its chemical reaction with an acid, which should be present in the recipe, produces carbon dioxide. The carbon dioxide is trapped in the batter, making it rise.
ADVERTISEMENT - CONTINUE READING BELOW
Recommended Videos
Baking soda is often sold as double-acting which means that after the first rise, when it reacts with an acid, it will rise a second time when exposed to heat.
Baking soda and other chemical leavening agents are best for "weak batters." They react quickly, do not require time to rise, and often, would need to be cooked right after being added. That's why baking soda is used for quick bread, loaves, cakes, cupcakes, muffins, and even breading batter.
Don't overuse baking soda! 
When you put too much baking soda and not enough acid, it will leave a soapy bitter taste in your mouth. To avoid this, baking soda is used for recipes that contain acids such as lemon juice, buttermilk, vinegar, cream of tartar, green tea (matcha) powder, cocoa powder, or yogurt.
Another way to make sure you don't get bursts of that bitter, soapy-taste is to make sure it's broken down with a sifter or sieve, or sprinkling it into your dry mixture and giving it a good mix with a whisk.
How to test your baking soda for potency
Baking soda loses potency over time. It's always a good idea to check for potency before using. To check if it's still good, sprinkle some baking soda in a small amount of vinegar. It should vigorously foam. 
3 Chemical Leavening Agent: Baking Powder
Baking powder is a mixture of baking soda, an acidic salt, and a neutral starch. It works just like baking soda. However, it doesn't need the presence of an acid in a recipe for it to work. Adding too much acid into a recipe using baking powder can stop leavening. So, use this recipe for weak batters that do not have acidic ingredients.
How to test your baking powder for potency
Baking powder starts to bubble and react once a hot liquid is introduced. So, to test it, simply sprinkle some into a cup of hot water, and you should see rapid bubbling. 
Just like with baking soda, it's a good idea to whisk it in well with your dry ingredients before adding your wet ingredients. This will ensure an even rise. 
No baking powder on hand?
If you just found out that your baking powder isn't doing its thing, there's still a solution. You can make baking powder with one part baking soda, two parts cream of tartar, and one part cornstarch.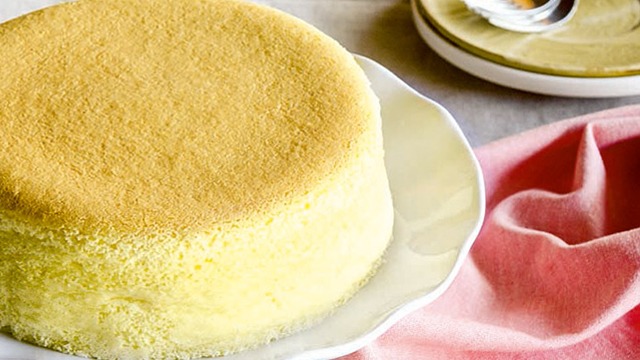 4 Physical or Mechanical Leavening: Air
When whisking briskly, air bubbles are trapped, thus creating foams, whipped creams, or meringue. It's this technique done with butter or egg whites that helps leaven baked goods. When used to leaven, it is folded gently into a thicker batter, taking care not to deflate the whipped ingredient. This technique is used in sponge cakes, soufflés, and Japanese cheesecake.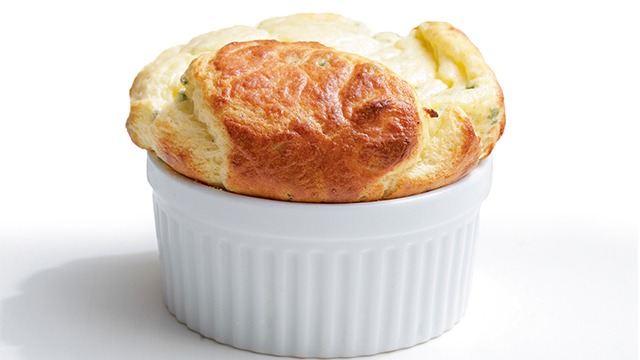 Cheese Soufflé Recipe
Posted in:
Recipe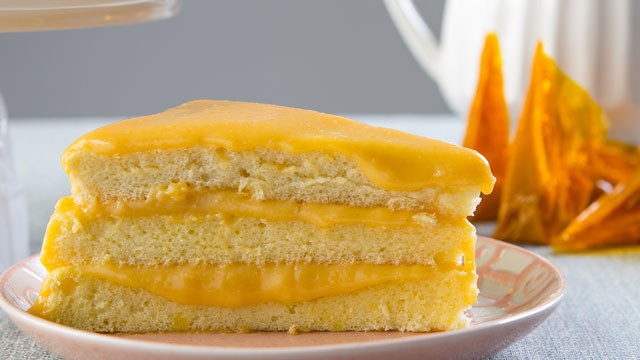 Yema Chiffon Cake Recipe
Posted in:
Recipe
A tip when using whipped egg whites as a leavening is to also use acid.  Adding a tiny bit of acid such as vinegar or cream of tartar into your egg whites will help stabilize the foam. Adding sugar as you would when making a meringue would also stabilize the egg whites as you whisk.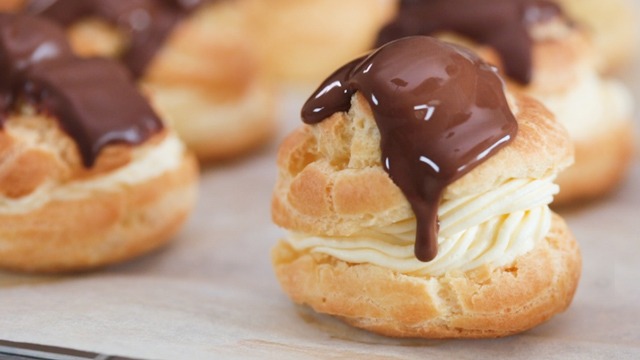 5 Physical or Mechanical Leavening: Steam
Using steam to leaven or rise doughs is also possible. Have you ever made cream puffs? Once you put your cream puffs in the oven, the high heat causes the water content that's present in the dough to expand with steam —thus, puffing up your baked good. It's vital not to open your oven until the very last moment as the premature opening will cause them to deflate.
Puff pastry and pie crusts also use steam to aerate and make bubbles. Little bits of cold butter is laminated with flour mixture. These trapped pieces of butter, once exposed to the oven's heat, creates steam. This is how you get all those "flaky" layers. The butter must be cold until it's in the oven, as melted butter will simply incorporate into the crust.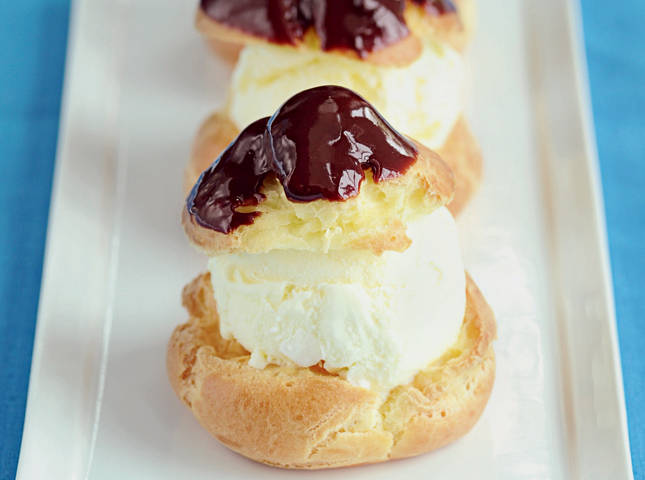 Cream Puffs with Ice Cream
Posted in:
Recipe
Now that you know all about leavening, you won't be afraid about using them. Whether it's those tiny amounts of chemical leavening, delicate physical leavening, or biological leavening, a little know-how will help you use them correctly so you get the fluffiest baked goods!