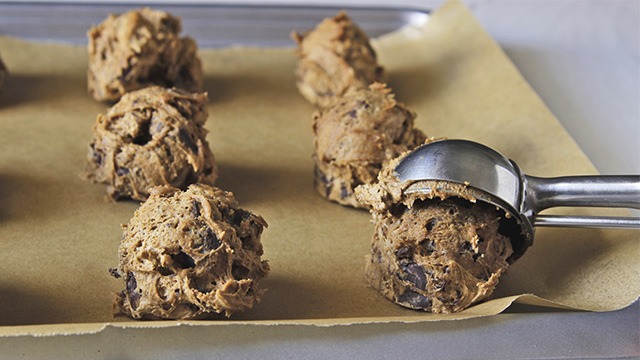 Home bakers know that baking hacks are often very useful time-savers—if you have a limited amount of resources when it comes to baking tools, it's good to know that there is no need to buy unnecessary equipment on top of what you already have.  
Here's a common kitchen tool that has lots of uses when it comes to baking: the ice cream scoop! Whether you're whipping up cupcakes, cookies, layer cakes, or frosting for your baked treats, an ice cream scoop will help you in terms of both production and clean-up.
1 Use it to evenly divide cake batter.
When baking layer cakes, it's difficult to eyeball the amount of batter you need to place in separate pans—especially if you don't have a weighing scale on hand. The easiest way to do this is to use your ice cream scoop to measure your batter evenly. For a 3-layer cake, use around 3 to 4 scoops of cake batter per 7-inch round cake pan.
2 An ice cream scoop is the perfect size for measuring cupcake batter.
Ice cream scoops are perfect for cupcakes! All you have to remember is that 1 cupcake is equal to 1 ice cream scoop of batter. It's a mess-free and easy way to measure and divide your cupcake batter evenly onto your pans.
3 Use it to scoop out cookie dough.
There are different sizes of ice cream scoops—but both the small sizes and regular sizes work well for cookies. Use ice creams scoops to make perfectly even cookies, and you will avoid getting your hands greasy will all the sticky dough at the same time. Note that the regular-sized ice cream scoops will churn out slightly large cookies, so opt for the smaller ones (you can find these in department stores) when baking cookies.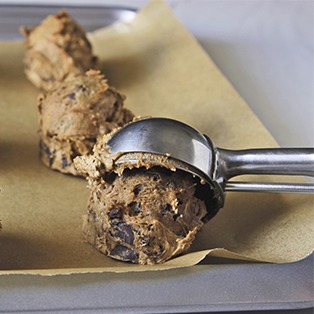 WATCH: 6 Baking Hacks You Need to Know
Posted in:
Baking
4 Measure frosting easily.
Small ice cream scoops make frosting cupcakes much easier. If you have no piping bags and offset spatulas on hand, simple scoop out a small amount of frosting from the bowl and place it on top of a cupcake. Use a spoon so spread it around slightly, and you'll have an elegant, simple spread of frosting on top of every cake.
ADVERTISEMENT - CONTINUE READING BELOW
Recommended Videos