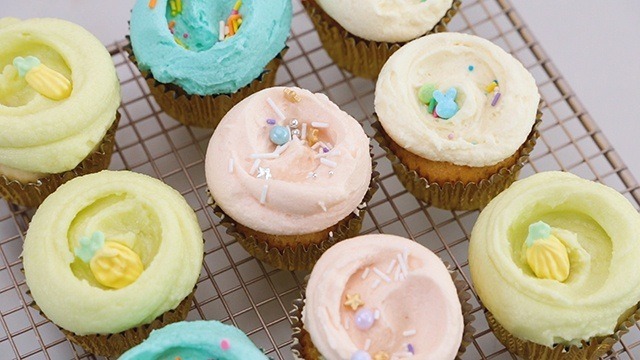 Magnolia Bakery became famous for its classic American cupcakes on the hit TV series "Sex and the City". What you probably didn't know is that it's not only delicious, you can finally find out for yourself without going to New York because it's opening here in Manila on August 22. 
Called M Bakery, the New York-famous bakery will also serve their famous cupcakes topped with its signature frosting swirl. The frosting swirl in the center is trademarked but it doesn't mean you can't try it out for yourself. Here's how you can make a classic American frosting with a Magnolia Bakery-style frosting swirl to impress your friends and family. 
Vanilla American Buttercream
Takes 15 minutes
Makes 2 1/2 cups frosting
1 cup unsalted butter, cubed, room temperature
5 cups confectioners' (powdered) sugar
1/4 to 1/2 cup whole fresh milk
3 tablespoons all-purpose cream
2 teaspoons pure vanilla extract
Gel food coloring, as needed
1 In a bowl of an electric mixer with the paddle attachment, cream on Low to Medium speed the butter until smooth. On the lowest setting, alternate the additions of the powdered sugar and 1/4 cup milk, starting with the sugar. Add the vanilla extract and all-purpose cream. Increase the speed to High and mix for 3 to 5 minutes.
2 If coloring the buttercream, separate the frosting into wide and deep bowls. Start with a drop of color then mix. Add more food coloring drops one by one to achieve the desired color.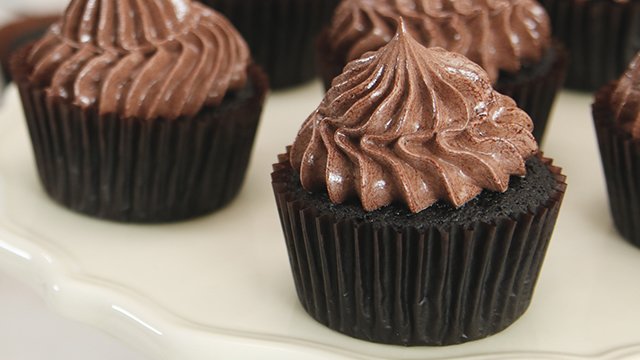 WATCH: How to Make Dark Chocolate Cupcakes
Posted in:
Baking
To Make The Magnolia-Style Frosting Swirl:
1 Transfer frosting into a wide-rimmed bowl. Remove air bubbles from the buttercream using an icing spatula by pressing the frosting against the bowl's side. This will give the frosting a smooth finish.
2 Tilt the bowl to the side then scoop a cone-shaped mound.
3 Grab a cupcake in your other hand.
4 While twirling the cupcake in one direction and twirling the offset spatula in the opposite direction at the same time, dab the icing in the center of the cupcake to create a smooth pyramid-shaped mound.
5 Holding the spatula straight up, scoop the center of the frosting using the tip of the spatula while turning the cupcake in the other direction to create the swirl pattern.
6 Repeat with remaining cupcakes and frosting. Top with sprinkles as desired.
ALSO READ: