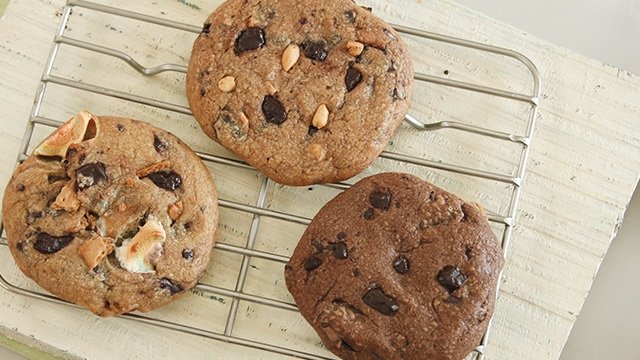 One basic cookie dough plus two mix-ins per cookie makes 3 delicious types of cookies! We used graham crackers, marshmallows, nuts, and chocolate on our version. Feel free to make the cookies your own by adding your favorite flavors!
Basic Cookie Dough
1½ cups brown sugar, packed
1 cup melted butter
1 teaspoon sea salt
2 teaspoons vanilla
2 eggs
2½ cups all-purpose flour
½ teaspoon baking soda
1 cup chocolate, chopped
1 In a large bowl, mix the brown sugar, butter, and salt together until combined.
2 Add the vanilla and eggs, and mix thoroughly.
3 Sift the flour and baking soda into the bowl and fold until just combined.
4 Using a spatula, fold in chopped dark chocolate or semisweet chocolate chips.
5 Fold in desired mix-ins. Sprinkle sea salt on top.
6 Bake in an oven set to 350°F for 12 minutes. Transfer onto a cooling rack and let cool completely.
S'mores Cookie
graham crackers + marshmallows
Chunky Peanut Butter Cookie
peanut butter + crushed roasted nuts
Double Chocolate Cookie
cocoa powder + chocolate chunks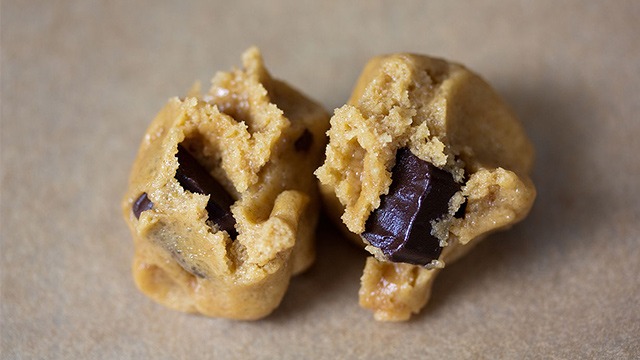 3 Essential Steps to Baking Chewy Cookies
Posted in:
Baking