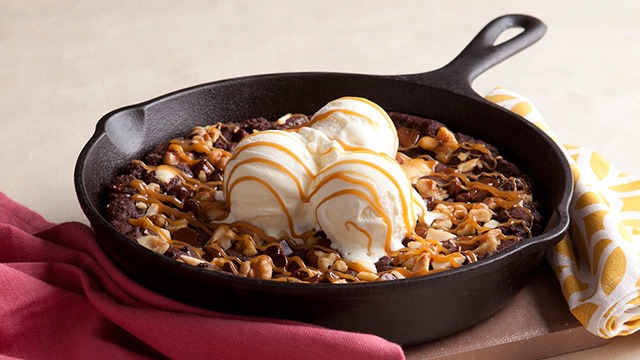 Nothing screams homemade more than a one-pan (or should we say, one-skillet?) dessert! It could be something as simple as a fruit-and-crumble pie to cookie dough in a pan. While you are probably used to searing your steaks in them, cast-iron skillets make for some of the best desserts. Here are a few ideas:
1 Skillet Cookie
Instead of the traditional scoop-and-bake method, throw your cookie dough into a skillet and leave it in the oven for a few minutes. Under-bake it, because extra soft and still-warm cookie dough becomes even better with a scoop or two on ice cream on top.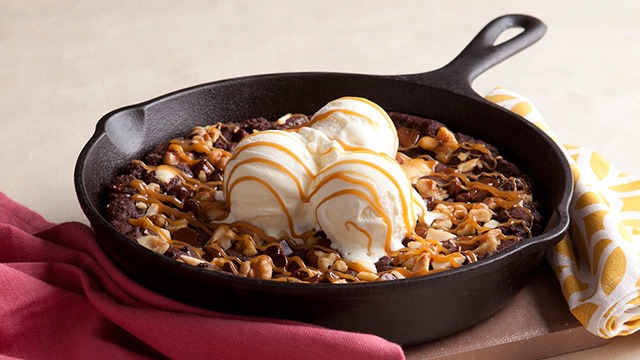 Chocolate Skillet Cookie Recipe
Posted in:
Recipe
2 Fruit cobbler or crumble pie
Give your fruit (apple, peach, and pineapple work very well!) a quick cook over the stove with a squeeze of lemon juice and a sprinkle of sugar. Remember to flavor with citrus zest and dessert-friendly spices. Spread your crumble mixture over the top, then pop the whole skillet into the oven to bake until golden brown. No clean-up necessary!
3 Fruit pie
Pie crusts love skillets. Get a good crust to hold your juicy fruit fillings by baking them in a cast-iron skillet, for a change! Keep it homey by serving it with and digging into it with spoons.