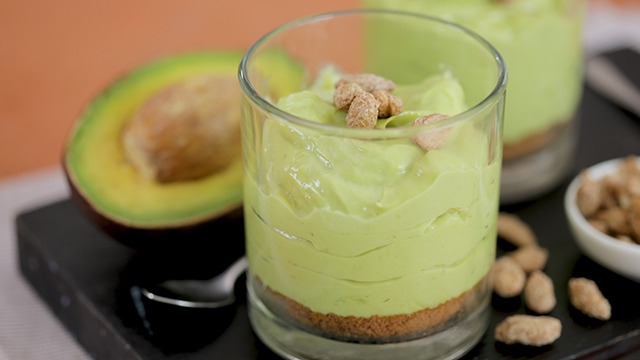 When it comes to desserts, a cheesecake recipe like this no-bake avocado cheesecake will be irresistible for a number of reasons: it's a no-bake recipe which will instantly make new bakers love it, plus it has avocado in it so it's the perfect dessert for avocado fans. It's got a delicious graham cracker crust that has peanut butter, too. Finally, it's an easy 5-ingredient recipe that is a dessert which doesn't even need to be chilled before you can enjoy it. 
If these reasons are more than enough to get you moving and eager to make it, here's the recipe: 
No-Bake Avocado Cheesecake Recipe
Takes 20 minutes plus chilling
Makes 4 servings
2 tablespoons natural sweetened peanut butter
1/4 cup butter, cubed
1 cup crushed graham crackers, more to garnish
1/2 227-gram bar cream cheese, softened, cubed
1 cup powdered sugar
2 avocados, ripe
1 teaspoon calamansi juice
1/2 teaspoon vanilla extract
honey roasted peanuts, to garnish
1 In a medium bowl, combine peanut butter and butter. Microwave on High until butter is melted, around 30 seconds. Stir to combine. Add crushed graham crackers. Mix thoroughly until mixture resembles sand. Spoon about 2 tablespoons graham cracker mixture into serving glasses. Press down to create a crust. Chill until ready to fill.
2 In a food processor, combine cream cheese, powdered sugar, avocados, calamansi juice, and vanilla extract. Pulse 5 times then process on Medium until the mixture is smooth and has thickened slightly, about 3 minutes. Remove from the bowl and spoon into the prepared glasses. Tap gently if needed to release bubbles. Chill until ready to serve. Top with honey roasted peanuts or more crushed graham crackers before serving it chilled.
You'll love these other easy cheesecake recipes, too. 
ADVERTISEMENT - CONTINUE READING BELOW
Recommended Videos