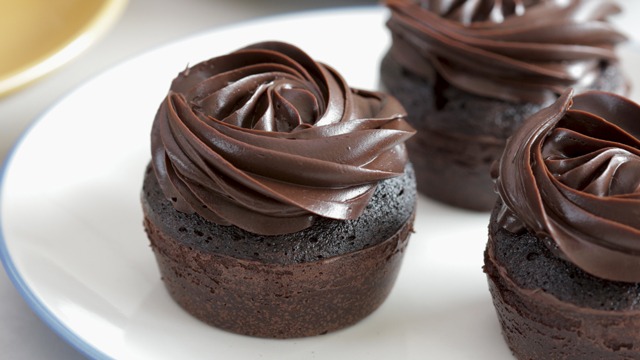 It's no secret anymore that there are some baking recipes don't need to be baked at all. These no-bake, steamed recipes are fantastic and easily made by almost anyone with a stove. Since it's steamed, there is little excuse for anyone to not be able to bake a cake if they have the ingredients on hand. 
That's why this no-bake steamed chocolate cake recipe is one of our favorites and it will be yours, too. 
You need to try this no-bake cupcake recipe if only for the luscious dark chocolate ganache recipe you will make and top each mini cake with. "Decadent" doesn't even begin to describe how delicious the cupcakes this recipe creates. 
Go home, and try it right now. You don't even need the mixer. You can do this in a big bowl with a whisk and spatula. We promise: you won't regret the spontaneous decision to do so.
No-Bake Chocolate Cupcakes Recipe
Takes 35 minutes
Makes 8 cupcakes
1/4 cup butter
1/2 cup sugar
1 large egg
1/2 teaspoon vanilla flavoring
1/2 cup all-purpose flour
1/4 cup cocoa powder
1/2 teaspoon baking soda
1/2 teaspoon baking powder
pinch of salt
1/2 cup + 2 tablespoons fresh milk
For the dark chocolate ganache:
1 cup all-purpose cream
1 cup 60% dark chocolate, chopped
1 Preheat steamer.
2 In the bowl of a stand mixer, cream butter until softened and light. Add sugar, and mix until well mixed. 
3 Add flour, cocoa powder, baking soda, baking powder, and salt. Stir until well mixed. 
4 Add the milk followed by the vanilla flavoring and finally, the egg, and stir to mix well. 
5 Divide chocolate cake batter in 2 6-cup silicone cupcake molds. Cover with foil if desired. Place molds in the steamer and cover with a lid. Steam over medium heat for 20 minutes or until a toothpick inserted in the middle of each cupcake comes out clean. Set aside to cool completely.
6 Meanwhile, make the ganache: Melt chocolate in a bowl placed over simmering water in a saucepan over low heat. Transfer to a medium bowl, and stir in hot cream until chocolate has melted. Set aside to cool completely. 
7 Once cooled and thickened, scoop into a piping bag with a piping tip and pipe onto each cupcake. Let stand at room temperature to set. Serve immediately. 
ADVERTISEMENT - CONTINUE READING BELOW
Recommended Videos