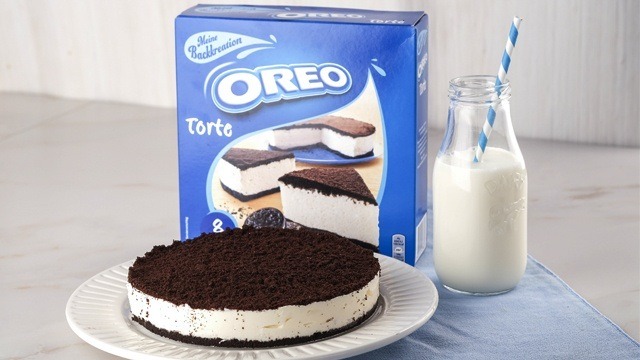 Ever looked at your Oreos and thought to yourself, "these sure are small!" Now you can easily make a giant version of your childhood cookie, torte version! We found a no-bake Oreo cheesecake mix for Oreo fans. 
The Oreo torte package has instructions in German but it has very useful universal labels like graphics and numbers to signal what to do and which packets will be used first. Our favorite part of the package has to be the smart, disposable, easy-to-use cake pan already included. Here's how to make it at home: 
Ingredients
250 ml Milk (which is more or less 1 cup)
30 grams melted butter or margarine (which is 2 tablespoons, or ¼ stick butter)
1 box Oreo Torte mix
1 When you open the box, you will find four things: 3 foil packets labeled 1, 2 and 3, and a plastic pan. Get the foil packet 1 which has the pre-measured crushed Oreo cookies. Dump that into your bowl of melted butter and mix. Spread your cookie and butter mixture evenly on the floor of your plastic pan. Press down with a spoon or spatula. Chill as you do the next step.
2 In a separate bowl, mix your milk and foil packet 2, containing the powdered gelatine and cream filling. Blend for two minutes with an immersion blender or electric hand mixer. Once aerated and fluffy, spread evenly over your cookie crumb crust.
3 Open packet 4 containing your cookie crumb topping and spread evenly over your cream filling. Set it in the freezer for 45 minutes or 2 hours in the refrigerator. Simply tear off the sides of your disposable cake pan according to the indicated arrows, and voila! It's ready to eat!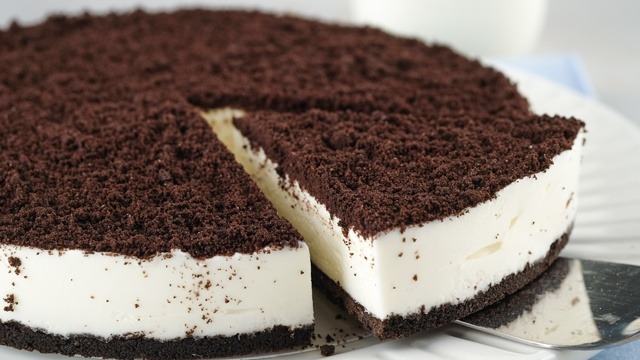 For something so easy to make, it's something that you can be really proud of. So go over to Landers or SM Supermarket and go get that instant box of goodness! Have fun making it or even let your kids chime in for some quick quality time.
Oreo Torte Mix is available at SM Supermarket Makati and Landers Arcovia City, Libis. 
Other no-bake desserts that are super easy to make:
ADVERTISEMENT - CONTINUE READING BELOW
Recommended Videos