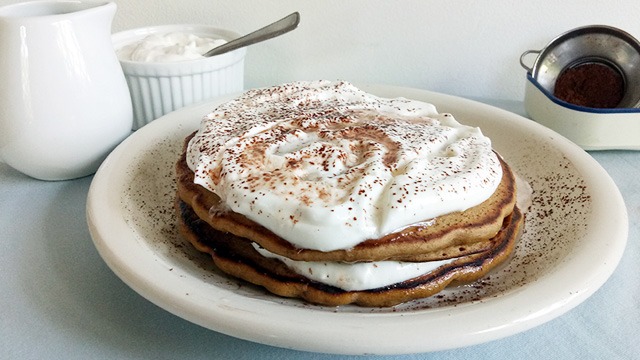 You can make more than just pancakes with a box of pancake mix, but did you know you can make extraordinary pancakes with it? 
You can make flavored pancakes such as ube pancakes, peanut butter and coconut pancakes, or even squash or kalabasa pancakes! But why not make breakfast more delicious with a pancake breakfast that's so decadent, it can be dessert? 
That's why we hacked a pancake mix to make coffee pancakes and then made it even more irresistible by turning it into a tiramisu pancake. 
What makes a pancake into a tiramisu pancake recipe? 
This is what you have to look forward to: coffee pancakes are slathered with fluffy sweetened whipped cream, dusted with cocoa powder, and then served with rum-infused pancake syrup (the syrup is optional!). The result is a fantastic breakfast that will trump anything you have made at home thus far. 
Here's what you will need to do to make this epic pancake breakfast a reality: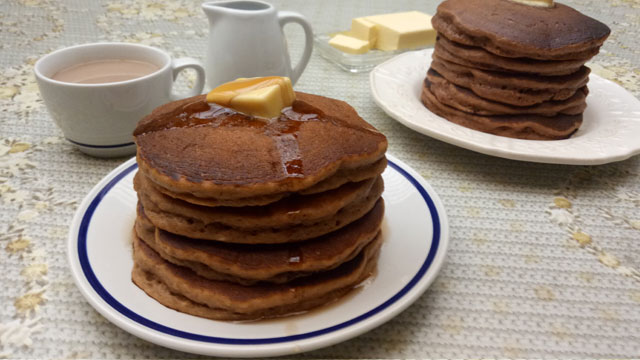 1. Make coffee pancakes. 
We already made a delicious coffee pancake recipe! You can use the from-scratch version that uses all-purpose flour, baking powder, sugar, melted butter, an egg, milk, and instant coffee granules or hack your pancake mix and just dissolve the coffee granules into the water or milk. You can even use brewed coffee for the liquid! 
Any way you choose to add the coffee to your pancakes, you need to make these coffee pancakes if only to discover how delicious coffee + pancakes can be every morning.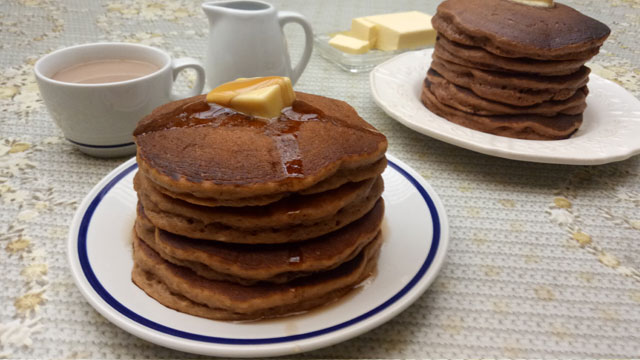 Coffee Pancakes Recipe
Posted in:
Recipe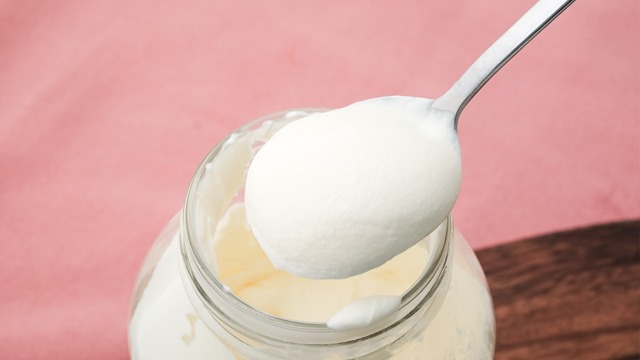 2 Top it with cream cheese whipped cream. 
Don't worry! You won't need much cream cheese for this recipe but to get that signature taste and flavor that only cream cheese has, you will need to use a bit of it to flavor your whipped cream. 
To make cream cheese whipped cream, you'll need to whisk 1/4 cup (1/4 226-gram bar) cream cheese with 1/2 cup powdered sugar, sifted, until soft and creamy. Set aside. Whisk 1/2 cup whipping cream or all-purpose cream, chilled, until soft peaks. Fold in the softened cream cheese and whisk until stiff peaks. Set aside, chilled, until ready to put the pancake together. 
Once you're ready to eat, place a pancake on a plate and top with a dollop (or more) of the whipped cream. 
ADVERTISEMENT - CONTINUE READING BELOW
Recommended Videos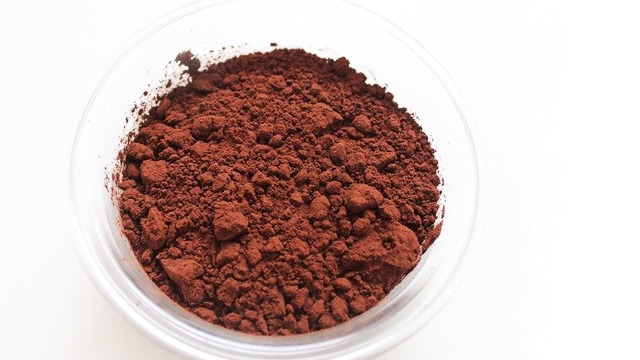 3 Sprinkle it with cocoa powder.  
You can be as generous with the dusting of the cocoa powder on top or as light-handed as you want. That's the beauty of making these at home! You can do this with a spoon lightly tapped over your pancakes or use a small strainer like we did to make the dust fall more delicately and evenly over the pancake stack.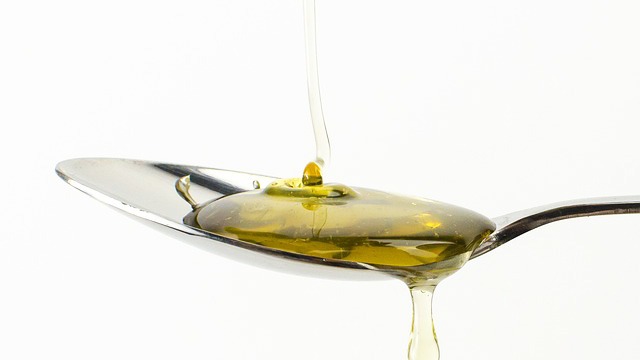 4 Drizzle on the (optional) rum-infused syrup. 
No tiramisu is complete without some rum added to the mix! However, this is totally optional but highly recommended. Plus, it's easy to make! 
Here's how to level up a pancake syrup into something even more special: 
1. Mix 2 tablespoons honey or corn syrup, 1/2 cup light brown sugar, and 1/4 cup water in a saucepan. 
2. Bring to a boil over medium-low heat then simmer until the mixture is simmering with clear amber bubbles breaking on top. (This means that the water has evaporated and all the sugar has melted.) Swirl, do not stir, the mixture to prevent the sugar mixture from reforming into crystals. 
3. Add 1/4 teaspoon vanilla extract and 1/4 cup rum and swirl to combine. Remove from the heat and cool completely. 
You can, of course, use regular pancake syrup or honey but why stop there when you can go irresistible with this rum-syrup combo? We say go all in and do it! We think you won't regret it.     
Need more ideas on what else you can do with your pancake mix? Try these too!