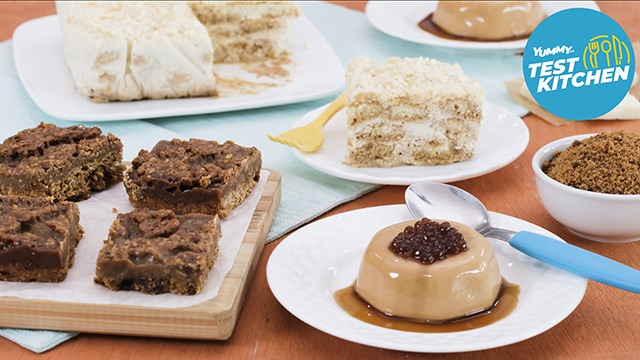 We've all had brown sugar before, so what makes the brown sugar trend so special? Why do we end up buying brown sugar-sweetened milk tea?
That's because the brown sugar trend isn't just your average table brown sugar. Turning brown sugar, or in our case muscovado, into a thick luscious syrup brings out the molasses' complex, slightly tangy flavor and those addicting caramelly notes. Combined with any sort of dairy, you get a syrup that's not just sweet, but also loaded with flavor.
That's why we decided to ride on that trend and create these inventive new ways to have it. The once ubiquitous brown sugar has turned into something amazing with these treats: a panna cotta, a revel bar, and a refrigerator cake. 
This creamy panna cotta version's got a strong, slightly bitter, and earthy black tea taste that's perfectly balanced by a thick, dark brown sugar syrup that's got delicious, textured pearls. We bet you've never had panna cotta this way.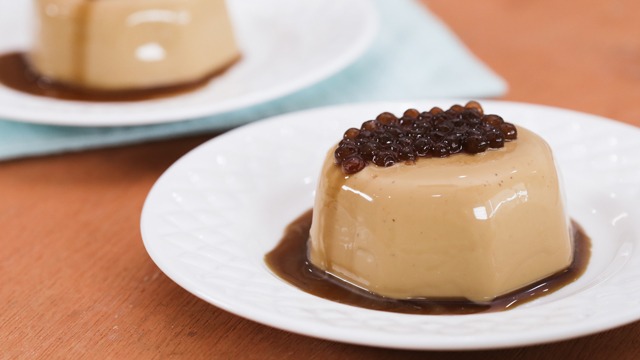 Brown Sugar Milk Tea Panna Cotta Recipe
Takes 3 hours and 25 minutes
Makes 5 servings 
1 10-gram pack gelatin
¼ cup water, cold
Pinch of salt
1 250-ml carton all-purpose cream
1 350-ml can evaporated milk
5 black tea bags
1/2 cup water
1 cup muscovado sugar
2 cups sago, cooked
Hot water, for unmolding
1 In a bowl, sprinkle gelatin over cold water and set aside.
2 In a pot, combine all-purpose cream, evaporated milk, and salt. Add tea bags and turn on the heat. Once it boils, turn heat down to a simmer. Let it simmer for five minutes, turn off the heat, and then place the tea bags in a sieve over the pot. Squeeze out all the liquid from the teabags using a spoon, pushing down on the sieve.
3 Add and dissolve the gelatin mixture. Pass mixture through a sieve into a container with a spout.
4 Pour into

5

molds, making sure none are filled over two inches. Let it set for 3 to 4 hours in the refrigerator.
5 Make the syrup: In a pot over low heat, mix together water and muscovado sugar until all the sugar is dissolved. Keep stirring until mixture thickens. It's ready once it coats the back of a metal spoon. Drop heat to the lowest setting and add cooked sago. Simmer for half a minute more and then turn off the heat. Let it cool.
6 Unmold panna cotta right before serving by using hot water. Dip mold for 30 seconds and jiggle container to release sides. Turn over on a plate. If unable to unmold, dip the mold in hot water again for a few seconds, jiggle, and flip over again. Pour brown sugar sago syrup over unmolded panna cotta and serve immediately.
This brown sugar revel bar has got a chewy, brown sugar-dotted crust, and a sweet white chocolate and brown sugar-syrup caramel topping. If you've got a sweet tooth, this one will hit the spot.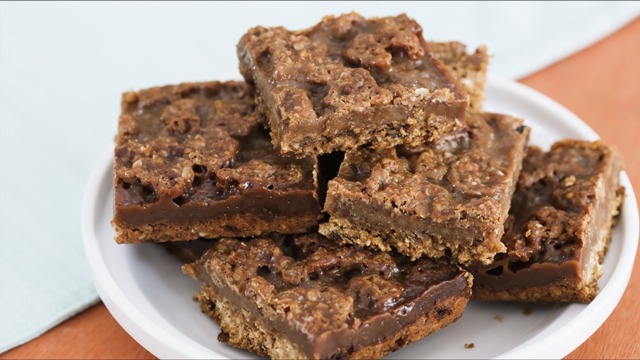 Brown Sugar Revel Bar Recipe
Takes 55 minutes
Makes 16 squares 
For oatmeal crust:
1/2 cup unsalted butter, softened
1 cup muscovado sugar
1/2 teaspoon salt
1 large egg
1 1/4 cups all-purpose flour
1/2 teaspoon baking soda
1 1/2 cups quick-cooking oatmeal
For brown sugar white chocolate topping:
1/2 teaspoon salt
2/3 cup muscovado sugar
1/4 cup unsalted butter
1/4 cup water
5 35-gram 

white

chocolate bars, chopped
1 Preheat the oven to 350 degrees F (175 degrees C) and line a 10×9 inch baking pan or 9×12-inch baking pan with parchment paper.
2 Make the oatmeal crust: Cream together butter, sugar, and salt. Incorporate egg. Add flour and sprinkle in baking soda. Mix until incorporated. Mix in oatmeal.
3 Set aside 1/2 cup of the crumb mixture for topping. Flatten the rest of the mixture into your prepared pan. Set aside. 
4 Make the brown sugar topping: Add salt, sugar, butter, and water in a pot over medium-high heat. Whisking briskly, bring the mixture to boil, then turn off the heat. Add in chopped white chocolate and keep whisking until all the white chocolate has melted into the mixture. Pour over the flattened crust. Dot with the remaining 1/2 cup of oatmeal crust.
5 Bake in the preheated oven for 30 to 35 minutes. 
6 Let fully cool before turning out of the pan and cutting into squares.
Most refrigerator cakes are dotted with flavors and textures, but it doesn't really take much to make it delicious. This easy no-bake refrigerator cake is extraordinarily easy to make and will satisfy that craving for a creamy, soft, and perfectly balanced cake.
ADVERTISEMENT - CONTINUE READING BELOW
Recommended Videos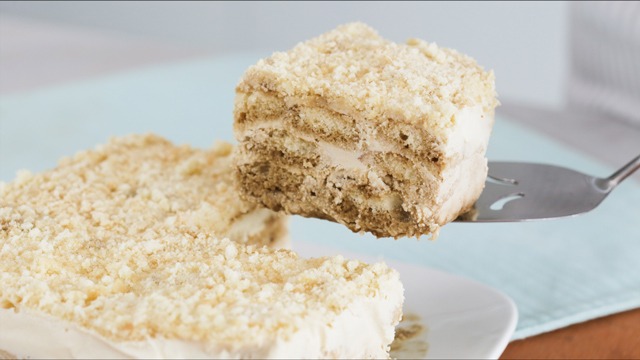 No-Bake Brown Sugar Refrigerator Cake Recipe 
Takes 3 hours 15 minutes
Makes 6 servings 
1/2 cup water
3/4 cup sugar
Pinch of salt
2 cups all-purpose cream
24 pieces ladyfingers (broas)
1/3 cup evaporated milk
2 tablespoons crushed ladyfingers (broas)
1 Make the syrup: In a pot over low heat, mix together water and muscovado sugar until all the sugar is dissolved. Keep stirring until mixture thickens. The mixture is ready once it coats the back of your spoon. Let it cool.
2 Stir in three tablespoons of syrup into evaporated milk and let cool.
3 Line a 6×6-inch baking pan with parchment paper. Add 1 tablespoon cream and 1 tablespoon syrup.
4 Dip ladyfingers in sweetened milk mixture quickly before placing into the pan in a single layer.
5 Pour enough cream until cookies are covered. Drizzle 2 tablespoons syrup using a spoon. Repeat to make three cookie layers.
6 Sprinkle crushed ladyfingers on top over the final layer. Cover and freeze for a minimum of 3 hours or overnight.
7 When ready to serve, lift the cake out of the pan and slice into serving sizes. Serve. You can also serve it with more syrup.
We hope we've inspired you to add brown sugar to all your other desserts in creative ways! With these dessert recipes, you now know that it's not just for milk or milk tea.