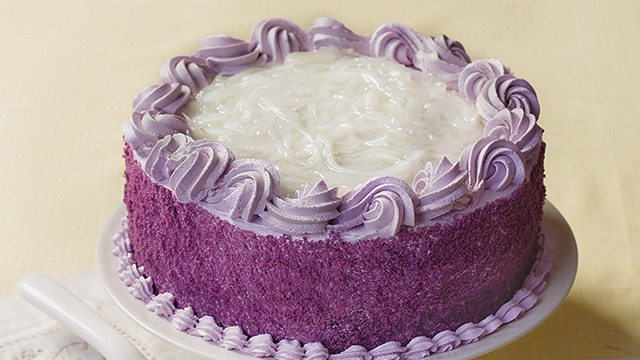 The ube trend isn't ending anytime soon and it's not fair to predict when the hype or the love you have for the ube, aka the purple yam, is going to wane. 
The ube is a decidedly different kind of dessert ingredient and it's not just because of its mild flavor. It's an earthy flavor that pairs well with other ingredients, especially sweet ingredients, and this is the reason why we love it so much! 
If you're still not tired of the hype that is still buzzing around the ube, here are dessert ideas using ube that you love.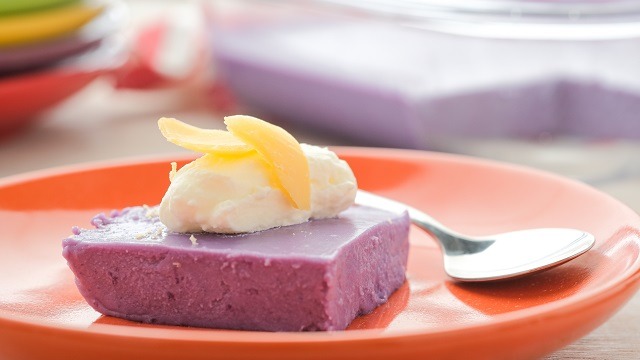 1 Ube Gelatin Recipe 
How can you turn away such a simple and lavender-hued dessert? If you can't, know that this is a no-bake dessert that is chilled and almost all about the ube. The only deviation is the cream dollop and bits of dried mangoes on top.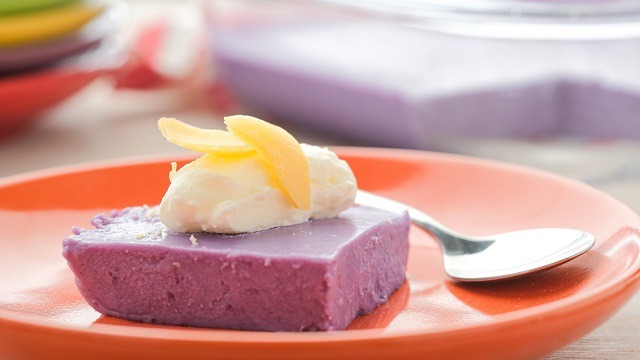 No-Bake Ube Gelatin Recipe
Posted in:
Recipe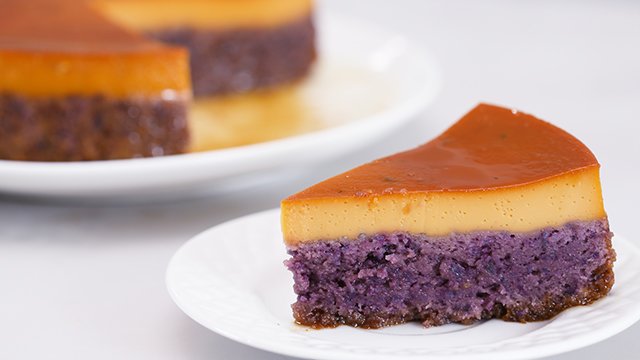 2 Ube Leche Flan Cake Recipe 
Two favorite desserts in one giant dessert is the ultimate kind in our book. This custard cake looks like your typical custard cake until you see the vibrant purple cake under the leche flan. You can even do the same thing but in cupcake form. If you find it's hard to do, just make individual ube cupcakes and top it off with leche flan. Easy!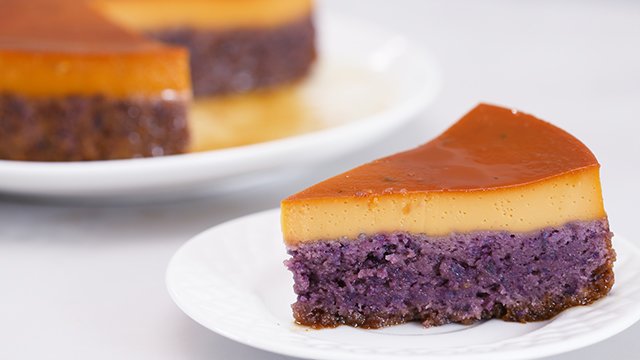 WATCH: How To Make Ube Leche Flan Cake
Posted in:
Baking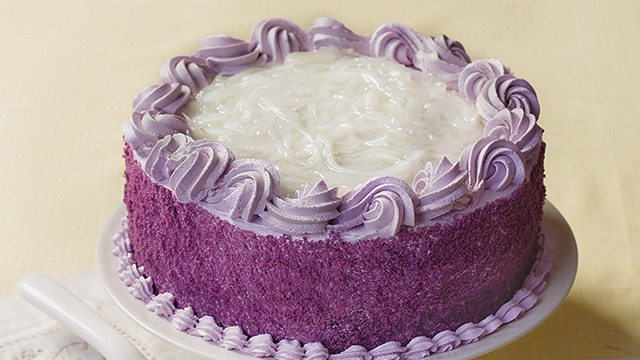 3 Ube Macapuno Cake Recipe  
When it comes to ube, the other popular ingredient that is commonly associated with it is macapuno. There's something about the sweetness of the coconut strands in a sweet, gooey, and gelatin-like coating that makes ube taste earthier, better. If you love the combination too, this cake will be the cake you want for every celebration.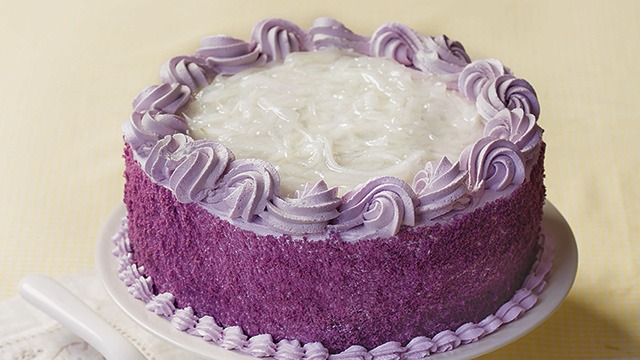 Ube Macapuno Cake Recipe
Posted in:
Recipe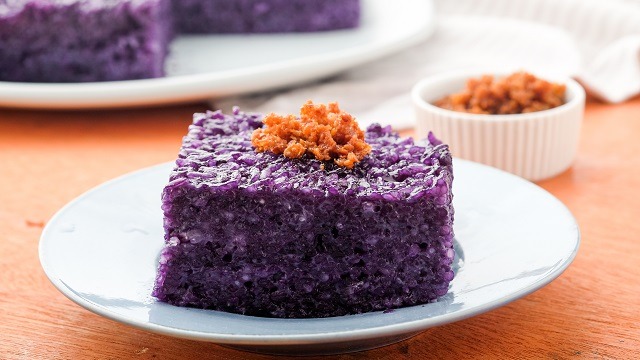 4 Ube Biko Recipe      
Anyone who loves biko or the sweet sticky rice that's covered in bits of toasted coconut bits know this kakanin is one of the most basic. After all, you're basically just cooking rice! What makes this recipe so delicious is really the ube halaya that's mixed into the biko. Some ube flavoring jumpstarts the flavor on your tongue but there's no denying that vibrant hue! We love serving it up in these pretty and prefect squares but if you want the softest biko, give the biko another round of stirring in some coconut oil so it can get super gooey and even more flavorful.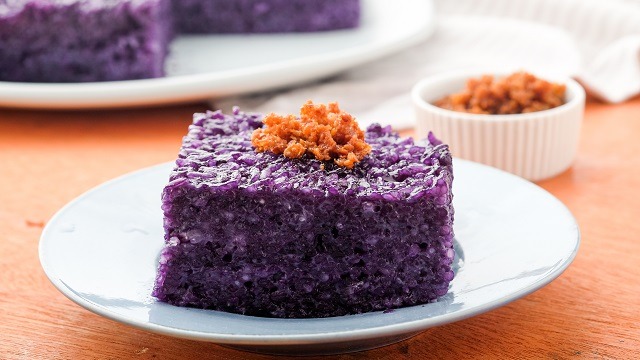 Ube Biko Recipe
Posted in:
Recipe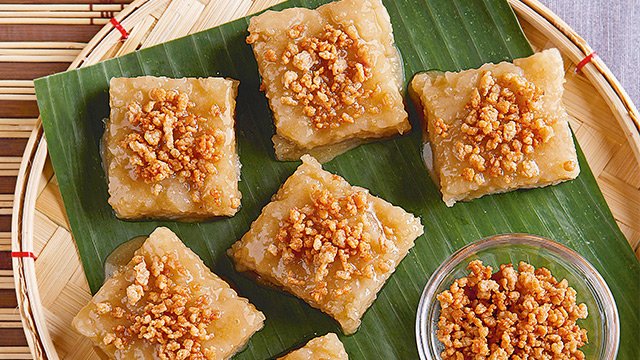 Biko Recipe
Posted in:
Recipe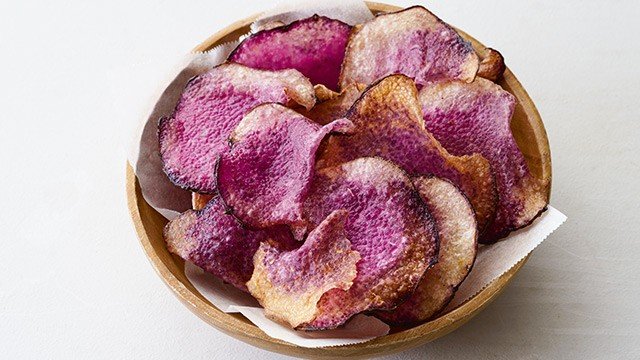 5 Ube Chips Recipe
Potato-like chips are not exactly the sweet dessert you were expecting but give these sweet-salty snacks a chance! These are just addicting as any sweet dessert you can come up with and with the love affair we have with mixing sweet and salty, you can be sure that it won't be long before you dunk these chips into a chocolate chip cookie for a little something extra. 
ADVERTISEMENT - CONTINUE READING BELOW
Recommended Videos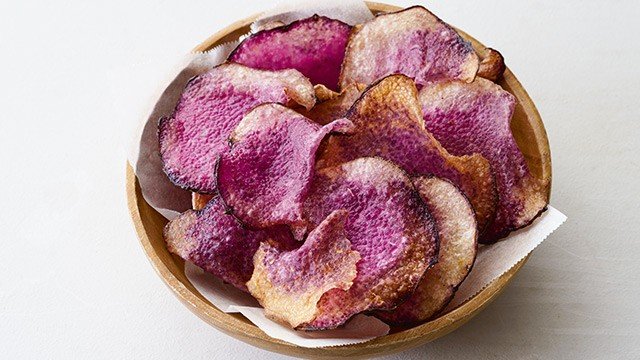 Ube Chips Recipe
Posted in:
Recipe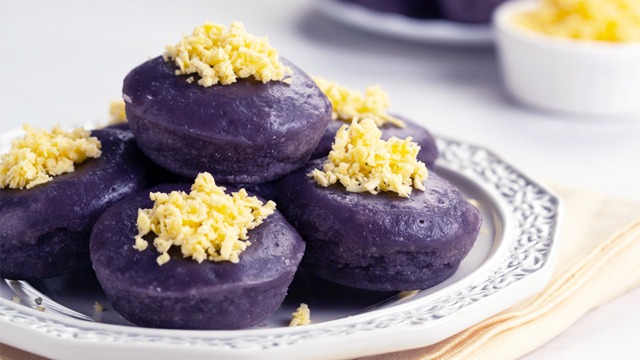 6 Ube Puto Recipe 
If you don't know, these mini puto are made vibrantly purple from the ube. That's not all. These otherwise classic little puto are topped with grated cheese so you can again experience that lovely salty-sweet combination that we adore in many of our desserts.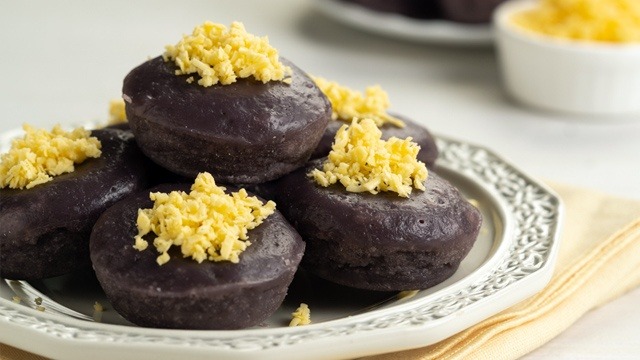 Ube Puto Recipe
Posted in:
Recipe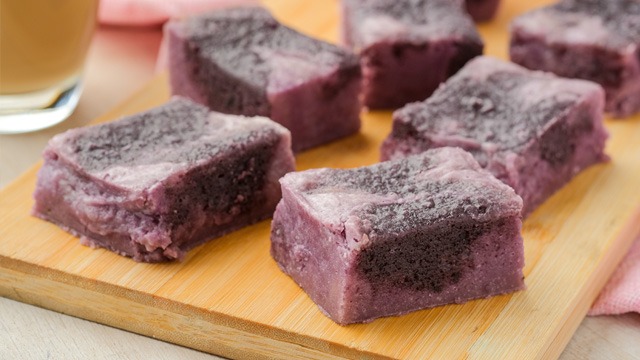 7 Ube Brownies Recipe 
Brownies are decadent, we know. That's why these lovely dual-toned brownies are so dangerous! Thinking about the gooeyness of each square is not what's going to make you fall in love with this recipe, it's the fact that there's even more ube in the next bite!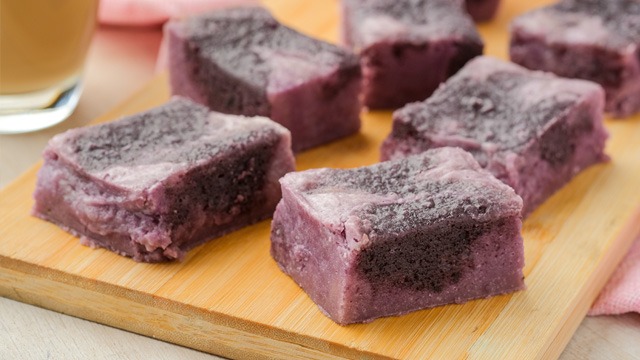 Ube Brownies Recipe
Posted in:
Recipe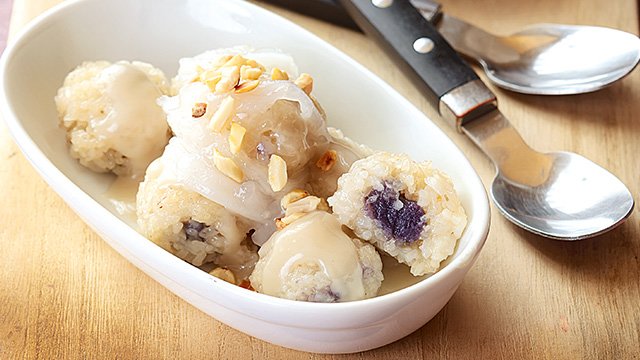 8 Ube-Stuffed Suman Recipe 
Most suman you have made was probably long in shape and served with niyog and lots of coco jam on the side. Why not take your love for ube and make these suman balls instead that's stuffed with a purple yam filling? The macapuno and chopped peanuts sprinkled on top and the coconut sauce will just make this dessert more appetizing! You can even add some leche flan, too.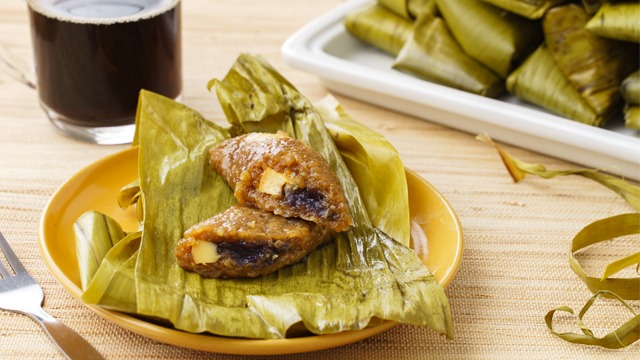 Ube Leche Flan Suman Recipe
Posted in:
Recipe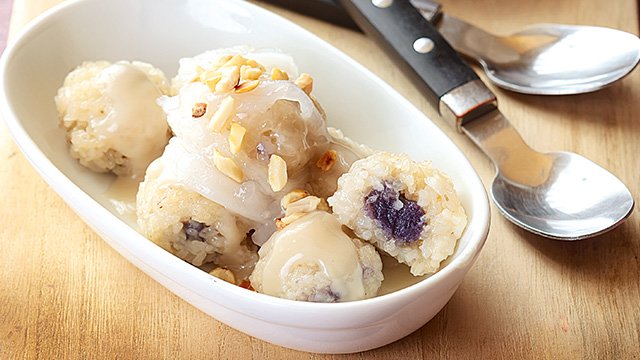 Ube-Stuffed Suman with Latik Recipe
Posted in:
Recipe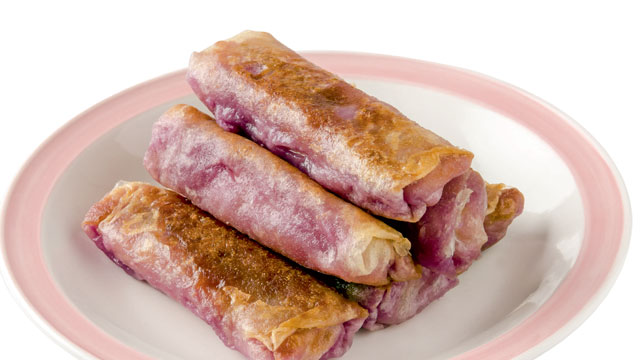 9 Ube Banana Turon Recipe 
The merienda staple turon is already a pretty hard snack to beat. It will take a super tasty ingredient to make it even better and the ube is the just the ingredient to make it that way. These are your regular banana turon but with the surprise of a smear fo ube halaya on the inside to give it that bit of joy to your day.      
Ube-Banana Fried Burrito Recipe
Posted in:
Recipe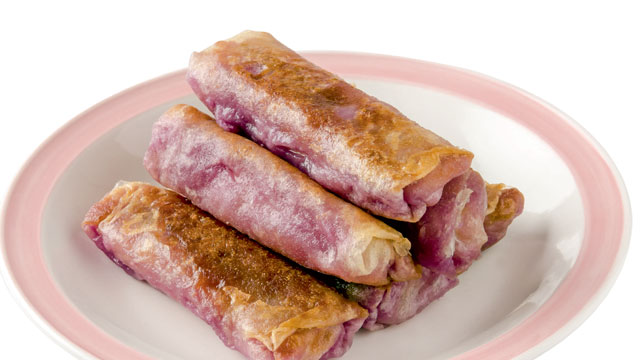 Ube-Banana Turon Recipe
Posted in:
Recipe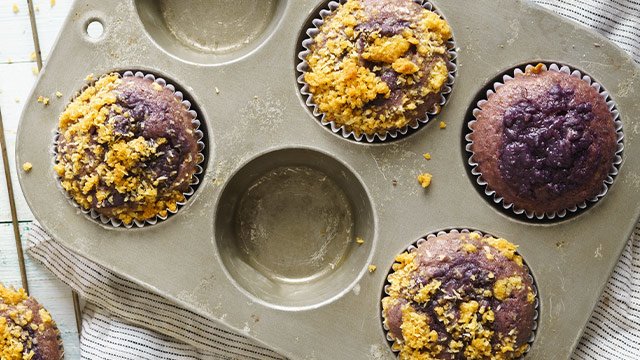 10 Ube Muffins Recipe  
You can do many things to muffins but this is one way that makes it easy to eat for breakfast: muffins! These unfrosted muffins are perfect for giving you a boost of energy because you got to taste your favorite dessert first thing in the morning. That doesn't discount the fact that muffins are really good!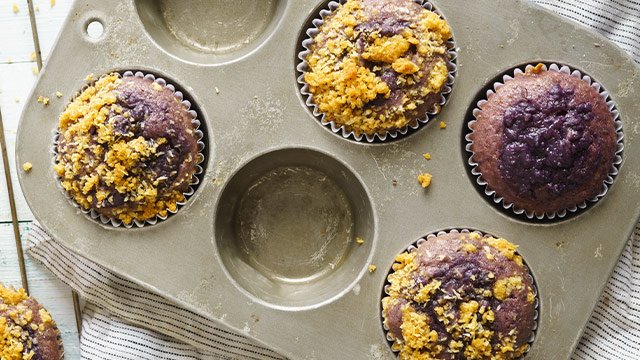 Ube Muffins Recipe
Posted in:
Recipe
ALSO READ:
***
Thinking about what to cook next? Join our Facebook group, Yummy Pinoy Cooking Club, to get more recipe ideas, share your own dishes, and find out what the rest of the community are making and eating!
Got your own version of the classic dishes? Pa-share naman! Get your recipe published on Yummy.ph by submitting your recipe here!