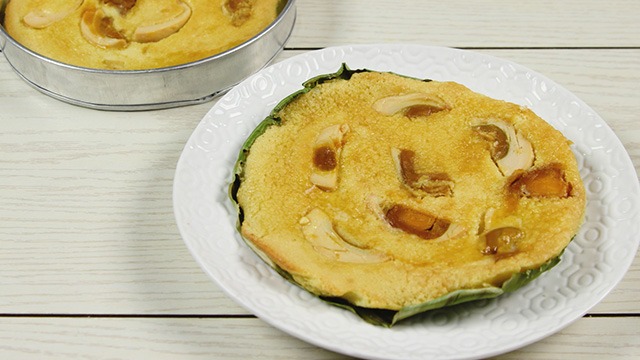 Bibingka is a Filipino rice cake, traditionally cooked in clay over banana leaves, that is especially popular during the Christmas season. This version is baked in the oven so that bibingka can easily be recreated at home. Pinoys love to spread lots of butter on top while the cakes are still warm! You can also top bibingka with shredded young coconut, salted egg slices, sugar, and cheese. Remember to spread butter over the bibingka while it's warm!
Bibingka Recipe
2 cups rice flour
1 cup sugar
2 teaspoons baking powder
1/2 teaspoon salt
1 (400-ml) can coconut milk
2 tablespoons butter, melted
5 large eggs, beaten
Salted egg slices, to top
1  To prep banana leaves: rinse banana leaves under warm water and trim away thick edges. Cut leaves into about 10-inch diameter rounds (large enough to cover bottom and sides of baking pan). Heat leaves over stove flames for a few seconds or until just softened. Line pans with leaves.
2  In large bowl, combine rice flour, sugar, baking powder and salt. Whisk together until well blended.
3  In another bowl, combine coconut milk, eggs, and butter and stir until properly mixed.
4  Divide mixture and pour into the prepared pie pans. Top with salted egg slices. Bake in a 350 F oven for about 20 to 25 minutes or until golden and toothpick inserted in the middle comes out clean. Garnish with desired toppings. 
Recipe by Mira Angeles