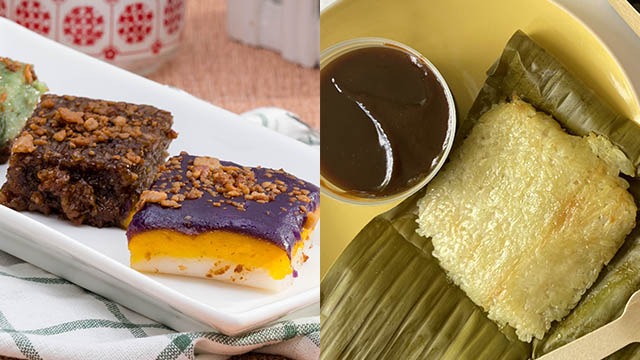 If you're a fan of Filipino kakanin, chances are that you've probably encountered or tasted latik in one way or another.
Kakanin are Filipino delicacies made with glutinous rice, sugar, and coconut milk and is a blanket term that comes from the Filipino words "kain" (to eat) and "kanin" (rice). There are many kinds of kakanin, and they can be made with the addition of other ingredients apart from the ones mentioned above. While some of these are also served with latik, the kind of kakanin made can end up with wildly different taste and texture profiles! Depending on what is added to the recipe, you can have something that's light and sticky like kalamay or something that's soft and chewy like suman malagkit.
What is latik?
Latik is made from coconut cream and depending on where you are in the Philippines, can be solid in the form of toasted curds or liquid in the form of a caramelized sauce.
The Coconut Curds-Style Latik 
In Luzon, latik in English is called coconut curds and is the byproduct of simmering coconut cream over low heat until the solids and the coconut oil separate. The curds are then lightly toasted until they turn brown and take on a toasted, coconutty flavor. This kind of latik is usually used as a topping for kakanin like kalamay, biko, or sapin-sapin. The curds have a springy bite to them that contrasts well with these soft and often relatively silkier kakanin.
Here's how to make Luzon-style latik (coconut curds).
The Coconut Sauce-Style Latik
In Visayas, latik is more like a coconut-based sauce. It is made by caramelizing coconut cream and sugar (some recipes also use coconut milk). The mixture is heated over low heat until it has thickened and taken on a glazed bronze color. Despite the sugar in this kind of latik, you'll find that the sauce is actually not too sweet and has a nutty, caramel flavor to it. Latik sauce is usually added to kakanin like suman malagkit, bibingkang malagkit, or suman sa lihiya. Its silkiness and rich flavor compliments kakanin that have a milder taste.
Here's how to make Visayas-style latik (coconut sauce).
Whichever style of latik you prefer, there is a kakanin that goes perfectly with it. Here are some kakanin recipes with latik that you can make at home:
Kakanin Recipes with Latik (Coconut Curds Version)
1 Kalamay sa Latik Recipe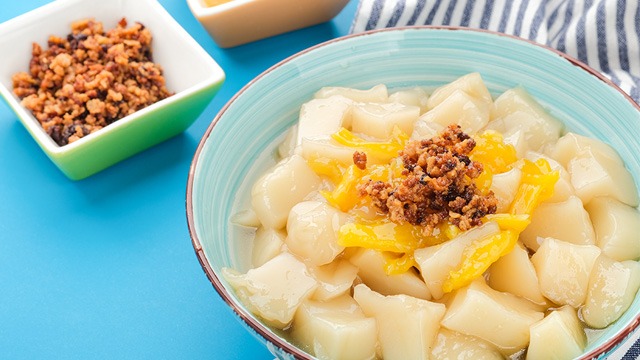 Kalamay is a sticky steamed rice cake made with glutinous rice flour and coconut milk. It is usually soaked in a brown sugar syrup and topped with latik. Our version includes infusing the syrup with langka or jackfruit. Its mildly sweet, langka-infused flavor, and chewy but soft texture pairs well with the coconut curd-style latik, which balances the sweetness with the delicious nuttiness that comes from toasted coconut.
ADVERTISEMENT - CONTINUE READING BELOW
Recommended Videos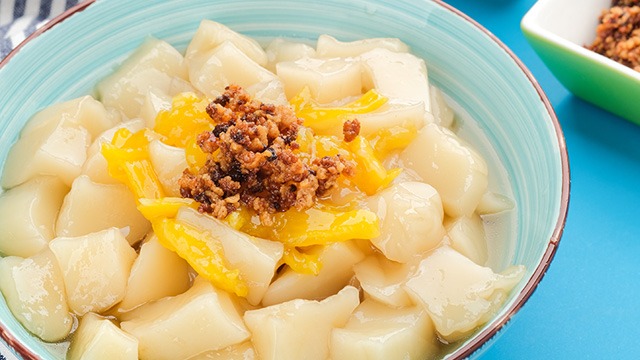 Kalamay Recipe
Posted in:
Recipe
2 Sapin-sapin Recipe
Sapin-sapin comes from the Filipino word sapin, which means to layer, and that's exactly what is done with this colorful kakanin. It is made by dividing a glutinous flour and coconut milk batter into three and steaming each layer in stages, each time with a different color and flavor, to make three distinct layers, usually white, yellow, and purple. Some recipes flavor their yellow layer with langka or jackfruit while the purple layer is flavored with ube. Serve this kakanin with latik for that extra dose of deliciousness!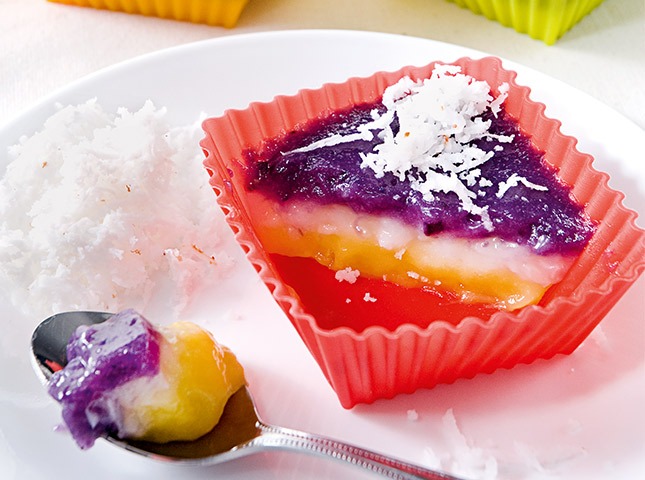 Sapin-Sapin Cups Recipe
Posted in:
Recipe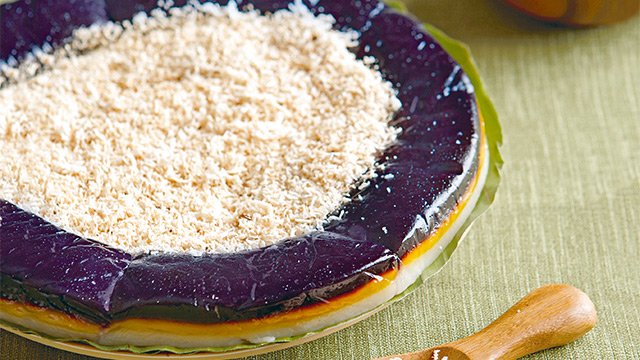 Sapin-Sapin Recipe
Posted in:
Recipe
3 Biko Recipe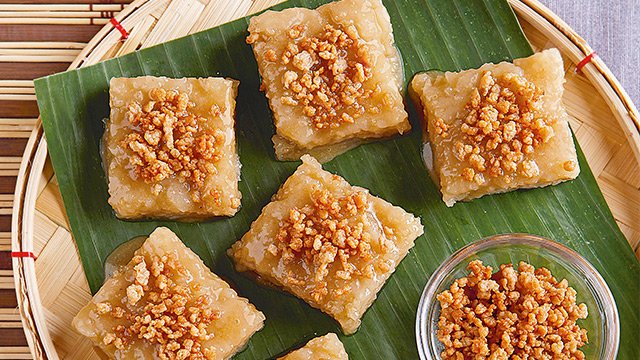 Biko is a sticky rice cake made by mixing cooked glutinous rice with a thickened mixture of coconut milk or cream and brown sugar, which is then baked in a dish or pan lined with banana leaves until the coconut milk or cream caramelizes. Once it is cool enough to eat, the soft and chewy rice cake is cut into squares and topped with the coconut curd version of latik.
Kakanin Recipes with Latik (Coconut Sauce Version):
4 Suman Recipe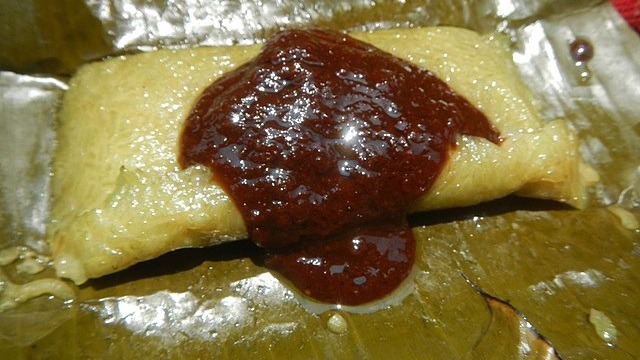 Suman or steamed rice cakes are tasty by themselves, especially if the rice is simmered in gata instead of plain water, but serving a latik sauce with these kakanin makes them extra delicious! While you can add latik to any kind of suman (it's up to your preference; we don't judge!), there are some kinds of suman that are traditionally served with latik. These include suman malagkit or budbud as they are called in Visayas, as well as suman sa lihiya or suman bulagta. Suman sa lihiya is made with glutinous rice flavored with lihiya or lye water instead of coconut milk.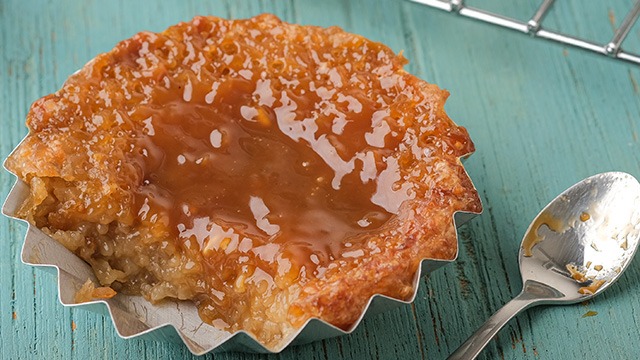 5 Bibingkang Malagkit Recipe
Not to be confused with the bibingka that is popular during Christmas, bibinkang malagkit, as its name suggests, is a sticky (malagkit) rice cake made by cooking glutinous rice in brown sugar and water until it is halfway done before coconut cream is added to finish cooking the sweet brown rice. It is then transferred to a baking dish and topped with latik sauce, and then baked again in the oven until the latik simmers and caramelizes just a little bit more.
Whether it's coconut curds used as a topping or drizzled as a coconut sauce, latik is a versatile ingredient that lends itself well to a wide variety of kakanin. It takes some patience to make either version of latik but the resulting coconut curds or coconut sauce is well worth the time and effort!
***