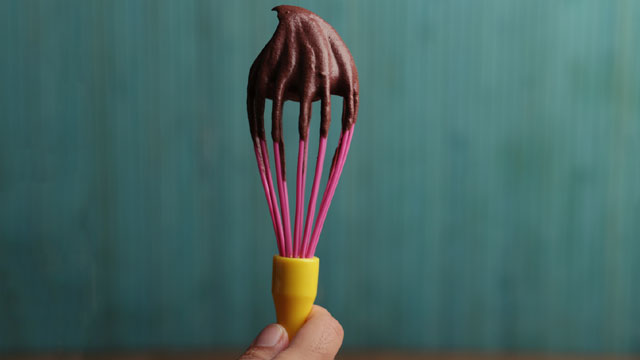 Chocolate ganache is delicious any way you have it—as a velvety glaze over a cake, as those melt-in-your-mouth truffles, or as a fluffy frosting piled high on your cupcakes. This recipe is as simple as it can get. All you need is a good block of chocolate and heavy cream in equal amounts.
The classic chocolate ganache is made with dark or bittersweet chocolate. However, if you are feeling a little adventurous, you can experiment with milk chocolate or white chocolate!
Makes Frosting for a 2-layer, 7-inch round cake or 12 cupcakes
Prep Time 5 minutes
Total Time 10 minutes
300 grams heavy cream
300 grams bittersweet chocolate, chopped
1 Gently heat your cream in a small saucepan over medium heat until it simmers.
2 Pour the hot cream over the chopped chocolate. Let it stand for 5 minutes, then combine with a wire whisk until it is smooth and silky.
If the ganache is a little lumpy, gently reheat it over a double boiler until the chocolate is completely melted. At this point, you can use this as a glaze to pour over your cakes.
ADVERTISEMENT - CONTINUE READING BELOW
Recommended Videos
3 Let the ganache cool in the refrigerator for 30 minutes, then whip it with a hand mixer on medium speed until it light and fluffy.
Use the ganache frosting for cupcakes, cakes, and tarts!
Produced by Trixie Zabal-Mendoza; photography by Majoy Siason; prop styling by Lady and Steph Badoy of Boqueria Lifestyle Market