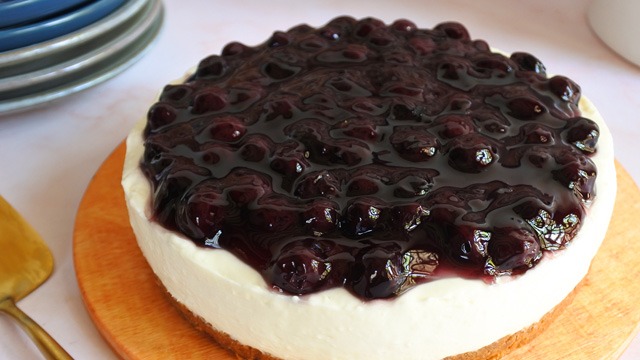 What makes a cheesecake irresistible? It's a dessert that combines possibly opposing but complementary flavors and textures: you get creamy and sweet but also a delicious tang in the filling, while the velvety filling contrasts beautifully with the crumbly, sometimes crunchy crust.
What is Cheesecake?
A cheesecake is a dessert made with a creamy and tangy cheese filling on a crust made of crushed biscuits. The filling is usually made with cream cheese, eggs, and sugar, while the crust is typically made with melted butter, sugar, and crushed biscuits or graham crackers. Cheesecakes can be flavored with chocolate, fruits, and sometimes even vegetables like pumpkin. These can also be topped with a variety of ingredients: from simple whipped cream to fruit purees, sauces, and even nuts and fruit slices.
While its name includes the word "cake" in it, it can be classified as a pie as it is made of the same components: a crust and a custard or custard-like filling.
Table of Contents
• History and Origin of Cheesecakes
• Tips to Make the Best Cheesecakes
Where Did Cheesecakes Come From?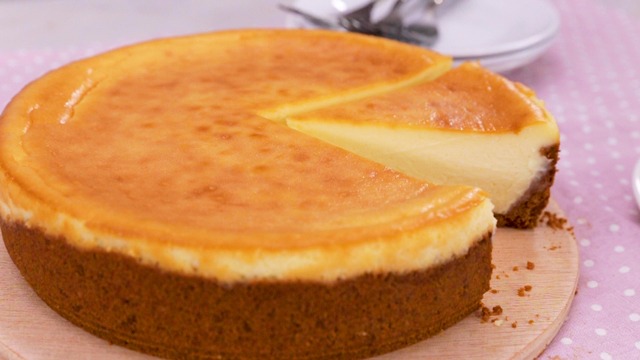 The history of cheesecake can be traced back to ancient Greece, where the Greeks made something called "plakous," meaning "flat mass." The first cheesecakes were made simply by crushing cheese and passing it through a sieve, adding honey and wheat flour, and baking it in a mold. Cheesecakes were served to athletes during the first Olympic games in 776 BC. The Romans continued to enjoy the dessert, bringing it out of Greece, and this beloved recipe made its way throughout Europe.
Eventually, it made it to America, and when cream cheese was invented in the 1870s, it replaced crushed cheese and became the most commonly used cheese we use when we make cheesecakes today. It also gave rise to one of the most popular versions of cheesecake: the New York Cheesecake.
Now, cheesecake recipes have evolved into different styles and even baking methods. Aside from the classic cheesecake that is baked with a crust, there are souffle-style cheesecakes like the Japanese cheesecake and no-bake cheesecakes that are set with whipped cream and gelatin.
How To Make Cheesecakes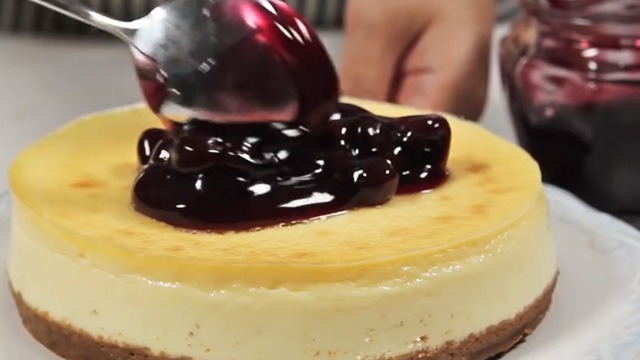 The two most common ways to make cheesecake are either by baking it or by using a no-bake recipe. Baked cheesecakes usually require baking the crust first in their mold. While the crust is cooling down, cream cheese, eggs, flour or cornstarch (or a mixture of both), cream or milk, and sugar are made into a batter. Sometimes, when making flavored cheesecakes, chocolate ganache, fruit purees, or other flavorings are added to the mixture. Then, the cheesecake is baked (with or without a waterbath) at a low and steady temperature.
ADVERTISEMENT - CONTINUE READING BELOW
Recommended Videos
On the other hand, no-bake cheesecakes require no ovens to make them. The crushed biscuit crust is set by refrigerating or freezing. Meanwhile, the cream cheese mixture starts off with beaten cream cheese, sugar, and any flavorings. Whipped cream is folded in, and then lastly, bloomed gelatin is added. Once it's incorporated, the mixture is poured into the prepared pan with the crust, smoothened out, and placed in the refrigerator to set.
How To Serve Cheesecakes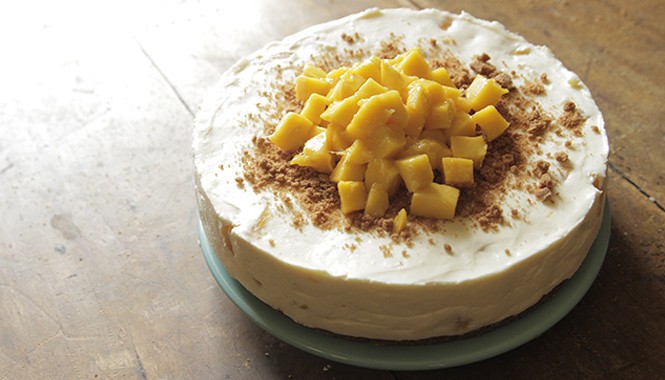 Cheesecakes are usually served chilled, especially when they are of the no-bake kind. However, souffle-style cheesecakes are best eaten at room temperature or even warm while they're at their fluffiest! Baked cheesecakes, while delicious cold, can also be served warm (bonus tip: serve it with ice cream to create a cheesecake ala mode dish).
We are of the opinion that any occasion (even it it's a regular day lunch) is a great occasion to have cheesecake because life is too short to not have it just because there's nothing to celebrate. If you're having cheesecake for dessert or even as a snack, complete the experience and pair it with coffee or tea!
When it's cut into small cubes or baked in a rectangular pan and cut up into bars, cheesecakes can also serve as great finger food at parties or even gifts for friends and loved ones.
Cheesecake Recipes
Baked Cheesecake Recipes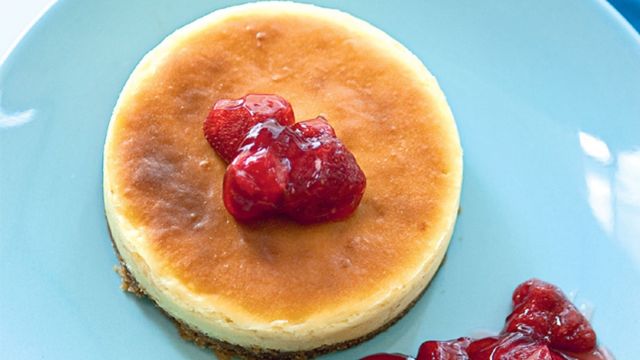 Low and slow is the name of the game when you're making baked cheesecakes! Some of these recipes require a water bath while others don't, so make sure to read the instructions carefully before getting your bake on.
• Red Velvet Cheesecake Recipe
• Black Forest Cheesecake Recipe
• Mango Cream Cheesecake Recipe
• White Toblerone Cheesecake Recipe
No-Bake Cheesecake Recipes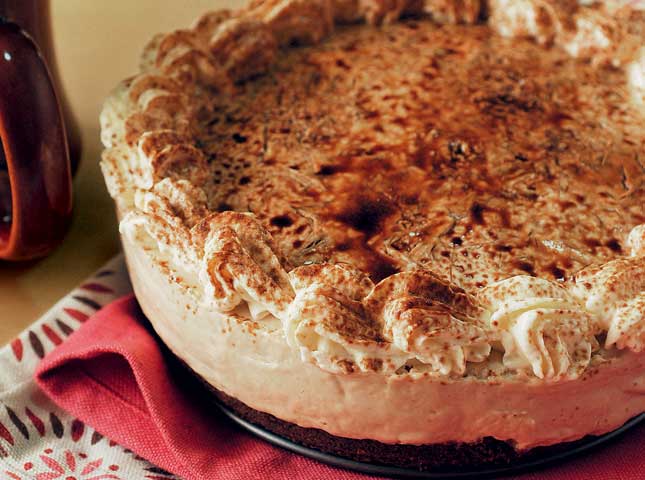 No oven? No problem! These no-bake cheesecake recipes require a refrigerator (when it's gelatin-based) or a freezer (when it's cream-based), and while you might have to wait a couple of hours for them to set, it takes almost no time at all to put them together.
• Basic No-Bake Cheesecake Recipe
• Strawberry Cheesecake Recipe
• No-Bake Strawberry Gelatin Cheesecake Recipe
• No-Bake Frozen Cheesecake Recipe
• No-Bake Matcha Cheesecake Recipe
• No-Bake Ube Cheesecake Recipe
• No-Bake Cappuccino Cheesecake Recipe
• No-Bake Mango Chocolate Cheesecake Recipe
Basque Burnt Cheesecake Recipes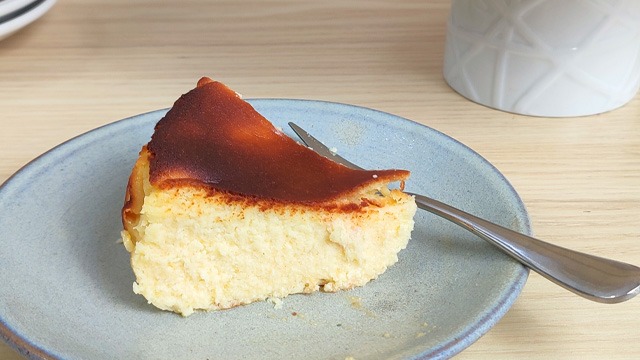 Basque burnt cheesecakes may have originated from Spain's Basque Country, but there's no reason why they can't make it to your kitchen (and subsequently your belly)! These cheesecakes are baked at a higher temperature than other baked cheesecakes, which results in a caramelized "burnt" crust.
• Basic Burnt Basque Cheesecake Recipe
• Chocolate Basque Burnt Cheesecake Recipe
• Durian Matcha Basque Burnt Cheesecake Recipe
• Basque in Pride Cheesecake Recipe
Japanese Cheesecake Recipes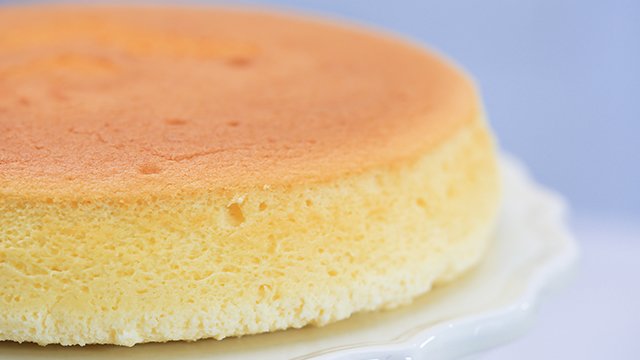 Japanese cheesecakes may be most popularly associated with Japan, but before they became a popular dessert, they were also known as cotton cheesecakes or souffle cheesecakes. They're baked a little differently than regular cheesecakes, so here are some helpful tips for making fluffy Japanese cheesecakes!
• Japanese Cheesecake Recipe Recipe
• Japanese Cheesecake Double Layer Recipe
Cheesecake Bars And Cupcakes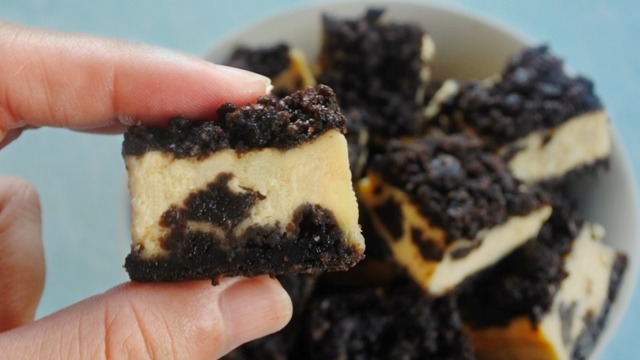 You don't need to make cheesecake in cake form! You can make them into bars or cupcakes, like the recipes below. If you have a favorite cheesecake recipe, however, it's easy enough to simply bake or set them in cupcake tins or cut them into bars.
• Oreo Cheesecake Cubes Recipe
• No-Bake Mango Gelatin Cheesecake Squares Recipe
• No-Bake Cheesecake Cups Recipe
• Lemon Blueberry Cheesecake Cups Recipe
• Chocolate-Coffee Cheesecake Bars
• Dulce De leche Cheesecake Bars Recipe
Other Cheesecake Recipe Variations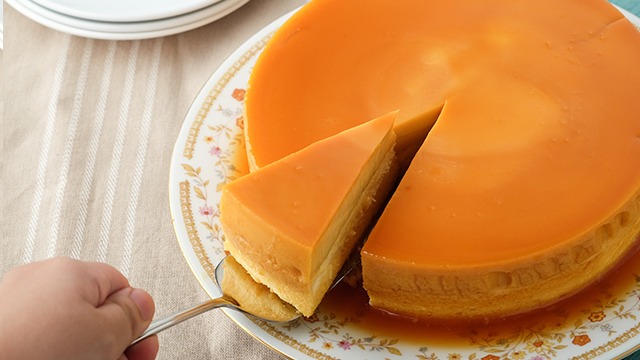 • Low Fat Sugar-Free Lemon Cheesecake Recipe
• Low Fat Sugar-Free Cookies & Cream Cheesecake Recipe
• Leche Flan Cheesecake Recipe
• No-Bake Mini Cheesecakes Recipe
• Oreo Cheesecake Cookies Recipe
Tips For Making The Best Cheesecakes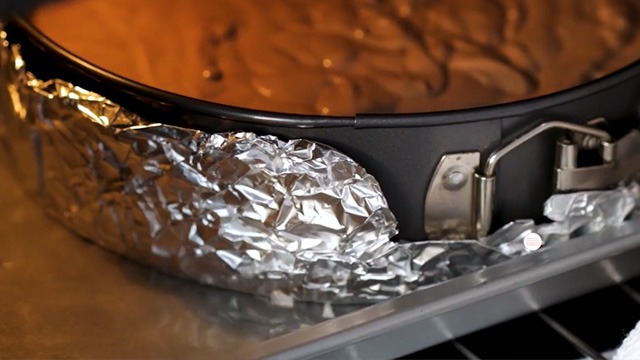 1 If you can, bake cheesecakes in a water bath.
Baking cheesecakes in a water bath allows the cheesecake to cook gently. Steam from the water bath will prevent the cheesecake from forming a tough crust, which will help you avoid any cracks. It will also allow you to bake the cheesecake low and slow, which is the best way to avoid the cheesecake falling after baking.
2 Don't take your baked cheesecake out of the oven right away.
Baked cheesecakes are delicate, especially when they've just finished baking; essentially, they're just a little underbaked and it's the residual heat that helps them to set. Let cheesecakes cool down slowly by cracking the oven door slightly ajar and letting the cheesecake rest in the oven for about 10 minutes before taking it out and letting it cool completely on a surface without any drafts or wind.
3 For no-bake cheesecakes, carefully read the instructions on the gelatin packaging.
Different forms of gelatin need different methods of preparation. Powdered gelatin, for example, will sometimes require you to add cold water to let it bloom; then, you'll have to melt it over a double-boiler before adding to your mix. Remember to check the package instructions and adjust your preparation method accordingly so you avoid lumps in your cheesecake.
Cheesecake Storage Tips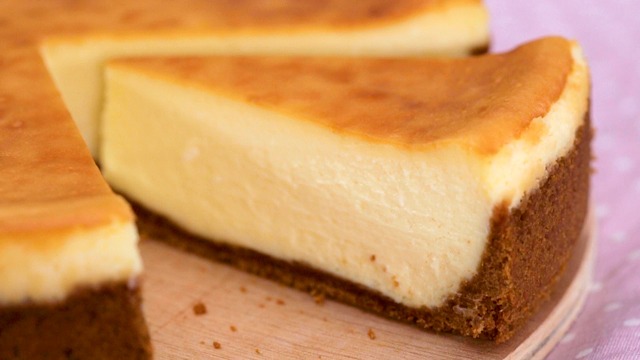 1 Baked cheesecakes can be refrigerated or frozen.
For short-term storage, baked cheesecakes can be refrigerated for 3-5 days, depending on the topping. Remember that the fresher the topping, the less time it should spend sitting in your refrigerator! If you want to store baked cheesecakes for a longer time, hold off on adding toppings (especially if they are fresh fruits or dairy-based, as these do not freeze well), wrap well with plastic wrap, and freeze. Frozen cheesecakes should be thawed before serving.
2 No-bake cheesecakes that have gelatin can be refrigerated, but not frozen.
No-bake cheesecakes will keep well in an airtight container in the refrigerator for 3-5 days, depending on their toppings as well. However, we don't recommend freezing these cakes as freezing changes the texture of the gelatin when thawed.