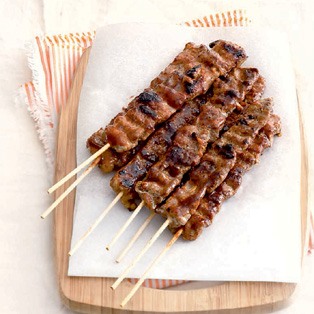 .
It's a new year and things are looking bright for the world of Filipino food. Food writers from all over the world are hailing it as the food world's next big thing, with buzzy Filipino-inspired restaurants popping up in places like Toronto and New York City.
Given that it's a new year, now's your chance to check out our trove of tasty Filipino recipes and finally get acquainted with one of the most colorful cuisines in the world. Get cooking!
1 Sisig
This crowd-pleaser is a rich and spicy mix of pork jowl, liver, chillies and onions, most often served on a searing hot cast iron plate.
Try this recipe: Pork Sisig
2 Kinilaw
More than just "the Pinoy version of ceviche", kinilaw is a quintessential Pinoy dish made of fresh seafood marinated in acid such as calamansi juice or vinegar.
Try this recipe: Kinilaw na Tuna
ALSO READ:
What You Need to Know About Making Kinilaw
Davao Kinilaw: Balancing Freshness and Flavor
3 Crispy Pata
This impressive hunk of pork is a real showstopper, its crispy, crunchy exterior giving way to tender, fatty flesh doused in soy sauce and vinegar.
Try this recipe: Crispy Pata
ALSO READ:
ADVERTISEMENT - CONTINUE READING BELOW
Recommended Videos
4 Silog
A Pinoy breakfast wouldn't be complete without the quintessential combination of garlic fried rice (sinangag) and a sunny side up fried egg (itlog). Mix and match your proteins to come up with all sorts of playful, delicious combinations.
Try this recipe: Bangus Belly with Fried Egg and Garlic Red Rice and Summer Salsa
5 Chicken Inasal
Achuete and a healthy dose of local vinegar lend this grilled regional classic its distinct color and flavor.
Try this recipe: Chicken Inasal
6 Pochero
Pochero, with its simply prepared combination of meat and veg floating in a sweet red broth, is simple Filipino home cooking at its finest.
Try this recipe: Pochero
7 Pork Barbecue
A party wouldn't be a party in the Philippines without a massive bilao of pork barbecue. Tender strips of pork are marinated in a sticky, sweet sauce and cooked on skewers over a hot grill.
Try this recipe: Pork Barbecue
8 Sinigang
Every Filipino loves sinigang. The distinctly tart broth is often soured with fruits such as tamarind (sampaloc) and guava (bayabas).
Try this recipe: Sinigang na Hipon sa Kamias
ALSO READ:
How to Make a Bowl of Really Delicious Sinigang
9 Adobo
What would Filipino food be without adobo? The stew is an umami bomb, packed to the brim with meat, soy sauce, garlic, pepper, and vinegar.
Try this recipe: Beef Short Ribs Adobo with Coconut Cream
ALSO READ:
10 Lumpia
Lumpia or Filipino spring rolls are the unsung heroes of the Pinoy lunch spread, beloved for its crispy exterior and tasty fillings.
Try this recipe: Lumpia
ALSO READ:
WATCH: How to Make Fried Lumpia