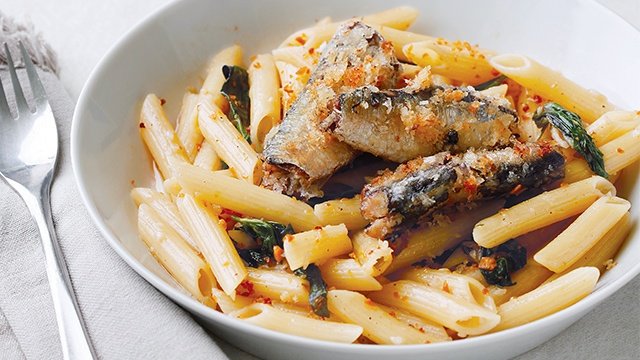 Honestly, pasta dishes do not need many ingredients. The pasta itself is your main ingredient, and everything else is a garnish to make sure that the pasta is edible and delicious! You can toss pasta with garlic and oil, and it's a meal! 
If you have basic recipe ingredients and a package of pasta (Homemade pasta works too!), all you have to do match up two ingredients that you love eating together or just have in your kitchen to make an easy but delicious pasta recipe. Here are some ideas you can try: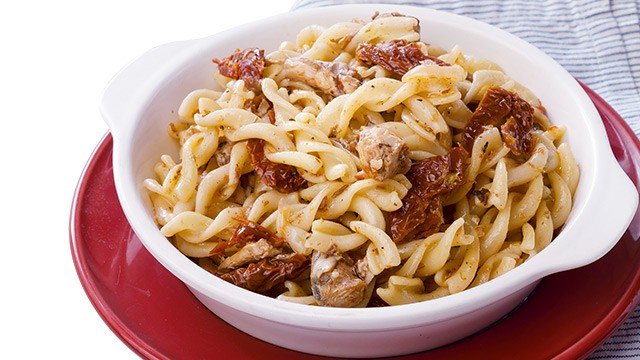 1 Mackerel + Sun-Dried Tomatoes 
It might be a stretch but if you happen to have some sun-dried tomatoes (or some tomato pesto) in your kitchen, this will instantly elevate your pasta recipe into a super flavorful one. Break up some mackerel or even sardines, toss it all together with cooked pasta, and you've got a meal that's easy and, possibly, is a no-cook recipe, too!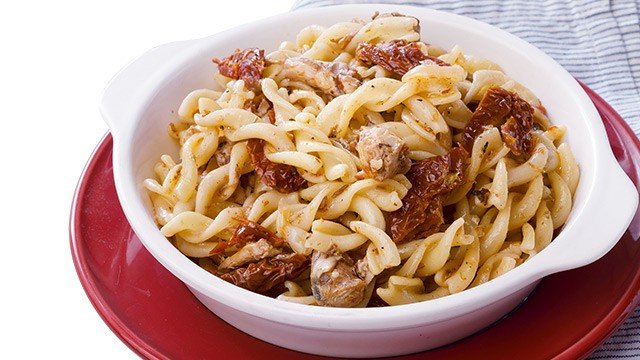 Mackerel and Sun-Dried Tomato Pasta Recipe
Posted in:
Recipe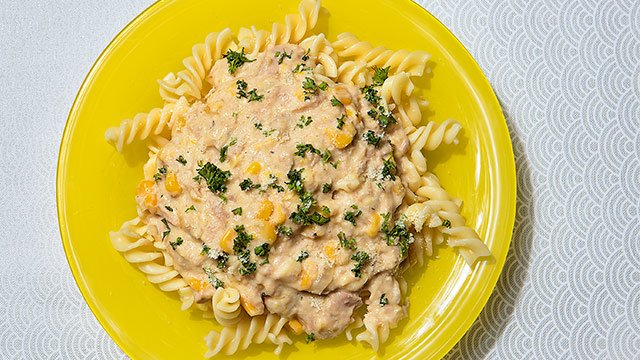 2 Corn + Tuna 
You would think this might be an odd combination but you won't know until you try it! This recipe is just as easy as any other pasta recipe but the unique addition of canned corn kernels to the mix as well as the tuna is one that might put you off. However, if you love corn and tuna pasta, give this a try and find out if you have a new pasta recipe under your belt.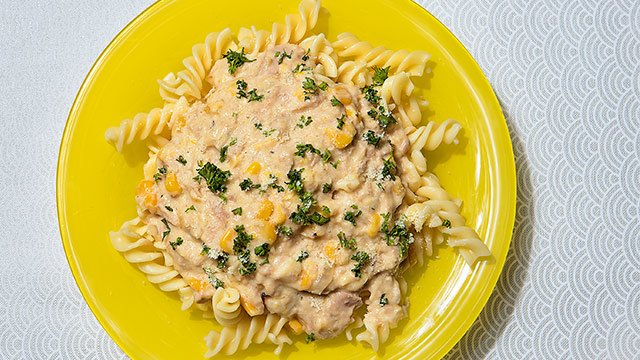 Corn and Tuna Pasta Recipe
Posted in:
Recipe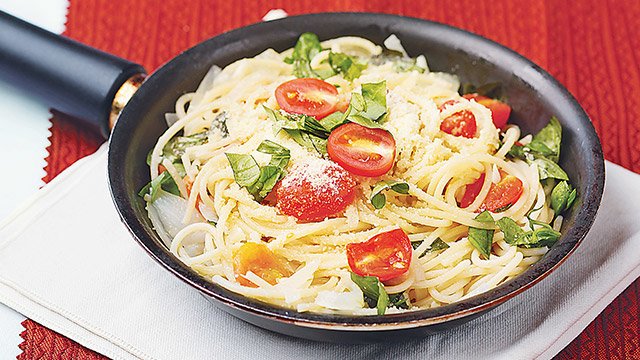 3 Tomato + Garlic 
Didn't we say that pasta doesn't need to be complicated? If you have these two basic kitchen ingredients, you can make this pasta. You may need to wait until your tomatoes are ripe enough to be used in this way for the best flavor, but if you see your tomatoes are beyond ripe, chop them up, toss it in, and enjoy a pasta that's simply delicious. 
ADVERTISEMENT - CONTINUE READING BELOW
Recommended Videos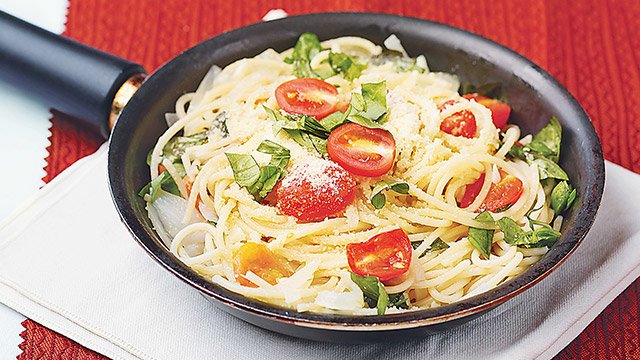 One-Pan Tomato and Garlic Pasta Recipe
Posted in:
Recipe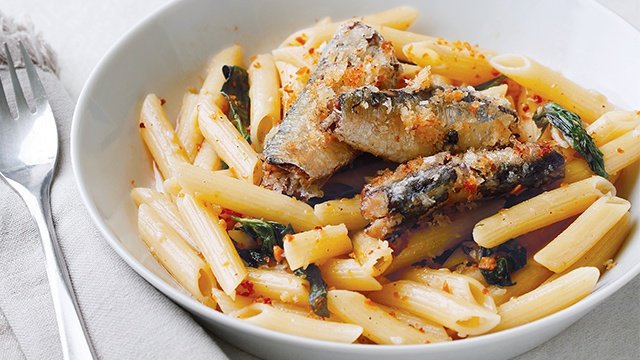 4 Garlic + Spanish Sardines 
A bottle of Spanish sardines or even a can or two can be all you need to make this pasta recipe. What makes Spanish sardines so easy to use in recipes is the fact that these are ready-to-eat and delicious straight from the bottle. You don't need to cook these at all! You can of course level up that sardine meal by toasting some garlic in oil and toss it with some pasta for a hearty meal that has the elements you like in it, too.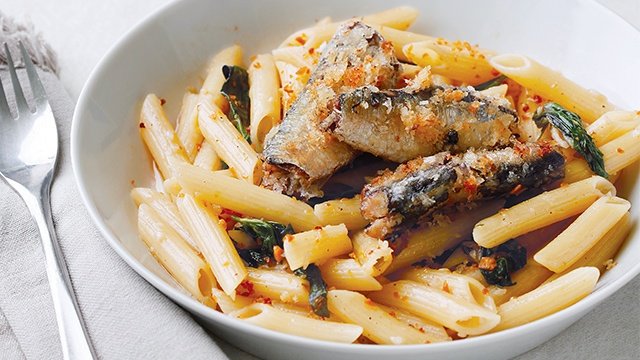 Garlic Pasta with Spanish Sardines Recipe
Posted in:
Recipe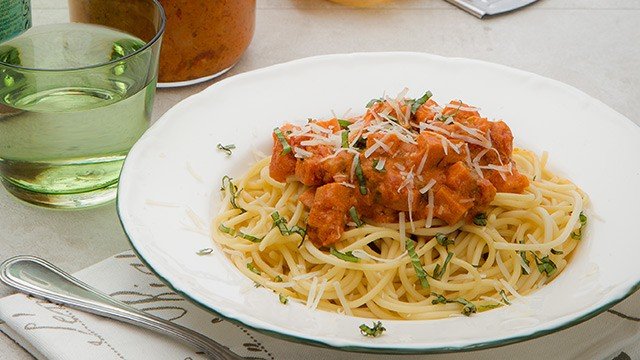 5 Tomato + SPAM 
Canned food can be the meat you need to make your pasta extra filling. It can also be the powerful savory ingredient that your pasta needs to make it delicious! Combine it with tomatoes to make this super-rich and umami-packed pasta meal that doesn't need a lot to make it taste great!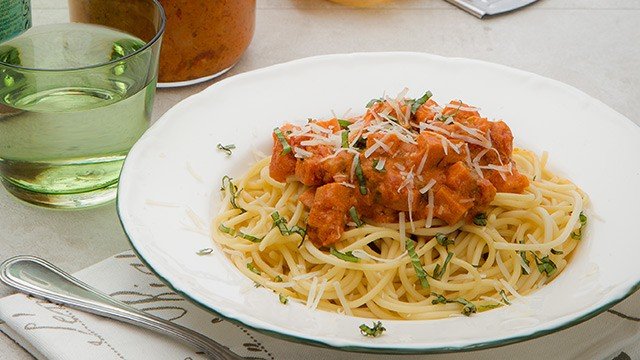 Tomato and Spam Pasta Recipe
Posted in:
Recipe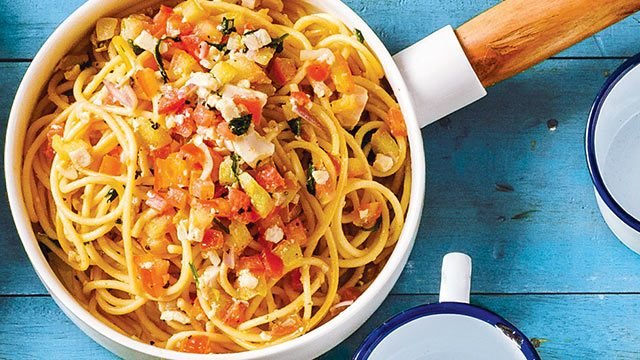 6 Salted Egg + Tomatoes 
This is one pasta that's definitely local! Who else but us would be able to put together chopped itlog na maalat (salted egg) and fresh tomatoes and toss it together with pasta to make a meal out of it? It's a brilliant idea! It's got the umami flavors from the eggs and the tomatoes make it into an instant sauce. Do you know what the best part of this pasta recipe? You don't even have to cook the sauce. All you have to cook is the pasta and toss it all together.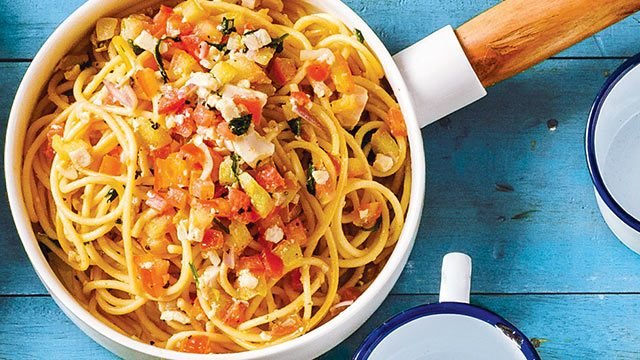 Salted Egg and Tomato Pasta Recipe
Posted in:
Recipe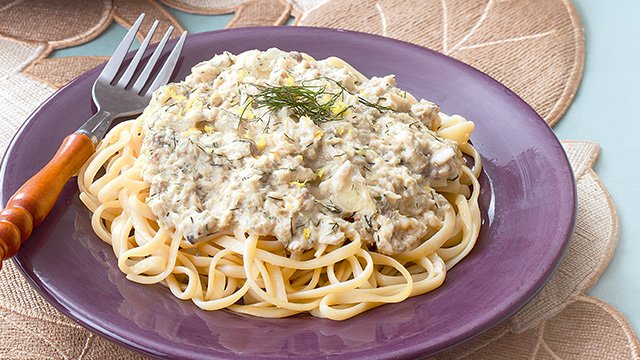 7 Tinapang Bangus + All-Purpose Cream 
Any fish that is "tinapa" is basically a salted and smoked fish. That's why this ingredient is automatically flavorful! Just like bacon, this smoked fish is going to flavor your entire dish with its fish smokiness. With the creaminess added to help temper the pungent fish, this is one pasta combo that's going to be loaded with flavor!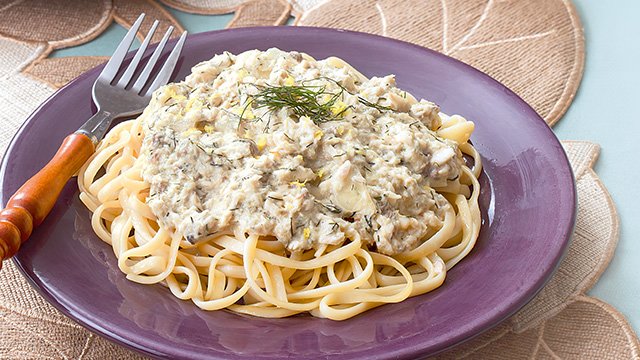 Creamy Tinapang Bangus Pasta
Posted in:
Recipe
We've said it once, but we'll continue to say it again: pasta can be super fast and easy. In fact, it can be faster and easier if you limit the number of ingredients in your pasta dish. You might just need two main ingredients plus the pasta to make that meal. It will be simple but it can be delicious. Plus, it will relieve you from becoming stressed out trying to figure out what else to add into your pasta to make it taste great because it already is. 
ALSO READ: