Getting tired of your usual recipes? Add a new spin to them by using a couple of new ingredients!
Check out these delicious dishes made with a variety of Arla products. With Arla's quality dairy, you can bring out the real goodness in your everyday recipes.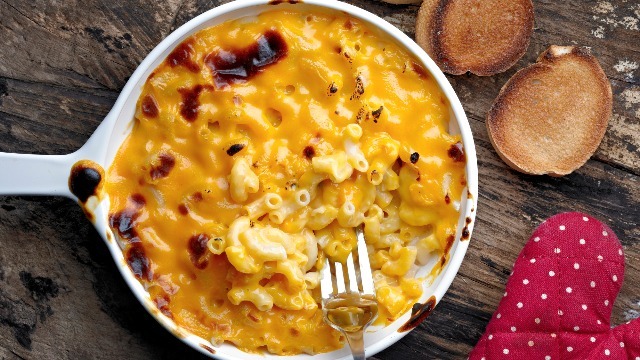 Rice Cooker Garlic Mac n' Cheese Recipe
Love Mac and Cheese but don't have an oven? Use your rice cooker instead!
Ingredients:
1 cup elbow macaroni (other pasta may be used to)
3/4 cup water
2 cloves garlic, minced
salt, to taste
1/2 cup Arla Milk Goodness Full Cream
1/2 cup Arla Shredded Mozzarella Cheese
6 pieces Arla Cheddar Cheese Slices
crunchy garlic bits, to serve
1 Combine macaroni, water, garlic, and salt in the rice cooker. Turn on the rice cooker and cook for 8 to 10 minutes.
2 Remove cover and add Arla Full Cream Milk, Arla Mozzarella Cheese, and Arla Cheddar Cheese. Cook for 10 to 12 minutes more. Sprinkle with crunchy garlic bits.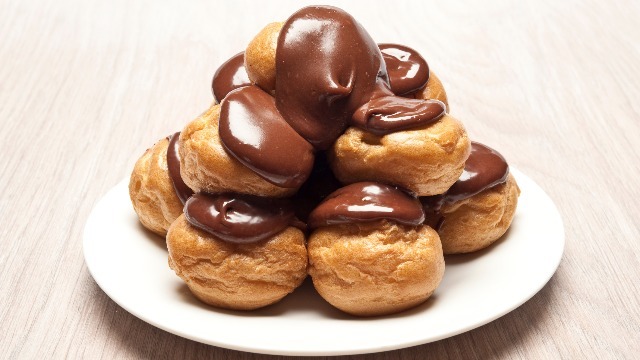 Chocolate-Coffee Cream Puffs Recipe
Once you master this light pastry dough recipe, you can start experimenting with different fillings and toppings.
Ingredients:
For the Pte À Choux:
1/2 cup Arla Milk Goodness Full Cream
1/3 cup Arla Butter Unsalted, cubed
1 tablespoon sugar
Salt to taste
1 1/4 cups all-purpose flour
4 large eggs
Coffee Pastry Cream:
1 cup Arla Milk Goodness Full Cream
1/4 cup strong brewed coffee or 2 shots espresso
yolks from 2 large eggs
1/3 cup sugar
4 tablespoons cornstarch
1/2 tablespoon vanilla
2 tablespoons Arla Butter Unsalted
1 cup Arla Whipping Ceam
1 1/2 cups bittersweet chocolate, melted
1/4 cup pecans, chopped and toasted
1 Preheat oven to 450°F. Trace 5 (3-inch) circles each on 2 sheets parchment paper, leaving a 2-inch space between circles. Line 2 baking sheets with parchment paper, drawn side down. Set aside.
2 Make the pte à choux: Bring Arla Full Cream Milk, ½ cup water, Arla Butter Unsalted, sugar, and salt to a boil in a medium saucepan. Stir in flour. (Mixture will be thick and paste-like in texture.) Stir constantly over low heat until mixture pulls away from the pan.
3 Transfer mixture to the bowl of an electric mixer fitted with the paddle attachment. Beat on medium speed and gradually add 4 eggs one at a time. As soon as the mixture is shiny and holds its shape (not too thick and not too runny), it is ready to be piped.
4 Transfer dough to a piping bag fitted with a large plain round tip. Pipe onto traced circles forming mounds.
5 Place baking sheets in the preheated oven and reduce temperature to 375°F. Bake for 20 to 25 minutes or until puffed and golden. Remove from the oven and let dough cool completely on the baking sheets.
6 Make the coffee pastry cream: Place Arla Full Cream Milk and coffee in a saucepan and bring to a boil. Whisk together egg yolks, sugar, cornstarch, and vanilla in another bowl.
7 Pour half of the hot milk mixture into the egg yolk mixture, whisking well, then pour yolk mixture into the saucepan with the remaining hot milk mixture. Continuously whisk mixture over medium heat until thick. Add Arla Butter Unsalted and mix well.
8 Transfer pastry cream to a bowl and place plastic wrap directly on the surface. Let mixture cool at room temperature then refrigerate until ready to use.
9 Place Arla Whipping Cream in the bowl of an electric mixer fitted with the whisk attachment. Whip on high speed until stiff peaks form.
10 Reduce speed to low. Slowly add 1 cup coffee pastry cream. Whip on high until well combined and mixture holds its shape. Chill for 2 hours. Transfer to a piping bag with a ¼-inch tip.
11 Slice pte à choux in half and pipe coffee pastry cream onto the bottom half.
12 Dip top half into melted chocolate and cover pastry cream. Sprinkle with pecans. Repeat with remaining ingredients. Refrigerate for at least 2 hours before serving.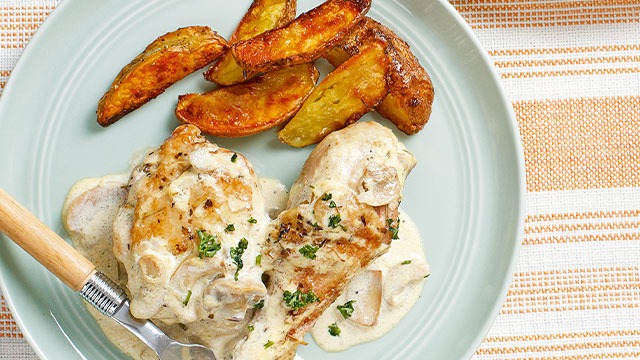 Herbed Chicken with Mushroom Sauce Recipe
Double up on the herbs and natural ingredients to make an incredibly tasty herbed chicken dish. Just add a mix of herbs and spices before you fry, simmer it with cream and you've got yourself a whole new chicken recipe.
Ingredients:
8 pieces assorted skin-on chicken cut-ups, (3 thighs, 3 drumsticks, 2 wings)
4 tablespoons olive oil, divided
2 teaspoons dried oregano
2 teaspoons dried thyme
1 teaspoon dried rosemary
1 teaspoon dried basil
salt and pepper, to season
2 tablespoons
2 tablespoons chopped white onions
1 tablespoon minced garlic
1 small can sliced mushroom, drained and rinsed
1 1/2 cup Arla Whipping Cream
1/2 cup water
1/2 piece chicken bouillon cube
1 Pat chicken pieces with paper towels to dry. Combine chicken, 2 tablespoons olive oil, dried herbs, salt, and pepper, and mix well.
2 Heat remaining olive oil and Arla Butter Unsalted in a pan over medium-high heat. Fry chicken pieces until light golden brown, about 3 to 4minutes per side. Do not overcrowd the pan; the chicken may be cooked in batches if necessary.
3 Remove chicken from the pan and set aside. Remove excess oil from the pan and just leave about 2 tablespoons in the pan. Sauté onions, garlic, and mushrooms. Add cream and water, bring to a boil.
4 Return chicken to the pan and reduce to a slow simmer for about 10 to12 minutes or until chicken is cooked. Add more water, ¼ cup at a time, if sauce thickens up too fast before the chicken is cooked through.
5 Add chicken bouillon cube and mix well. Adjust seasoning with salt and pepper as necessary. Transfer to a serving platter and serve with potato wedges.