3 Easy Breakfast Recipes That Take Only 20 Minutes to Make
These quick breakfast recipes use an all-around ingredient to make them extra special.
You've been there: Snoozed alarms, rushed mornings, and skipped breakfasts. Getting a good meal in on a busy morning can be a struggle when you have plenty of errands to worry about.
Always keep in mind that breakfast dishes can be made of the simplest ingredients and by the quickest cooking methods. Why not add a spoonful or two of an all-around pantry staple like Dari Creme Classic or Dari Creme Buttermilk to help enhance even the simplest of dishes?
Here are a couple of dishes that take only 20 minutes or less to make—proof that breakfast doesn't have to be lacking in flavor nor too time-consuming to make on a rushed weekday morning.
1. Shrimp Scramble
Believe it or not, this recipe takes only 20 minutes to put together. Shrimp cooks in a matter of seconds, which makes it the perfect quick-cooking ingredient to have in your freezer all the time.
Prep Time: 10 mins.
Cooking Time: 10 mins.
Yield: 3 to 4
8 eggs, beaten slightly
3 tablespoons heavy cream
1/2 teaspoon salt
1/2 teaspoon pepper
1 cup cheese, (shredded), divided (cheddar, Colby, Monterey Jack, or a mixture of the three)
2 tablespoons Dari Creme Classic
1 tablespoon garlic, minced
1/3 cup onion, chopped
1/3 cup green bell pepper, chopped
10 grams shrimp, thawed and shelled
4 English muffins, halved, buttered, and toasted
1 orange, sliced into segments
green onion, (sliced), for garnish
1 Beat together eggs and heavy cream and season with salt and pepper. Add in half of the cheese and set aside.
2 In a nonstick pan, using a wooden spoon, sauté garlic and onions with Dari Creme Classic until fragrant. Add chopped green bell pepper and cook for a few minutes until softened. Add in shrimp and cook until pink.
3 Pour in egg mixture and let it sit for a few minutes. Top with the rest of the grated cheese. When mixture starts to set at the bottom, move the wooden spoon around the pan, going in and around the sides of the pan frequently to form curds.
4 When the mixture is half cooked but still slightly runny, transfer immediately to a plate. The remaining heat from the eggs will cook the rest of the mixture. Serve on top of an English muffin and fresh orange slices. Garnish with sliced green onions.
2. Cinnamon Roll Ups
Who said breakfast dishes had to be complicated? When you're pressed for time, upgrade a quick French toast recipe with cream cheese and cinnamon to take it to the next level.
Prep Time: 5 mins.
Cooking Time: 15 mins.
Yield: 4
1 tablespoon ground cinnamon
1/4 cup brown sugar
1 large egg
1 cup fresh milk, divided
1/2 cup Dari Creme Buttermilk, softened, divided
12 bread slices, crusts removed if desired
1/2 cup cream cheese, softened
1/4 cup sugar
1 In a small bowl, combine ground cinnamon and sugar. Set aside. In another bowl, beat egg, 1/2 cup milk and 1 tablespoon of the cinnamon mixture.
2 On a cutting board, flatten bread slightly with a rolling pin. Brush with softened Dari Creme Buttermilk and then sprinkle with cinnamon mixture. Roll into a log then set aside. Repeat with remaining bread.
3 Heat a frying pan over medium heat. Brush surface with butter. Dunk just enough rolls to fill the pan into the egg mixture, then quickly add to the pan. Fry until browned on all sides. Remove from pan, and keep warm.
4 Meanwhile, whisk cream cheese and sugar in a saucepan. Stir in milk. Bring to a simmer over medium heat, until sugar has melted and the mixture is heated through. Drizzle over cinnamon rolls. Serve.
3. Waffles
Yes, you can make light and crisp waffles with just pancake mix. You need to add just a few more ingredients: melted butter or oil, sugar, and egg whites.
Takes 20 minutes; makes 6 waffles
1 250-gram box pancake mix
3/4 cup water
1/4 cup oil
2 tablespoons sugar
1 large egg, separated
1 large egg white
1 Preheat waffle maker.
2 In a large bowl, mix pancake mix, water, oil, sugar, and egg yolk until just mixed. Set aside.
3 In another large bowl, use a whisk to whip the 2 egg whites until stiff peaks. Gently fold egg whites into the pancake batter until just blended.
4 Using a 1/2 cup measuring cup, pour batter into waffle maker. Close, and let cook until browned on both sides (about 3 1/2 minutes). Remove from waffle maker and serve immediately with Dari Creme Classic or Dari Creme Buttermilk and pancake syrup.
For those mornings when you don't even have 20 minutes to spare to prepare a meal, why not go for a simple but yummy breakfast of hot pan de sal and Dari Creme. You can even put a little twist to this classic pairing by adding toppings.
Try an ensaymada-inspired dish by mixing in sugar into softened Dari Creme Buttermilk before spreading on pan de sal. Then, top it with grated cheese.
If you prefer a more savory flavor, create this Margherita-style recipe: Mix pesto with softened Dari Creme Classic, then top with sliced tomatoes and mozzarella cheese.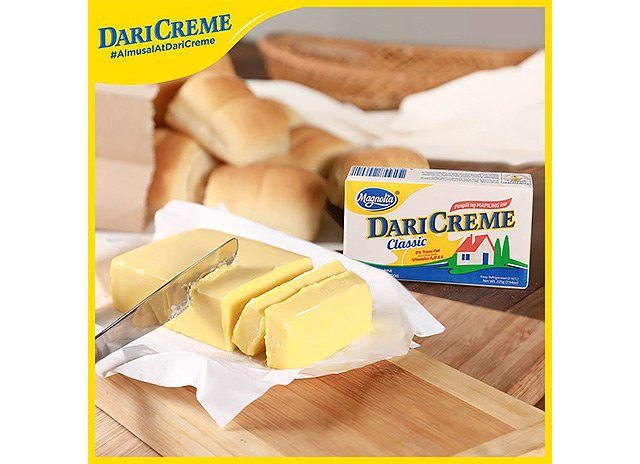 Breakfast doesn't need to be an elaborate affair, but these quick and easy breakfast ideas will encourage you and your family to spend a little more time on the breakfast table and savor that special first meal of the day.
Dari Creme has been a classic favorite and a partner for pan de sal and other kinds of bread since 1959.
Find Dari Creme Classic and Dari Creme Buttermilk in all leading grocery stores nationwide. Follow Dari Creme on Facebook for more information.