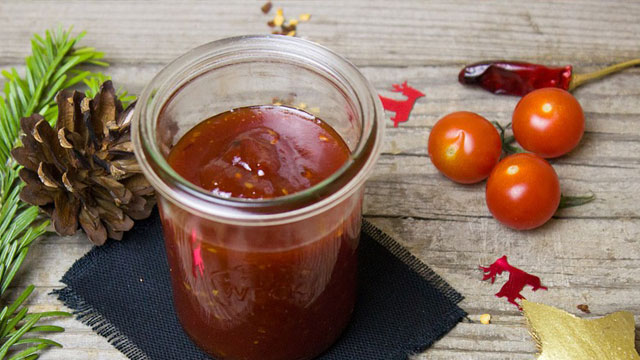 Bring out the chips! Whether you have a party or a hangout session planned for the weekend, chips and dips are a great way to entertain a crowd. Here are three easy and yummy dips you can whip up in no time:
Cheesy Bacon Kale and Tomato Dip
We tweaked the flavors of a classic BLT to make this delicious dip. No oven? You can easily heat this up on the stovetop instead.
Prep time 10 minutes
Cooking time 15 minutes
Serves 12
2 cups grated cheddar cheese
1 (150-gram) pack cream cheese
3 tablespoons mayonnaise
5 medium tomatoes, seeded and chopped
2 cups chopped kale leaves
1 cup cooked bacon bits
1 Preheat oven to 350F.
2 In a bowl, combine ½ cups cheddar cheese, cream cheese, and mayonnaise.
3 In an 8×6-inch baking dish, layer tomatoes and lettuce. Set aside ½ cup for topping. Pour in the cheese mixture and spread evenly.
4 Top with the tomatoes, lettuce, and cheddar cheese. Sprinkle with bacon bits.
5 Bake for 15 minutes until top is golden and bubbling.
California Maki Dip
You'll be turning Japanese with this creamy concoction. Put a twist to it by adding avocadoes when in season.
Prep time 10 minutes
Cooking time 5 minutes
Serves 6 to 8
½ cups Japanese mayonnaise
4 pieces imitation crab stick, chopped and shredded
1 small cucumber, cut into thin strips
¼ cup chopped mango
1 teaspoon vinegar
salt and pepper, to taste
1 small sheet nori, cut into thin strips
1 Combine mayonnaise, shredded crab sticks, cucumber, mango in a bowl. Add vinegar and mix. Adjust seasoning to taste. Top with nori for a nice presentation.
Spicy Longganisa Dip
Your favorite breakfast fare adds a garlicky punch to this creamy and cheesy concoction. Experiment with other longganisa variants and be amazed by the different flavor notes. An idea: top with cheddar cheese and bake in the oven until golden and bubbly.
Prep time 10 minutes
Cooking time 7 minutes
Serves 8
1 (8 ounce) pack cream cheese, softened
5 pieces Alaminos longganisa
2 tablespoons chili powder
½ cup diced tomatoes
¼ cup diced jalapeños
1 Cook longganisa in a skillet over medium heat. Add about 2 tablespoons water. Let it fully cook. Remove skin and break meat into small pieces. Drain excess oil. Set aside.
2 In a large bowl, combine cream cheese, chili powder, tomatoes, and jalapeños. Add the longganisa and mix until well combined.