When it's graduation season, you don't always have time to go to the grocery store, buy ingredients and cook in the kitchen. So what's the smartest way to have delicious dishes without all the effort? Make them ahead of time. These make-ahead tasty pasta sauces will definitely make things memorable and extra special. These sauces are incredibly easy to make, and on the day of your celebration, pop them in the microwave and serve them over some al dente pasta and you're all set! Pair it with a refreshing glass of Coca-Cola and you just made yourself a pastariffic day! You can never go wrong with these delicious make-ahead sauces and Coke! It's a #BagayNaBagay pairing everyone will love. Check out these recipes!
Spaghetti a la Carbonara
Prep time: 10 minutes
Cooking time: 20 minutes
Serves: 4
1 tablespoon salt
1 whole egg
1 egg yolk
1/2 cup grated parmigiano reggiano cheese, plus extra for garnish
1 teaspoon ground black pepper
1/2 cup pancetta or bacon, diced
500 grams spaghetti
freshly cracked black pepper
pecorino romano cheese
1 Bring a pot of water to a boil. When boiling, add salt.
2 In a medium mixing bowl, whisk together egg, egg yolk, Parmesan, and pepper for 3 to 4 minutes or until thick and creamy.
3 In a medium sauté pan, render the pancetta or bacon until crispy. Remove pancetta from pan and place on a paper towel to remove excess fat.
4 Add pasta to the boiling water and cook until al dente. Strain the pasta but do not rinse. Add the hot pasta to the bowl with the egg mixture.
5 Fold the egg mixture and pasta together for 30 seconds.
6 Fold pancetta into the pasta. Garnish with grated cheese and extra black pepper. Serve at once.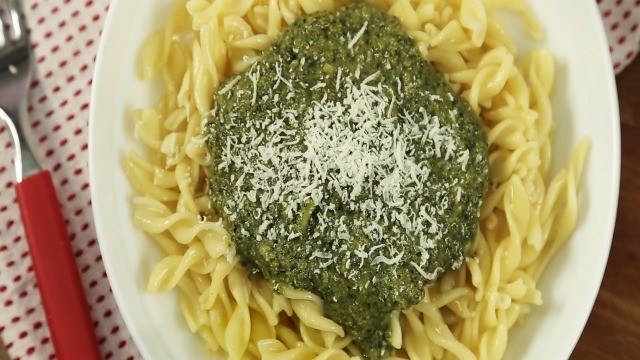 Pesto Sauce
Prep time: 20 minutes
Cooking time: 15 minutes
Yields: 1 3/4 cup
1 clove garlic
1 1/2 cups cooked white beans
1/4 cup cashews
1/2 cup water
1 tablespoon japanese or korean brown miso paste
2 tablespoons lemon juice
1 tablespoon extra virgin olive oil
salt, to taste
pepper, to taste
1 cup basil leaves, tightly packed
1 Combine 1 clove garlic, 11/2 cups cooked white beans, and 1/4 cup cashews in a food processor. Pulse until crumbly. You may need to stop the machine a few times to scrape down the sides.
2 Add 1/2 cup water, 1 tablespoon Japanese or Korean brown miso paste, 2 tablespoons lemon juice, 1 tablespoon extra virgin olive oil (optional), and salt and pepper to taste. Process until smooth.
3 Add 1 tightly packed cup basil leaves and pulse until the mixture is flecked with green. Use about 1/4 to 1/3 cup sauce per serving of pasta. Leftover sauce can be stored in the refrigerator for up to 5 days.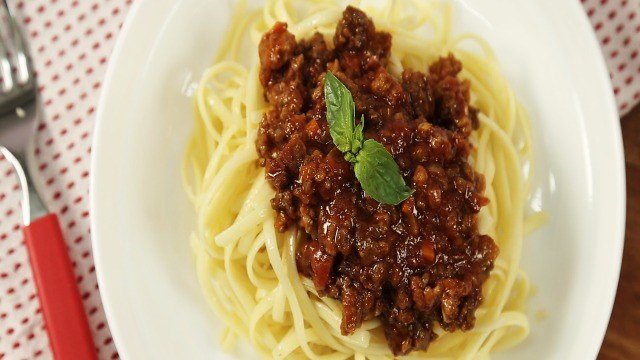 Classic Bolognese Sauce
Prep time: 20 minutes
Cooking time: 3 hours
Serves: 6-8
1 medium carrot
1 medium onion
1 stalk celery
1/4 cup olive oil
6 cloves garlic, minced
1/2 teaspoon chili flakes
1/2 cup pancetta or rindless bacon, chopped
450 grams ground beef or ground round, ground twice
450 grams ground pork, ground twice
salt and freshly ground pepper, to taste
2 tablespoons tomato paste
1 bay leaf, torn
1/2 teaspoon dried thyme
1/2 teaspoon dried oregano
1/2 cup dry red wine
1 400-gram can crushed tomatoes
2 cups cups beef or chicken stock (or 1/2 beef or chicken bouillon cube dissolved in 2 cups hot water)
liquid seasoning, to taste
450 grams pasta, cooked according to package directions
freshly grated parmesan cheese
1 Finely chop carrots, onions, and celery using a food processor or with a knife.
2 Heat oil in a large, heavy-bottomed saucepot or Dutch oven. Add carrots, onions, celery, garlic, and chili flakes. Cook vegetables over medium heat until very tender and slightly caramelized, about 8 minutes. It is important to cook the vegetables slowly to bring out their sweetness, juices, and flavor.
3 Add bacon and cook for 2 minutes or until the fat has rendered. Add ground beef and ground pork, breaking up the meat using a wooden spoon to avoid clumps. Season with salt and pepper. Cook for 10 minutes or until the juices have evaporated and the meat is browned.
4 Add tomato paste, bay leaf, thyme, and oregano. Mix to incorporate and cook for 2 to 3 minutes.
5 Turn heat to high and add wine. Cook until reduced by half, about 3 minutes. Add tomatoes and stock. Bring to a boil, then reduce heat to a simmer. Cook, stirring occasionally, for 2 1/2 to 3 hours. Add more stock if the meat sauce is becoming too dry. It is crucial to cook the sauce long and slow to tenderize the meat, to cook the tomatoes fully, and to let the flavors come together.
6 Taste to adjust seasoning. Add liquid seasoning (if using) and continue to cook for 2 to 3 minutes.
7 Toss with pasta of choice and sprinkle with freshly grated Parmesan cheese. If not serving immediately, let meat sauce cool and store, covered, in the refrigerator for up to 3 days to let the flavors meld.