One of the best things in life that just makes everything better is a milky, gooey cheese spread. Aside from being the ultimate comfort food, cheese is loaded with the right nutrients to keep your body strong and well nourished.
Try out these unusual recipes with Arla Cheesy Spread with usual kitchen fixes to elevate your next cheesy craving. Arla Cheesy Spread is a real cheese spread made from 90% fresh cow's milk, packed with Calcium and Vitamin A.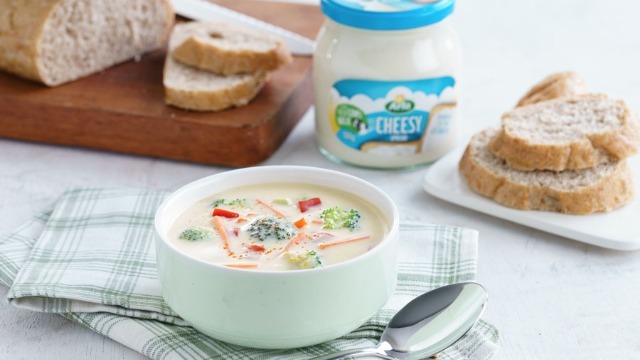 Creamy Soup
A hearty soup to warm your belly on rainy days.
1/2 cup butter
2 cups water
1/4 cup flour
1 1/2 cup of Arla Cheese Spread
1/3 cup sliced carrots, julliene
1 cup of broccoli, chopped in large pieces
1 cup red bell pepper, chopped in large pieces
1/4 teaspoon cayenne pepper
1 cup finely sliced onion scallions
1 medium size white onion, chopped
1/4 teaspoon of salt
4 cups each of chicken broth and milk
Salt and Pepper to taste
1 Boil two cups of water in high heat, add the carrots, broccoli, red pepper and onion scallions. Set aside but do not drain.
2 On a different pot, melt butter over medium heat and add chopped onions.
3 Sauté for a minute, add flour and mix well.
4 In a large saucepan bring the chicken broth and milk to boil.
5 Whisk the melted butter mixture into the pan.
6 Stir in the Arla Cheese Spread, salt, pepper and cayenne.
7 Pour the first mixture of boiled vegetables including the water.
8 Bring to boil and serve immediately.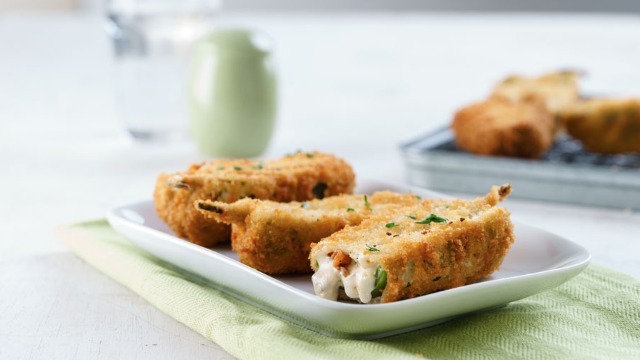 Jalapeno Party Poppers
The biggest hit of every party is the easy appetizer. Whip up your dip with creamy light cheese spread.
12 fresh jalapeno peppers (about 2lb.)
1 cup of Cream cheese
240 grams of Arla Cheesy Spread
1 1/2 cup of milk
8 sliced bacon, diced
Cumin, garlic and onion powder
1 cup of fine dry bread crumbs
3 eggs, beaten
4 cups of vegetable oil
1 Wash thoroughly and prepare the jalapenos for slicing.
2 Cross section the jalapenos to even out the pieces.
3 Remove the seeds and white lemon ribs around the inner skin.
4 Mix 1 cup of Arla Cream Cheese with your diced bacon, ground cumin, garlic and onion powder, until spices are equally distributed.
5 Fill each one of the cross sectioned jalapenos, smoothening the air bubbles on both sides.
6 For the breading, soak the poppers in Arla Milk then flour, repeat the process until you have enough to form a pasty coating.
7 Toss the poppers into the fine dry bread crumbs and coat evenly.
TIP! The poppers should have a nice solid coating not too thick or too thin.
8 Deep fry the poppers in medium to high heat, until golden.
9 Let the poppers sit on tissue to ansorb excess oil. Add salt to taste.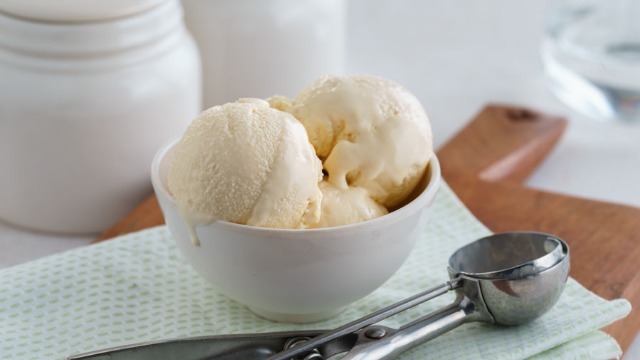 Cheesy Ice Cream
Remember the cheesy treat from Mamang Sorbetero? Recreate the childhood favorite with lighter and much healthier substitute than the usual strong cheddar.
1 cup of sugar
4 eggs yolks, lightly beaten
1 packet cream cheese, cut into small cubes
1½ cup Arla Cheesy Spread
1 cup of full cream milk
1 cup of all-purpose cream / heavy cream
1 tsp vanilla extract
1 Mix a serving of all-purpose cream, a cup of milk, three teaspoons of sugar and 1/4 vanilla extract.
2 Lightly beat egg yolks in a separate bowl.
3 Combine beaten egg yolks with cream, milk and sugar mixture until well-incorporated.
4 Reheat the mixture and keep stirring until thick enough to coat the back of the spoon.
5 Let it cool for a few minutes and freeze.
Now you can enjoy a calcium-filled ice cream on a scorching hot day.
Reference:
http://www.tablespoon.com/recipes/easy-broccoli-cheese-soup/24600480-9a35-40ff-9194-693f18a663a1
http://www.seriouseats.com/2015/01/how-to-make-fried-jalapeno-poppers.html
http://www.adorasbox.com/2011/08/cheese-ice-cream.html