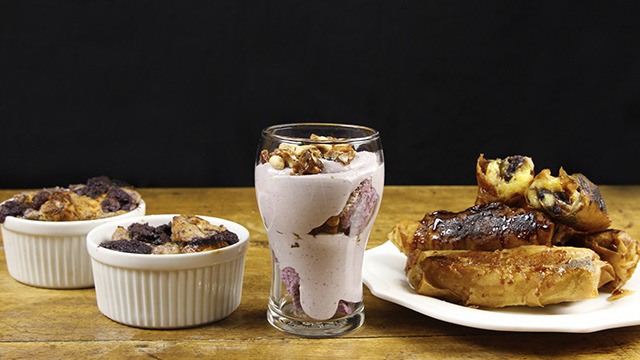 The bright, purple ube jam is a Filipino dessert favorite that can be enjoyed on its own or as a colorful and delicious ingredient in these 3 easy, no-bake desserts.
Ube-Banana Turon
1 Place saba banana on a lumpia wrapper. Sprinkle with 1/2 tablespoon brown sugar and top with 1 to 2 tablespoons ube jam. Fold, roll, and seal. Repeat.
2 Heat oil in a pan. Add brown sugar and melt. Add turon and cook until golden.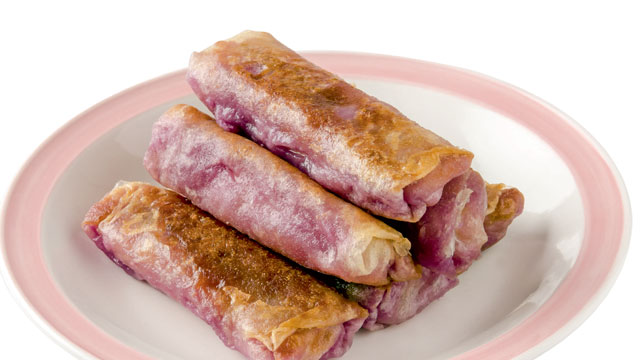 Ube-Banana Turon Recipe
Posted in:
Recipe
Ube-Ensaymada Pudding
1 Mix together 1/2 cup milk, 1/4 cup all-purpose cream, 1 large egg, 1 tablespoon sugar, and 1/4 cup ube jam.
2 Add 2 ensaymada (sliced) and soak for 10 minutes. Divide mixtures among ramekins.
3 Cover with foil, then bake in the toaster oven for 15 minutes. Remove foil and bake for another 3 to 5 minutes.
Ube-Keso Trifle
1 Whisk together 1 cup cream cheese (softened), 1/2 cup all-purpose cream, and 1/2 cup ube jam until smooth.
2 Layer ube cake pieces, ube-keso mixture, and peanut brittle in glasses.