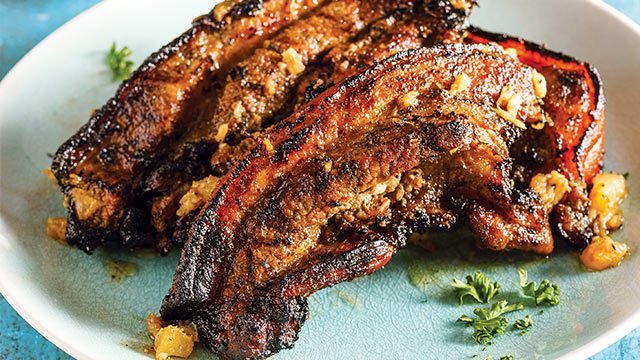 Liempo may just be the perfect pork cut: it's a combination of melt-in-your-mouth fat between layers of meat topped off with crackling skin. No wonder it's a Pinoy favorite! But many fear cooking it: this succulent cut produces the dreaded talsik. Need help? We have a few tips on how to cook pork liempo right:
1 Dry it.
Before seasoning the meat, use paper towels to blot off any excess moisture from the surface of the pork. This will prevent any unnecessary oil splatters when placing the pork in the hot oil, so don't skip this step! Better yet, after patting it dry, leave the pork liempo overnight in the ref, uncovered, to allow it to air dry, resulting in an even drier surface and an even crispier liempo.
2 Season well.
Be generous with the salt and pepper. Mimic TV chefs and sprinkle from up high. This ensures the salt is distributed more evenly as it falls from your fingertips. If you're tenderizing the liempo before frying, season the water. It should be about as salty as the sea to ensure the meat emerges already well seasoned from the broth it was cooked in.
3 Get it hot.
The ideal frying temperature is around 375°F, so wait until the oil is up to temperature before adding the pork. Better still, invest in a deep-fry thermometer that has a long stem and a clip, so you're always at the right temperature, no matter what you're cooking.
4 Place it gently.
The most popular talsik moment? When adding the liempo into the hot oil. Don't be afraid. This all-too-common mistake is easily avoided by using long tongs and letting go of the meat when it's almost submerged in the hot oil. Never drop the meat in. Instead, place the meat in the oil, and you'll avoid the big oil splash.
5 Let it rest.
Just like any freshly cooked meat, let it rest a few minutes before eating. You not only allow the juices to settle into the meat as it cools, you also prevent another dreaded experience: a burned tongue.
ALSO READ: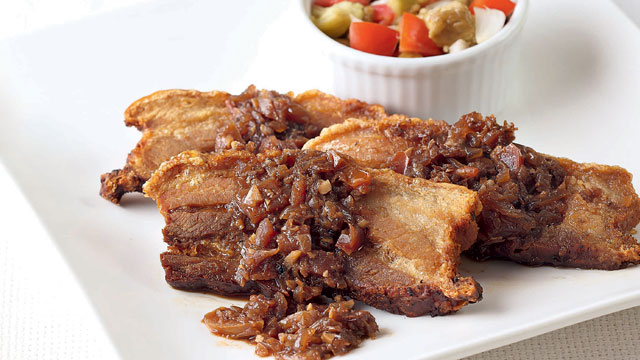 Crispy Lechon Liempo with Bagoong Sauce
Posted in:
Recipe
ADVERTISEMENT - CONTINUE READING BELOW
Recommended Videos