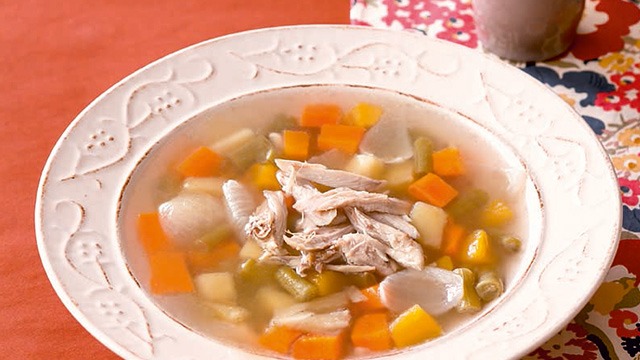 A chicken and vegetable soup is basic, non-glamorous, and easy to make. It's a hearty (yet light) one-pot meal that doesn't require extraordinary efforts. It's also packed with nutrition—and with so much color (orange, yellow, and green!). It's great for kids because one bowl has everything they need: protein, vegetables, and starch. Follow this recipe and read our tips to make your best one yet.
1 Cook it in one pot.
The great thing about a chicken and vegetable soup is the fuss-free cooking and minimal clean-up that comes with it. The chicken, vegetables, and seasoning can all come together in only one pot.
2 Chop the vegetables in a uniform size.
Try the keep the vegetables all uniformly chopped. This way, whatever vegetables go into the broth together will cook at the same time—in this case, the potatoes and carrots. Remember that not all vegetables will cook at the same time, which explains why the squash and green beans go into the soup several minutes after the potatoes and carrots.
3 Use different cuts of chicken.
White meat has less flavor that dark meat, so use chicken leg quarters or a good mix of both cuts to get good chicken flavor in your soup.
4 Scrape off oil or scum that floats to the top.
As much as possible, avoid leaving a layer of oil and scum in your soup. As the soup simmers, oil and scum will often float to the top edges of the soup—all you have to do is take a large spoon and skim the edges of the pan to remove them.
5 Taste and season before serving.
When it comes to soup, seasoning always needs to be spot on. Once you are done checking the doneness of both the chicken and vegetables, check and adjust the seasoning of the soup. If needed, add a touch of salt to get it right.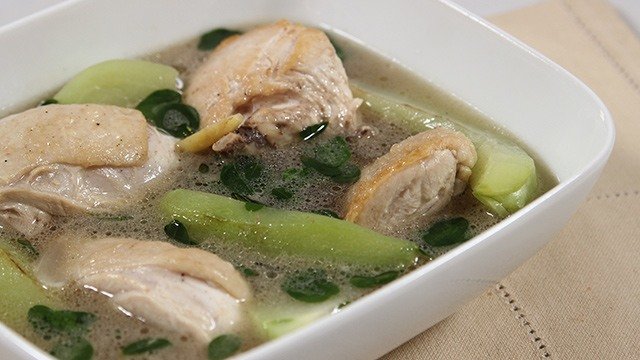 WATCH: How to Make Tinola (Chicken Soup)
Posted in:
Cooking
This recipe was originally published in the January/February 2015 issue of Yummy magazine. Minor edits have been made by Yummy.ph editors.