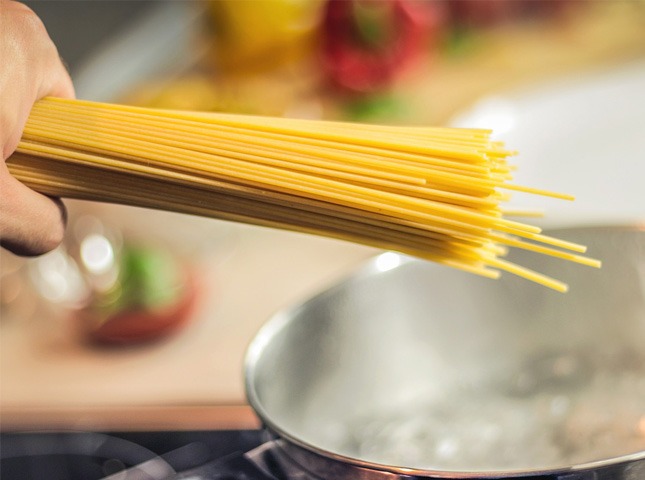 You don't have to end up with mushy, overcooked pasta noodles. Follow these simple tips to pasta perfection:

1. Use a large pot for cooking pasta.
It should be big enough to fit the noodles and water. Take note of the 1:10:100 rule: Make sure you have one liter of water and 10 grams of salt for every 100 grams of noodles. Seasoning the cooking water generously enhances the flavor of your pasta!
2. Don't add your pasta to the cooking water too quickly.
Make sure to wait until the water comes to a rolling boil.
3. Don't add oil when cooking the noodles.
Adding oil will prevent your noodles from absorbing the sauce.
4. Do give the pasta a good stir in the first minute or two of cooking.
Stirring in the first minutes of cooking will help keep the noodles from sticking together.
5. Don't cover the pot when cooking the pasta. The water could bubble up furiously and spill over.
6. Do follow the cooking time prescribed on the package to help you achieve perfectly al dente noodles.
7. Don't rinse the noodles after cooking.
Doing so will remove the starch that helps hold the sauce. But do rinse if you're making a cold pasta salad—this will stop the noodles from becoming too sticky.
8. Do add hot pasta to the sauce immediately.
9. Don't throw away all the cooking water.
You can still use the water to thicken and flavor your sauce.
WATCH: How to Achieve Perfectly Al Dente Pasta Noodles
Image from Pixabay.com
Tips by Idge Mendiola appeared in the November 2014 issue of Yummy Magazine

ADVERTISEMENT - CONTINUE READING BELOW
Recommended Videos