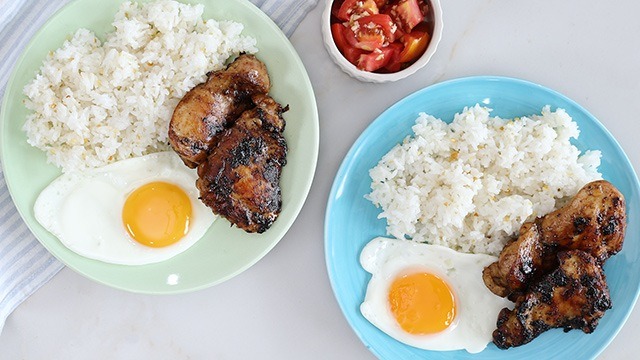 You can cook many things in your air fryer. The hot air is quite conducive to cooking since hot air can heat up quite hot and thus, cook a number of food items. From a ground beef quarter-pounder burger patty to a slab of lechon kawali that's been chilling in your refrigerator or freezer, your choice of meals that can be cooked in the air fryer can be a surprisingly long list. 
If there's one reason why you should be cooking with the air fryer than deep frying food, it's that it really does require less oil than traditional frying requires. What makes it so effective as a cooking method is that the air fryer's hot air acts as your immersive heat instead of oil. The oil you use will be less since you just need to either brush your food with oil to prompt the food to become golden brown.
Also read: Here's Your Air Fryer Cooking Time Cheat Sheet
Plus, any excess oil drips off from the food and into the container or basket holder. The basket itself will hold your food up so minimally touches the food, allowing the super-heated air to circulate as much as it can around the food. This super-heated air is what cooks your food. 
This is great news for anyone who loved fried food but how do you cook something that is sticky, wet, and could possibly burn and even char in your air fryer?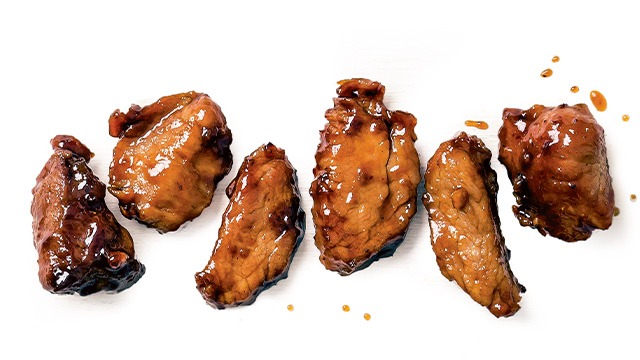 You don't need to worry. It's similar to frying anything else in the air fryer with a few tweaks in the procedure.
The trick to cooking sticky food is knowing that your food might burn and that you're going to want to protect your air fryer, both the basket and its holder. Aluminum foil is going to be your best friend in this case. Not only will the foil protect the parts of your air fryer, but it will also make cleaning the appliance much easier, too. 
One thing you won't need to worry about if you're cooking tocino is browning. The sugar in the tocino marinade will make your food brown but it can also burn, even in the air fryer, since the heat will be hot enough to cause the oil that will drip from your food to get hot enough to smoke, too. That's okay because tocino just isn't tocino without some slightly burnt sugar on the tips. However, if you're avoiding burnt sugar, turn down the heat to 180 degrees C instead of 200. 
The cooking process can be easy, definitely requires less clean up (especially if you line your basket container with foil), and will result in perfectly fried tocino using less oil. 
Here's how to cook tocino and other messy food in the air fryer: 
1. Line the basket container with foil. 
2. Place the tocino, cut to small pieces, in the basket, close, and turn the temperature dial to 180 degrees C. 
3. Turn the timer to 10 minutes, and let the tocino air fry until cooked through and tender with spots of blackened sugar. (You may have to flip the tocino midway if the tocino pieces overlap each other plus add more minutes to cook more evenly.)     
4. Remove from the air fryer basket and serve while hot.  
You can do the same process with saucy recipes such as this saucy honey butter barbecued chicken. You'll need to cook it for 18 to 20 minutes and brush the chicken with the sauce 5 minutes before it's done for the sauce to adhere to the chicken better. 
ADVERTISEMENT - CONTINUE READING BELOW
Recommended Videos
The air fryer is a great and versatile appliance for any kitchen and for any of your daily meals. Give it a whirl every chance you get, so you can make and serve meals that use less oil than your usual cooking requires. 
ALSO READ: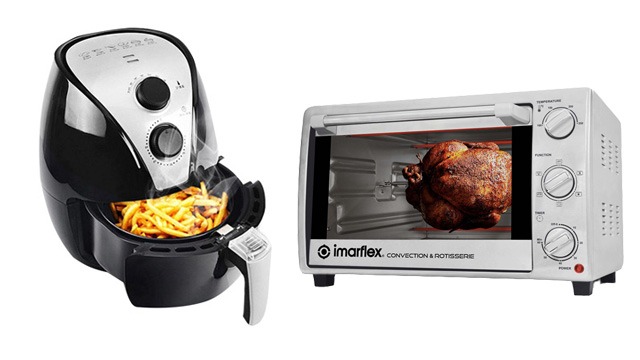 Should You Get An Air Fryer Or An Oven?
Posted in:
Cooking
***
Thinking about what to cook next? Join our Facebook group, Yummy Pinoy Cooking Club, to get more recipe ideas, share your own dishes, and find out what the rest of the community are making and eating!
Got your own version of the classic dishes? Pa-share naman! Get your recipe published on Yummy.ph by submitting your recipe here!