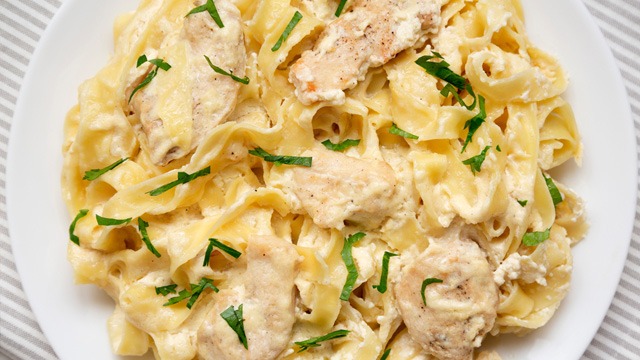 Buttery, cheese pasta is not the most common kind of pasta sauce, but it does have its fans. That's because when done right, the butter cheese sauce or also known as the alfredo sauce can be creamy, too.  
Alfredo sauce is a classic pasta sauce. It's elegantly simple with just three main ingredients: butter, Parmesan cheese, and pasta. A little pasta water helps emulsify the pasta sauce into a creamy consistency much like you would need it to become if you are making cacio e pepe or another classically simple sauce made of cheese and black pepper.   
This cheesy sauce is fantastic on pasta but know that it's great paired with other ingredients, too. Try these buttery cheese recipes.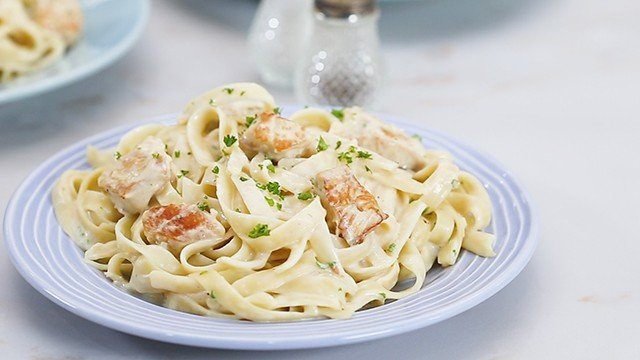 1 Chicken Alfredo Pasta Recipe 
The creamy pasta sauce is flavored with butter and cheese with a big help from all-purpose cream. Adding cream helps the sauce become thickened and ultimately, irresistible for anyone who loves their pasta cream. It's made extra hearty and appetizing, too, with lots of chunks of chicken.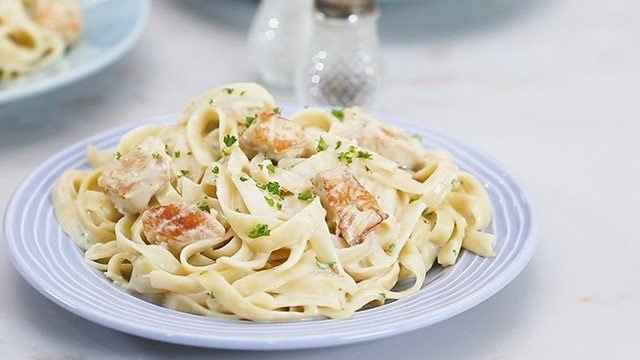 WATCH: How to Make Chicken Alfredo Pasta
Posted in:
Cooking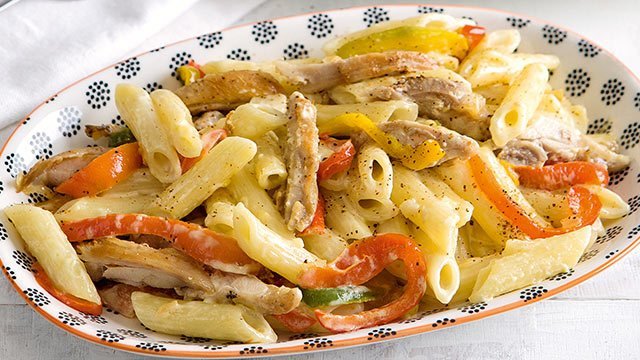 2 Chicken Fajita Alfredo Pasta Recipe 
If you want to upgrade your chicken alfredo pasta, this is the recipe you should try. The strong flavor of the bell peppers in this version is a great way to introduce other flavors to the alfredo sauce while the little bit of cayenne gives the dish an overall spicy kick.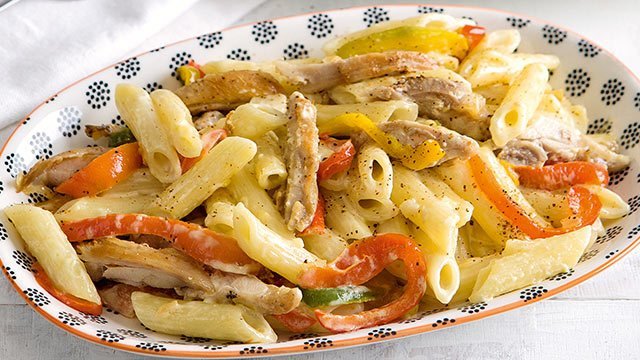 Chicken Fajita Alfredo Pasta Recipe
Posted in:
Recipe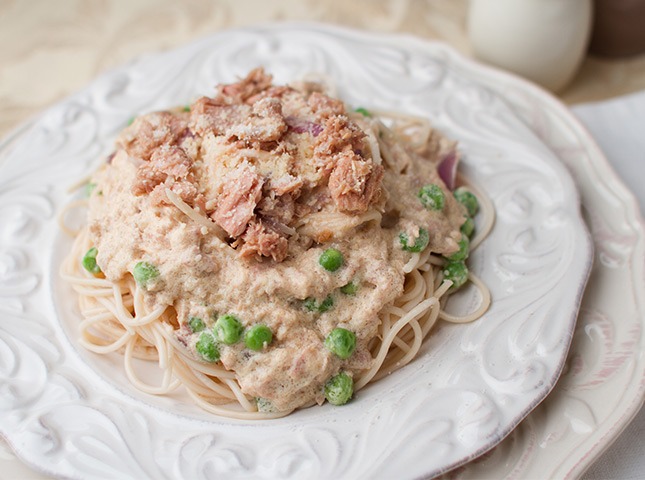 3 Tuna Alfredo Pasta Recipe 
The alfredo pasta sauce is delicious when paired with chicken but it's not the only meat that it complements. The chicken is replaced with tuna in this version, giving it a lighter feel in texture and flavor. Give it a burst of color with the green peas. Just remember to simmer the peas with the pasta so each little orb is a tender bite. 
ADVERTISEMENT - CONTINUE READING BELOW
Recommended Videos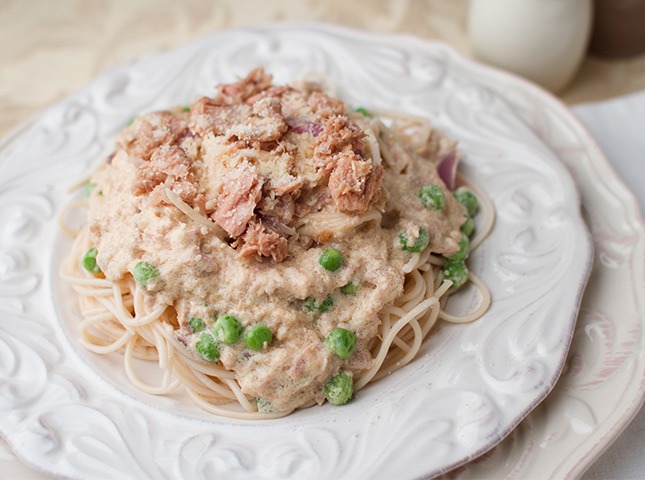 Tuna Alfredo Pasta Recipe
Posted in:
Recipe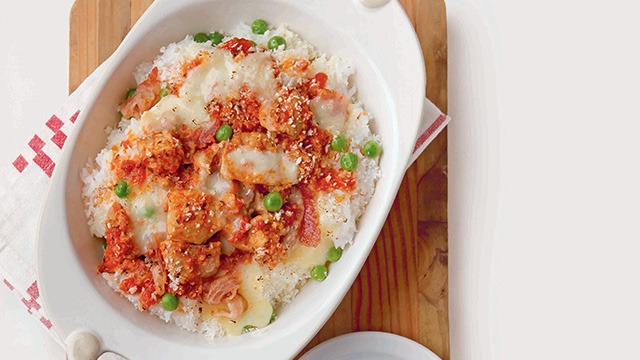 4 Chicken and Rice Casserole with Tomato Alfredo Sauce Recipe 
Who said you need pasta to enjoy an alfredo sauce? This recipe swaps the pasta for rice and then improves the flavor of the alfredo with a touch of tomato. If you miss rice but have this sauce on hand, you'll taste a baked rice dish that's buttery, cheesy, and tangy from the tomatoes.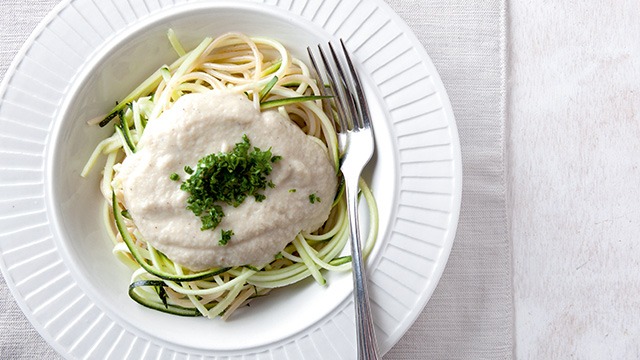 5 Cauliflower Alfredo Pasta Recipe 
Just like you can enjoy alfredo sauce with rice, this version is a fantastic way of enjoying "pasta" without the carbs! If you're on a special diet or just want to add more vegetables to your meals, this faux alfredo sauce is made "creamy" using pureed cauliflower. If eating healthier is your goal, this version certainly delivers!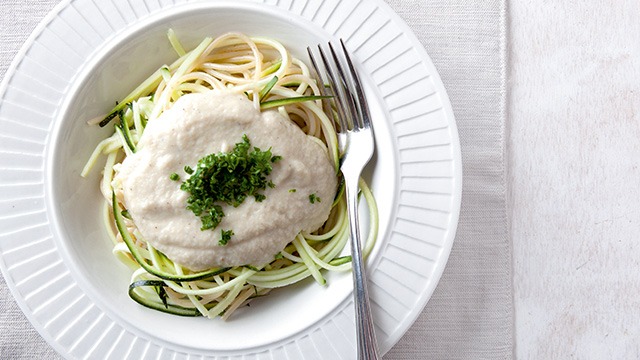 Cauliflower Alfredo Sauce Recipe
Posted in:
Recipe
***
Thinking about what to cook next? Join our Facebook group, Yummy Pinoy Cooking Club, to get more recipe ideas, share your own dishes, and find out what the rest of the community are making and eating!
Got your own version of the classic dishes? Pa-share naman! Get your recipe published on Yummy.ph by submitting your recipe here!