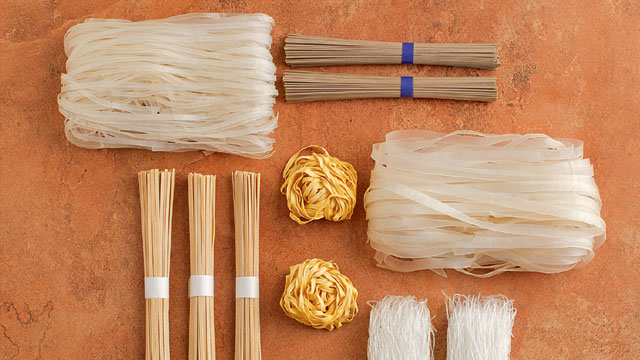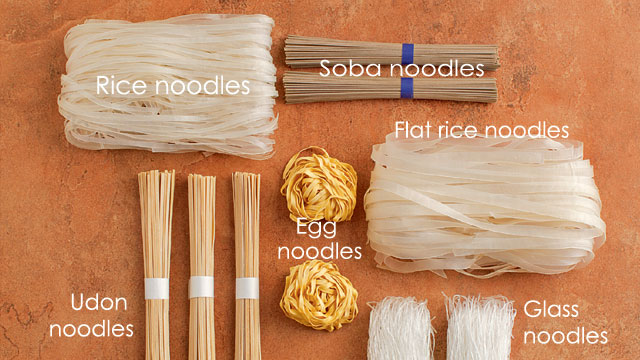 Don't be overwhelmed by the variety at your supermarket's Asian aisle. Here's a quick guide on the most common types of noodles:
1 Egg noodles
This noodle variety is made of wheat-flour dough enriched with eggs. You can spot egg noodles easily because they have a golden color and are sold dried and clumped together in strips, balls, or squares. They're great for Chinese stir-fries and can also be fried to use as a crispy garnish. Fresh egg noodles are also available in the market. Pancit canton is a type of egg noodle.
2 Udon noodles
Originating from Japan, udon noodles are made with wheat and are thick, chewy, springy, and slippery. Like most Asian noodles, they can be served hot or cold, with or without broth.
3 Rice noodles
Popular in Southeast Asian cuisine, these noodles are made of rice flour and water, and are more delicate than wheat noodles. They don't need to be cooked; to prepare them, simply submerge the noodles in hot water and stir occasionally until they loosen up and become transparent.
4 Soba noodles
Also called buckwheat noodles, they have a strong nutty taste and a rich, dark color. They now even come in flavors like green tea and seaweed! These noodles can be incorporated into hot broths, or served cold in a salad or with a dipping sauce.
5 Flat rice noodles
These noodles come in a number of widths, usually indicated in millimeters. The thin variety is best for soups, while stir-fries like pad thai often call for the wider kind, serving as a vessel for all the other ingredients.
6 Glass noodles
A type of rice noodle usually sold in dried bundled threads, glass noodles need to be rehydrated in hot water for a few minutes before use. Also known as cellophane noodles, Chinese vermicelli, and sotanghon, they make for an excellent base for salads and soups, and can be used to stuff spring rolls. They can also be deep-fried to a crisp and used to garnish Asian dishes.
This feature appeared in the May 2016 issue of Yummy magazine