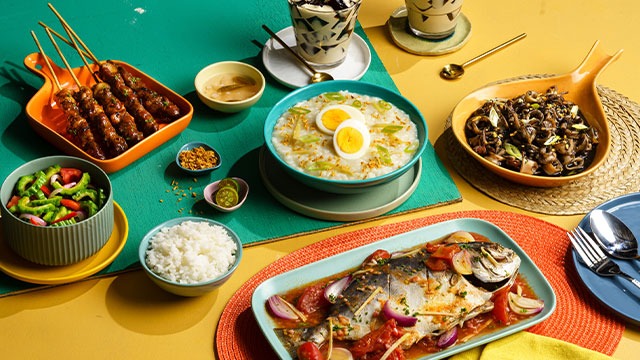 2007 was the year that Yummy made its first public debut as a magazine and it's been quite a delicious time for many people's kitchens since then! It's also been about five years since it went fully digital, and Yummy became your go-to online recipe database for your favorite Filipino recipes and beyond.
That's why it's not hard to understand why those recipes that you first found on Yummy and made at home are also some of the best recipes on the website. This August, we decided that for its first digital covers, we should celebrate the recipes and dishes you, and others like you, love.
From our vast recipe database that spans ingredients and cuisines, these are the Filipino food recipes that you have made our best and most popular on the site: 
1 Ampalaya Salad Recipe
Ampalaya or the bitter gourd may force you to make a face with its bitterness but it's one of those veggies that you either truly love or hate with a passion. For those who love it, either for its taste or health benefits, this ampalaya salad recipe is one that you can prepare ahead of time. You can use some tips and tricks to make the ampalaya less bitter if needed before tossing it with the other vegetables and adding the dressing to the salad.
In all honesty, it's perfect as a side to any fried ulam dish you may wish to serve!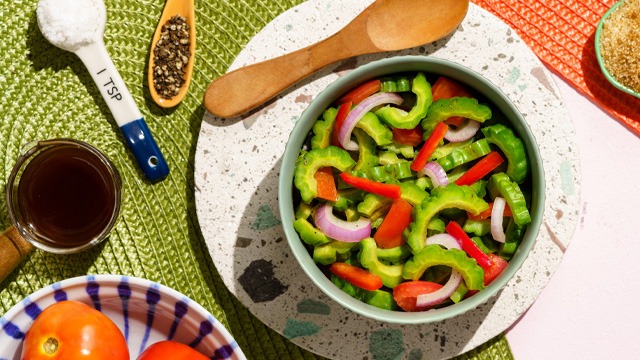 Easy Ampalaya Salad Recipe
Posted in:
Recipe
2 Adobong Pusit Recipe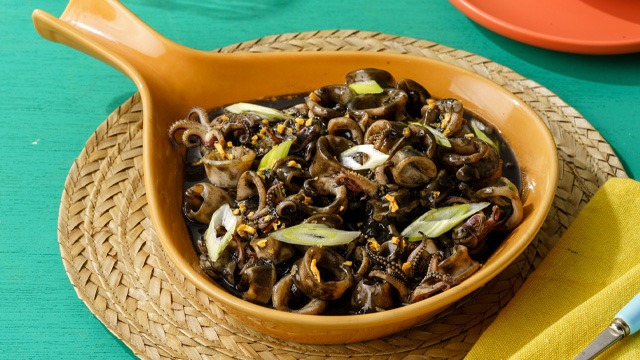 Adobo is a time-honored dish that has sprouted countless variations over time. However, one of the most common ways of enjoying this kind of dish remains the same: served with steamed fluffy rice and a hearty appetite. 
For those who tire of the same old recipe day in and day out, this adobong pusit recipe using squid instead of another kind of meat is a refreshing and addicting one. The squid ink may have something to do with its appeal but it's no doubt that when it comes to seafood, squid made into adobo is an all-time favorite to make at home.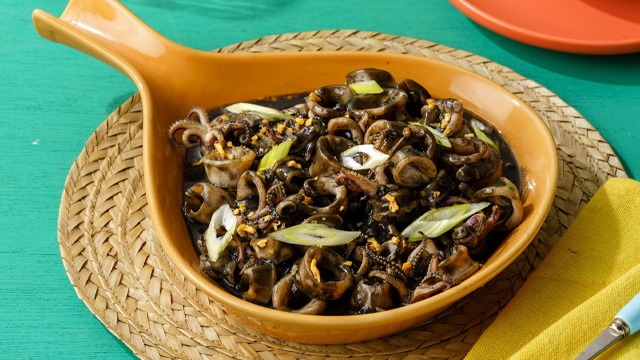 Adobong Pusit Recipe (Squid Adobo)
Posted in:
Recipe
3 Easy Coffee Jelly Recipe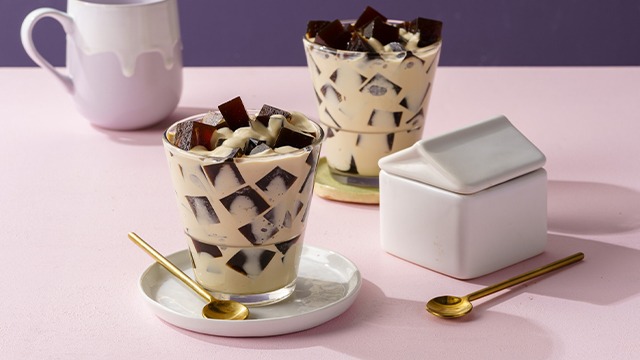 Not every home has an oven and even those that do may sometimes find that they don't always want to fire it up and bake something. For these instances, a no-bake dessert recipe is definitely one that you need to have in mind. This easy coffee jelly recipe is a tried and true recipe that guarantees a satisfied smile on anyone's face!
You get a burst of lightly sweetened cream with a touch of earthy coffee flavors with every spoonful. The soft jelly or gulaman cubes made with slightly bitter black coffee are the refreshing note that makes this dessert simple to make yet decadent in taste.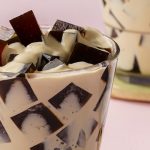 Easy Coffee Jelly Recipe
Posted in:
Recipe
4 Pork Barbecue Recipe With Sriracha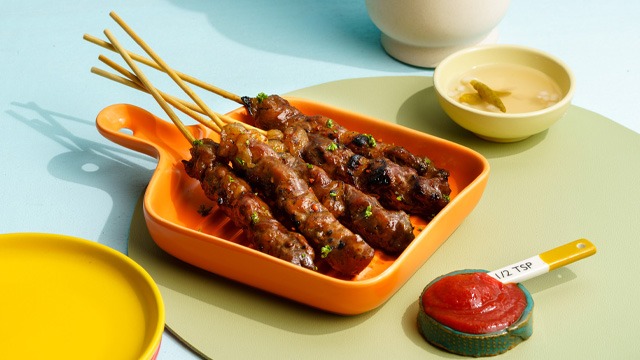 Any Filipino can tell you that the Pinoy barbecue is a classic one, so much so that every corner with street food being prepared over red hot charcoal will include sticks of these well-marinated pork skewers. Not all may taste the same because, just as adobo may have different recipes per region you visit, the pork barbecue these hawkers peddle may have secret ingredients that make it extra delicious. 
For this pork barbecue recipe, the extra ingredient is sriracha, a thick spreadable paste made with sun-ripened chilies that have been pureed until smooth. The flavor profile is not obscured by the sharp vinegar tang that many hot sauces may have but is more chili and fruity in taste. This makes it an excellent ingredient to add to sauces and marinades, and the Pinoy barbecue is no exception! 
ADVERTISEMENT - CONTINUE READING BELOW
Recommended Videos
So if you love your barbecue with a touch of heat, you can't miss this chance to make this version if you haven't yet tried it! 
5 Lugaw Recipe With Egg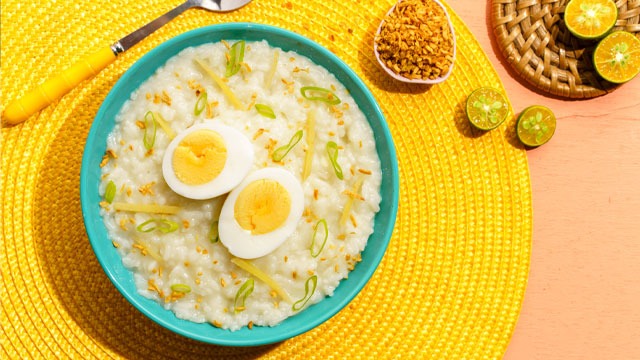 Lugaw or rice porridge is a simple dish to prepare. It's one of those comforting dishes that your loving parent (or grandparent!) would make whenever you might be sick or feeling less than 100%. The simple preparation doesn't mean it will result in a dish that is less flavorful than one with more ingredients. All it means is that it is easier to make and its simple ingredients can be made extra tasty if you know what to add. 
In this case, a flavorful chicken broth instead of plain water is the secret ingredient to this lugaw recipe. Topped with a hard-boiled egg, the classic crunchy garlic bits, chopped green onions, a sprinkling of black pepper, and maybe a sauce of patis and calamansi on the side, the simple but essential lugaw recipe with egg can be the dish you want to make to keep your spirits up when you're down or just need a pick-me-up late at night.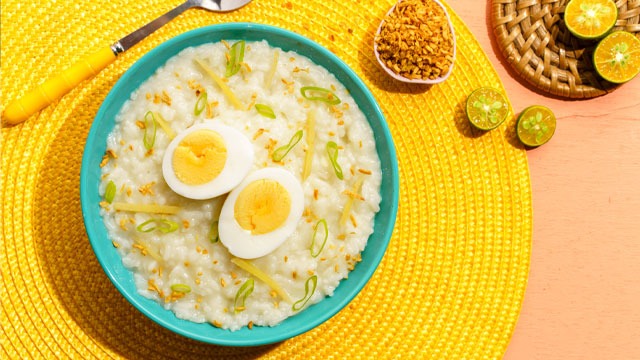 Lugaw with Egg Recipe
Posted in:
Recipe
6 Pinangat Na Pampano Recipe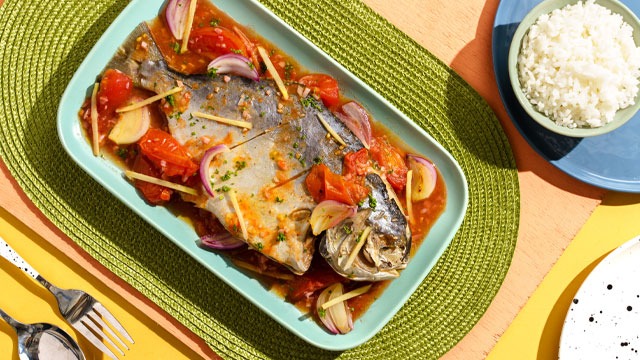 What makes the pompano, a flat fish with small scales and sweet white flesh, so popular? We think it's the ease with which it can be prepared! Unlike some fish which require you to descale them before adding to the pot or pan, the pompano has very small scales that you actually do not have to remove prior to cooking! 
This means that even a novice cook can cook this fish dish without any further technical instruction after bringing it home from the palengke. It's just a quick rinse and it goes straight into the pot to cook. The sauce or sabaw that you pair with it is all it needs to make it extra appetizing, and it's totally up to you to make it into this pinangat na pampano version with fresh tomatoes and calamansi to give it that classic sour taste!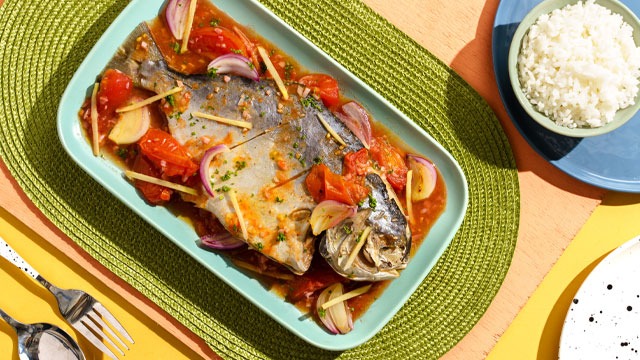 Pinangat Na Pampano Recipe
Posted in:
Recipe
Did your favorite Yummy.PH recipe make it to this best recipes list? 
***