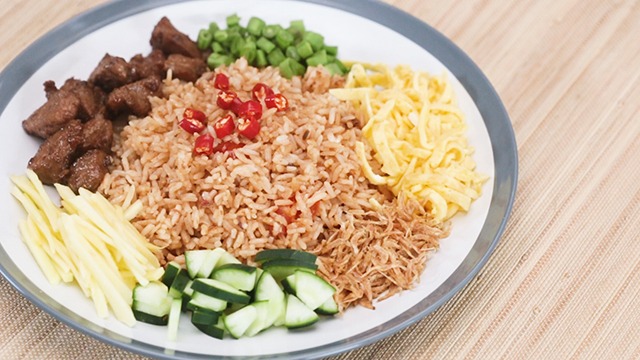 We love garlic rice but when it's made tastier with bagoong or shrimp paste and topped with loads of toppings, it makes for a really flavorful meal.
Use your favorite variant of bagoong, serve with leftover adobo pieces, and top with your preferred sides and vegetables for a personalized bagoong rice plate that will have you eager to start the meal.
Bagoong Rice Recipe
Takes 30 minutes
Makes 3 servings
1 tablespoon sesame oil
1 cup boneless pork chop, cut into bite-sized pieces
1 tablespoon soy sauce
2 teaspoons sugar
Water, as needed
1/4 cup oil, divided
2 cloves garlic, peeled, finely chopped
1 small red onion, peeled, finely chopped
1 tomato, chopped
3 tablespoons shrimp paste (bagoong)
4 cups day-old rice
Toppings:
Baguio beans, chopped
1 large egg, cooked, sliced thinly
Dried small shrimp (alamang)
Cucumber, quartered, seeds removed, sliced thinly
Green mango, sliced thinly
Siling labuyo, finely chopped
1 In a small saucepan over medium heat, combine sesame oil, pork, soy sauce, sugar, and enough water to cover. Simmer until pork is tender, about 30 minutes, and then reduce sauce until thickened. Remove from heat. Set aside.
2 Meanwhile, heat half the oil in a wok. Add garlic and onion, and saute until softened. Add tomatoes and cook until tender. Add bagoong and sauté for 1 to 2 minutes. Add rice. Toss to mix well, and cook until rice is warmed through. Set aside.
3 To assemble, put rice on a plate and place pork and prepared toppings around the rice. Serve while hot.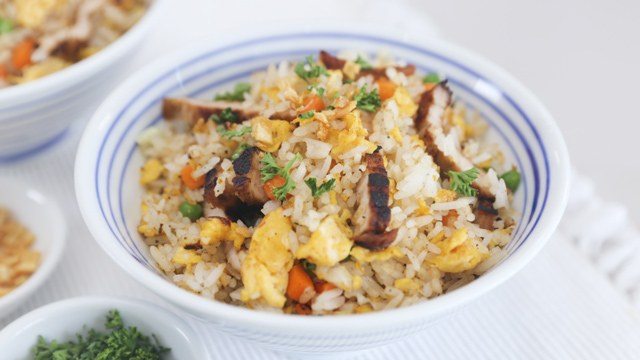 WATCH: How To Cook Pork Tocino Fried Rice
Posted in:
Cooking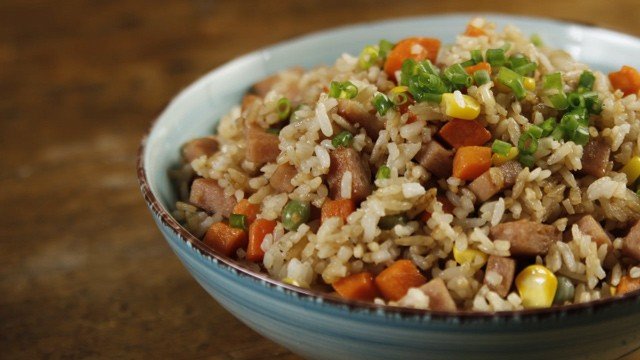 WATCH: How to Make Spam Fried Rice
Posted in:
Cooking
ADVERTISEMENT - CONTINUE READING BELOW
Recommended Videos