For many working Filipinos, lunch break is sacred. Not only is it a no-fail way to build and strengthen relationships in the office; it's also the time to whip out their packed lunches to share with their office mates.
Who doesn't get excited when someone brings out their lunchbox and reveals their baon for the day? You'll surely feel the love once containers are passed around and shared.
Cultivate this culture of love even more by sharing dishes that promise comfort and warmth. The best way to do this? By simply adding milk to any classic dish, turning it extra creamy and even more hearty.
Check out the following baon ideas you can easily recreate and lovingly share with your favorite workmates!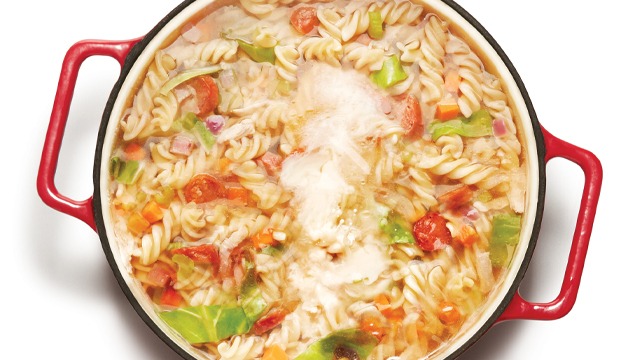 Sopas
Do you and your team need an extra dose of comfort during your lunch break? Nothing is as effective as the good ol' sopas to warm you up and soothe the soul. But don't settle for the ordinary. This recipe, for example, uses red onions, garlic longganisa, and chicken as its base.
Pour in Alaska Evaporated Filled Milk and simmer until the soup is thick and creamy. Add some sliced celery and dried oregano to round out its flavors even more.
View the complete recipe here.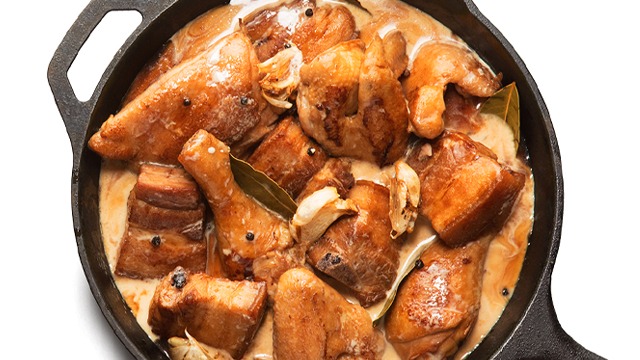 Creamy Adobo
It's hard to beat a classic, especially if it's the time-tested chicken and pork adobo! And yet, you can amp up its goodness even more by using Alaska Evaporated Filled Milk.
Marinate the meat in the usual garlic, soy sauce, vinegar, and peppercorn. Fry 'em up, then simmer with bay leaves, water, and oyster sauce. Lastly, pour in the evaporated milk for a creamy, uber delicious sauce. During lunchtime, this dish's aroma will surely elicit oohs and aahs. An absolute winner!
View the complete recipe here.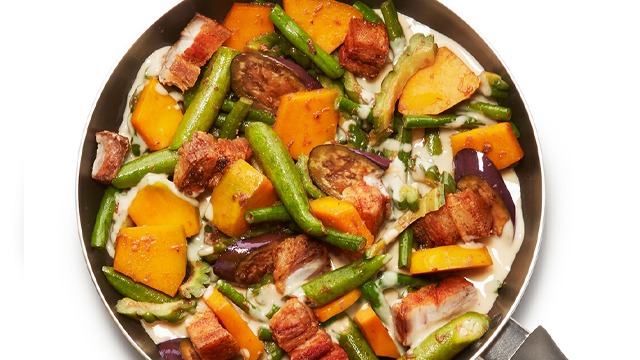 Creamy Pinakbet
Yes, you read that right! You can take the traditional pinakbet for a spin and turn it even lovelier with a splash of milk. You start off with the usuals: onions, tomatoes, and bagoong. Then add kalabasa, sitaw, okra, ampalaya, and talong. Now comes the star of the show: Alaska Evaporated Filled Milk. Let that simmer and allow flavors to meld together.
Finish off with crispy, crunchy lechon kawali for topping. The whole office is going to rave about you and your packed lunch for sure! Don't forget to bring huge tubs of rice!
View the complete recipe here.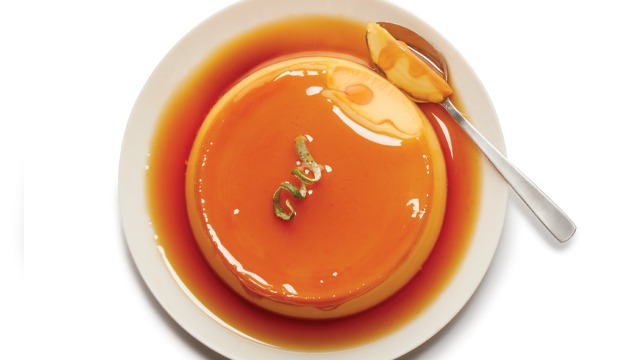 Leche Flan
Lunch can't end unless you bring out the sweets. Cap off the meal with creamy and silky smooth leche flan!
Make sure to follow these tricks to achieve that lovable texture: First, gently mix all ingredients for the base, including a can each of Alaska Condensed Milk and Alaska Evaporated Filled Milk. Next, strain this mixture to remove air bubbles right before pouring into the llanera. Lastly, steam over low heat just until firm, and chill overnight to set.
On the next day, you can already bring the whole masterpiece to the office and share it with your office mates. That's what you call a sweet ending!
View the complete recipe here.
Homemade dishes like these not only bring people together but also spread love and positivity into the world—exactly what Alaska wants to do with its Luto of Love challenge.
The pay-it-forward activity began within Alaska itself. The company and its partner agencies have started a "love chain" by encouraging their employees to cook and share food made with love not only in the company but also within their own families and circles of friends.
And now, Alaska wants you to join in the fun, and pass on a Luto of Love!
It goes like this: First, cook a special dish for a loved one. Next, post a photo or a video of it on any (or all) of your social media accounts, and tag a family member, a friend, or a coworker to do the challenge. Don't forget to use the official hashtags: #AddLove #AddOnlyAlaska.
Really easy, right?
Time to nominate your closest office friends and family to Alaska's Luto of Love challenge!
#AddLove to your cooking with the help of Alaska. For more information, follow Alaska on Facebook.