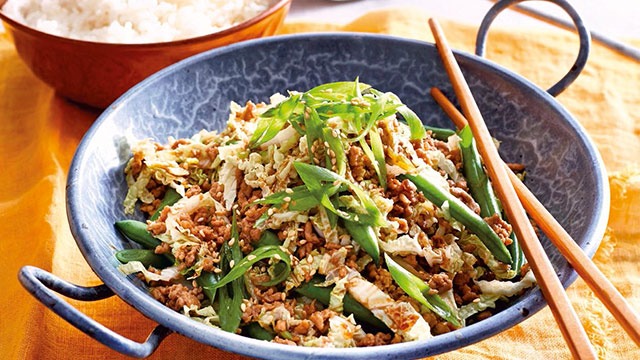 Quick stir-fries can come together in a half hour, and don't need much planning to cook when you're rushing to put a last-minute weeknight dinner together.
Look into your refrigerator and pull out your best produce in season, your favorite protein, and even quick-cooking noodles to make a tasty, healthy and effortless stir-fry dish.
1  Prep every single ingredient and keep them at arm's reach.
Cut your vegetables into uniformly-sized pieces for even cooking. Cook your hard vegetables first and quick-cooking leafy vegetables last. Meats should be marinated and tenderized, and cut into pieces that won't turn rubbery from the high temperatures. Pat your meat and veggies dry with kitchen towels before throwing them into a hot wok—moisture can cause them to steam and turn soggy instead of the firm crunch you should go for.  
2  Crank up the exhaust fan on your stove hood, or open up your windows.
High heat will churn out lots of smoke, so if you are cooking in a condo or apartment, open up your windows so that your whole place doesn't end up smelling like smoke.
3  Wok it out!
Woks singlehandedly conquer the world of stir-fries, and are the best pans to use when cooking one. A local Filipino kawali works great, too. Look for one with high sides and heatproof handles.
4  Choose the right oil.
Cooking oils with high smoke points are essential to stir-frying because of the very high heat used. Canola, corn, and peanut oils are great choices. Plus, remember to heat your pan before adding your oil into it.
5  Make a good mix.
Stir-fries are weeknight dinner life-savers. Make it a full and worthwhile meal by including protein, lots of vegetables, tasty sauces, and lots of herbs and spices to round everything out.
Here's a quick and easy stir-fry recipe for beginners: 
ADVERTISEMENT - CONTINUE READING BELOW
Recommended Videos