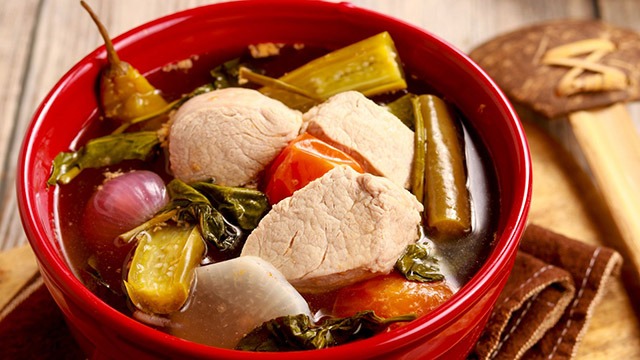 When you're stressed or tired, there is nothing like a hearty serving of Filipino comfort food that can quite soothe the soul. Flavorful, filling, and best served steaming hot, these dishes are not only easy to make; you can add twists or tweak these comfort Pinoy food recipes according to your preferences and make them all the more inviting.
Here are some of the best kinds of Filipino comfort food recipes you can make at home:
Sinigang Recipes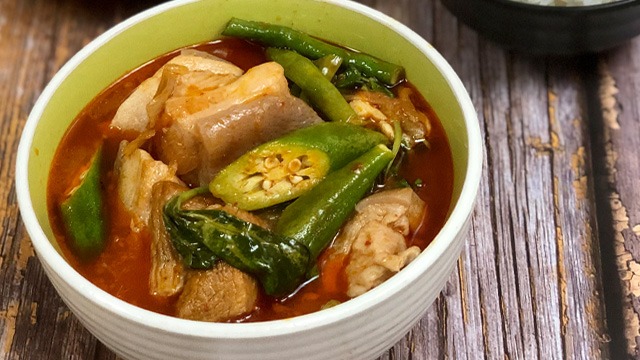 Sinigang is one of the classic Pinoy ulam recipes that each Filipino household has a unique recipe of: there are so many variations that it can be hard to choose one! This soup dish is most commonly made with pork or seafood; though it's also possible to make a vegetarian version of sinigang. The broth is usually flavored with a souring agent, like sampalok (tamarind) or kamias.
1 Pork Sinigang Recipes
Pork Sinigang or Sinigang na Baboy usually uses pork shoulder or kasim, but you can also substitute this with leaner cuts like pork rib! Add some texture with crispy pork, or a Korean twist with kimchi!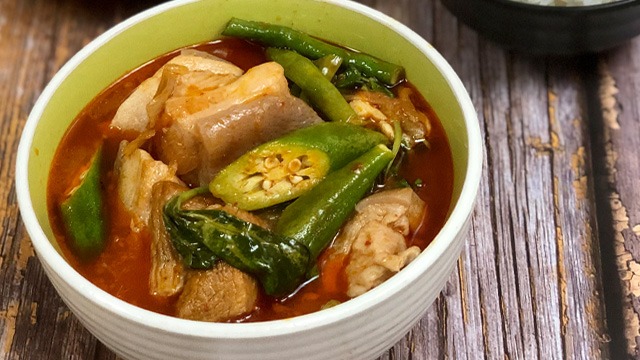 Kimchi Pork Sinigang Recipe
Posted in:
Recipe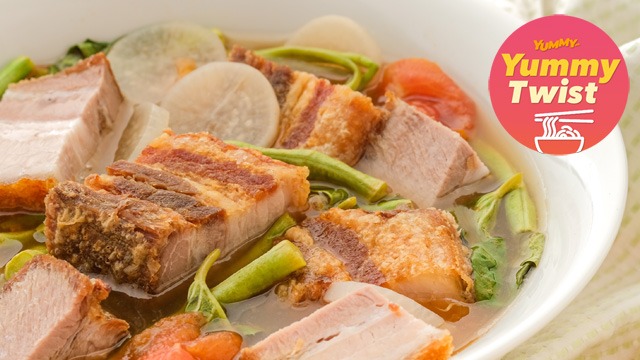 Crispy Pork Sinigang Recipe
Posted in:
Recipe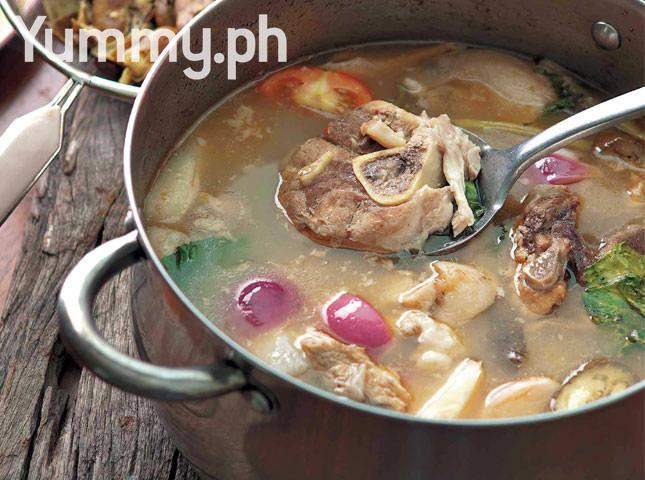 Sinigang na Baboy sa Sampalok
Posted in:
Recipe
2 Seafood Sinigang Recipes
Aside from shrimp, there are a variety of fish you can use to make seafood sinigang!
3 Other Sinigang Recipes
You can also use beef or chicken for the meat, or go for a vegetarian sinigang!
Bulalo Recipes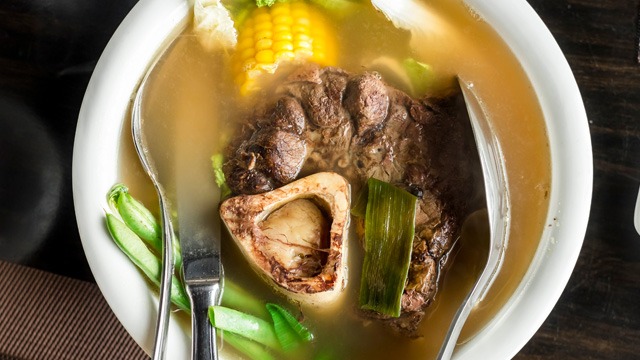 Love savory soups? Bulalo is a beef soup that features beef shanks that are boiled until tender with aromatic spices, corn, and leafy greens. It can be served with cross-cut beef shanks, but if you enjoy fatty, creamy bone marrow, you can also use a whole bone-in beef shank.
1 Classic Bulalo Recipe
Make this classic recipe extra appetizing by serving it with more patis with calamansi and siling labuyo on the side to give eaters the option to spice it up themselves. You can even make it more aromatic by simmering it with lemongrass.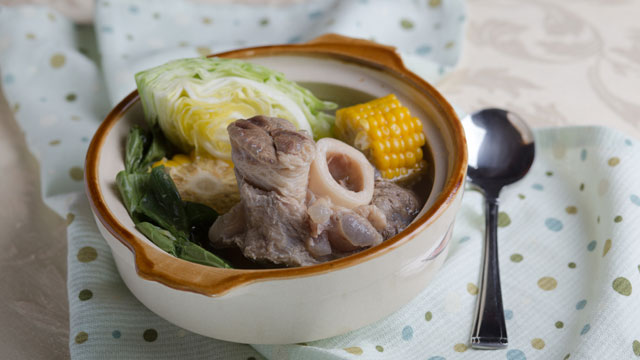 Bulalo Recipe
Posted in:
Recipe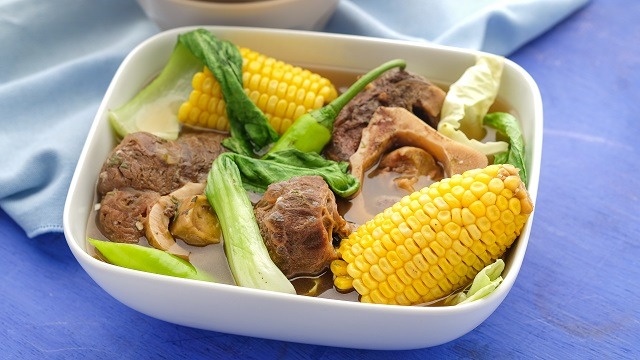 Spicy Beef Bulalo Recipe
Posted in:
Recipe
2 Sizzling Bulalo Recipe
This is an exciting twist where bulalo is served on a sizzling plate and topped with gravy!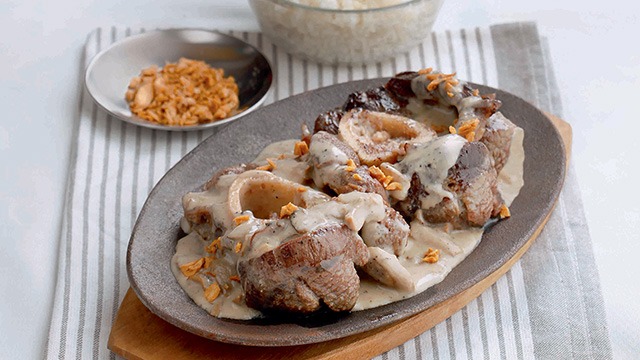 Sizzling Bulalo Steak
Posted in:
Recipe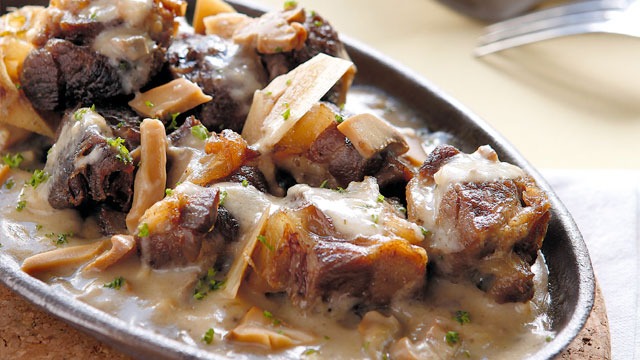 Sizzling Bulalo with Creamy Mushroom Sauce
Posted in:
Recipe
3 Bulalugaw Recipe
Create the ultimate Filipino comfort food by combining two of the best: bulalo and lugaw!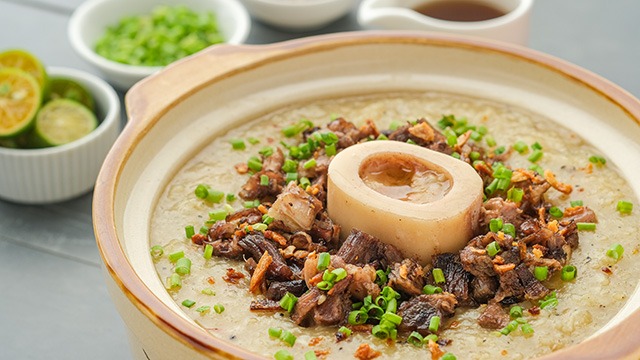 Bulalo Lugaw Recipe
Posted in:
Recipe
Arroz Caldo or Lugaw Recipes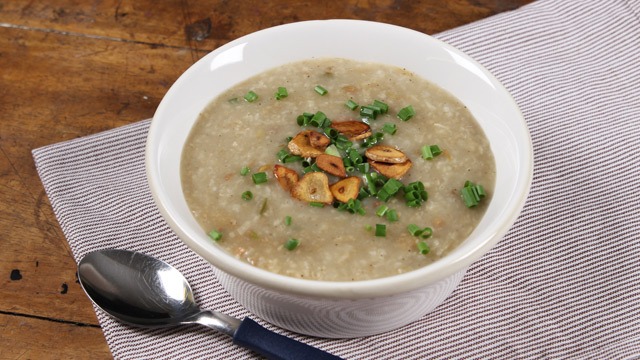 Let's get this straight: arroz caldo can be called a kind of lugaw, but lugaw is not necessarily arroz caldo! The difference lies largely on two things: the stock and the toppings. Arrroz caldo is usually made with chicken stock with shredded chicken pieces in it. While it is usually topped with toasted garlic and sliced green onions, it generally doesn't have as many toppings as lugaw, because it's already quite flavorful from the stock. Another thing that sets arroz caldo apart from lugaw is its color: it is usually tinted yellow from the use of kasubha or safflower.
ADVERTISEMENT - CONTINUE READING BELOW
Recommended Videos
Sopas Recipes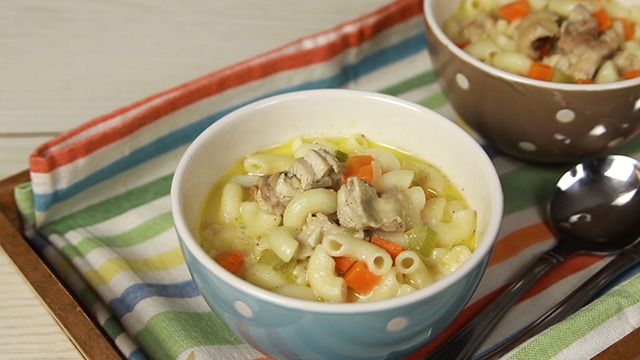 This creamy macaroni soup can sometimes be white or pink, depending on your hotdog preference! Whatever color it may be, however, sopas (also known as a chicken macaroni soup) remains to be one of the most filling Filipino comfort food: its savory broth is made delicious with shredded chicken, carrots, and onions, and enriched by the addition of evaporated milk. It's the Filipino version of a chicken noodle soup, and it is quick and easy to make!
1 Milky Sopas Recipe
The classic sopas recipe uses evaporated milk. Depending on your choice of hotdog brand, it can be tinted pink! If you want to keep it white, choose a hotdog that doesn't use food color (the redder it is, the pinker your broth will be). Plus, this version has a surprise ingredient that makes it extra aromatic and delicious.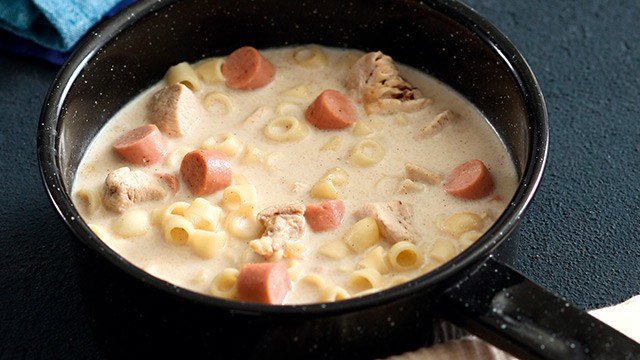 Milky Sopas Recipe
Posted in:
Recipe
2 Chicken Sopas Recipes
Sopas is usually made with chicken, but you can add a fun twist by using ground, not shredded, chicken and making them into meatballs.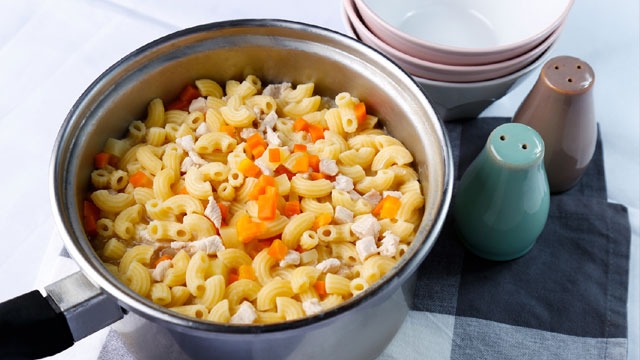 Chicken Sopas (Chicken Soup) Recipe
Posted in:
Recipe
3 Beef Sopas Recipes
Did you know you could make sopas with beef? Try these beefy twists on sopas!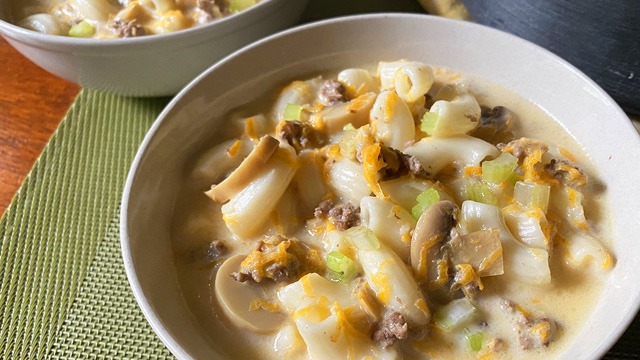 Beef and Mushroom Sopas Recipe
Posted in:
Recipe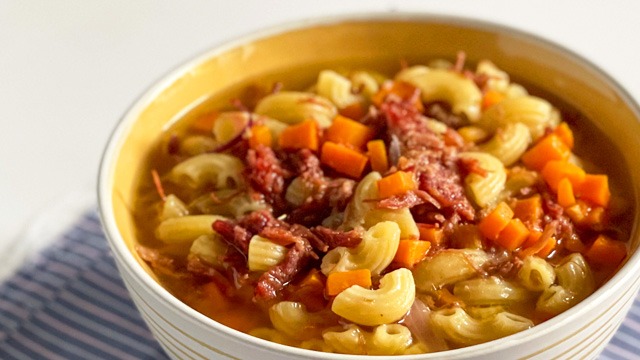 Sopas with Corned Beef Recipe
Posted in:
Recipe
Lomi Recipes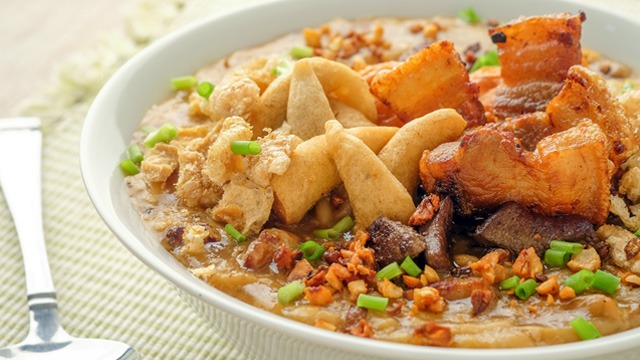 Lomi is a noodle dish that is characterized by the use of thick egg noodles served in a rich, thick, savory broth. While you can find Chinese-style lomi in most parts of the Philippines, Batangas has its own version that is a must-try! Whether you prefer the Chinese lomi or Batangas lomi, this Filipino comfort food is best served freshly cooked and piping hot.
1 Pancit Lomi or Chinese-style Lomi Recipes
Pancit lomi or Chinese-style lomi is usually heavily loaded with shredded chicken, liver, squid balls, and leafy greens like cabbage.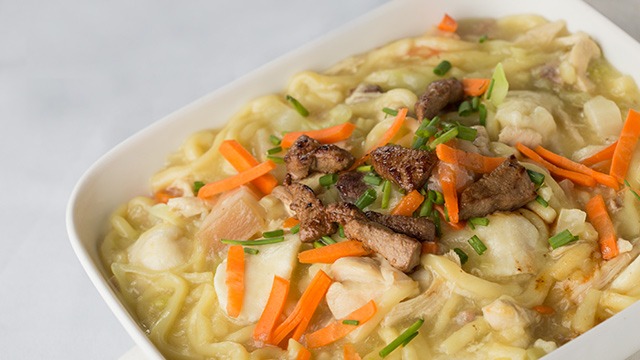 Pancit Lomi Recipe
Posted in:
Recipe
2 Batangas Lomi Recipe
Batangas lomi has a thicker soup, courtesy of the cassava flour used as the thickener, and usually has toppings like chicharon and meatballs and sides made from chopped onions, soy sauce, calamansi, and siling labuyo.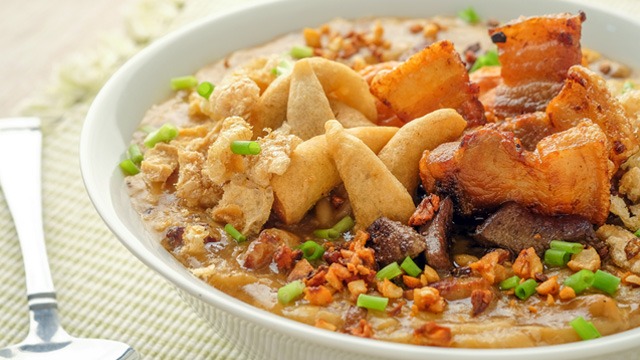 Batangas Lomi Recipe
Posted in:
Recipe
Champorado Recipes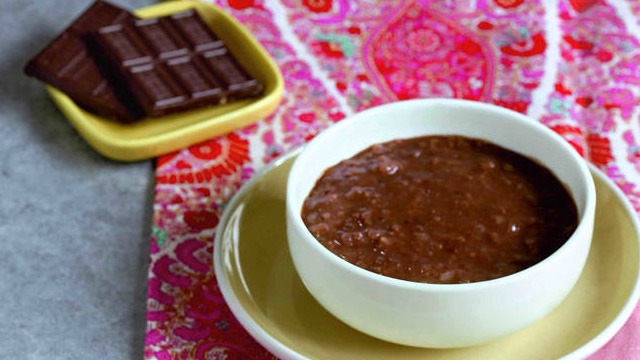 The classic champorado is a type of rice porridge made with malagkit or glutinous rice, flavored with chocolate, usually tablea. This Filipino comfort food can be served at breakfast or as a snack, and is topped with evaporated milk. Champorado can also be paired with tuyo or dried fish, which results in an unusual if arguably delicious salty-sweet flavor combo. The salty fish adds a mouth-watering contrast to the sweet and chocolatey flavor of champorado.
1 Chocolate Champorado Recipes
Champorado is traditionally made with locally-made chocolate rounds, which is the main ingredient of the Filipino hot chocolate drink, tsokolate eh. If you can't source any, you can also use cocoa powder or even baking chocolate! You can even try it using white chocolate for an extra milky champorado or swap the rice for oatmeal for a no-cook version!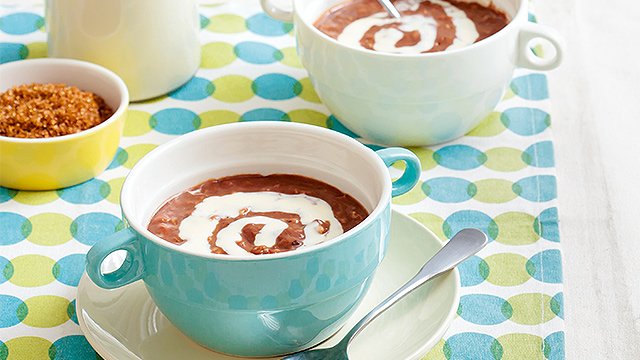 Champorado Oatmeal Recipe
Posted in:
Recipe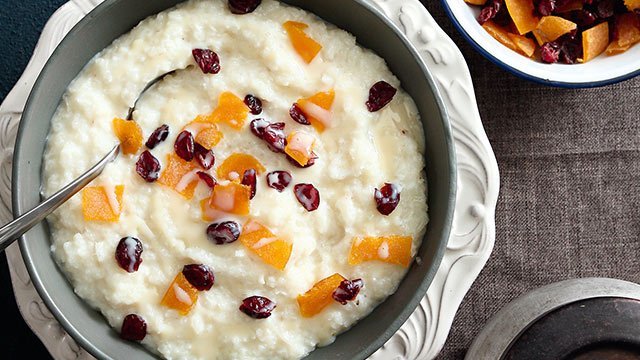 White Champorado Recipe
Posted in:
Recipe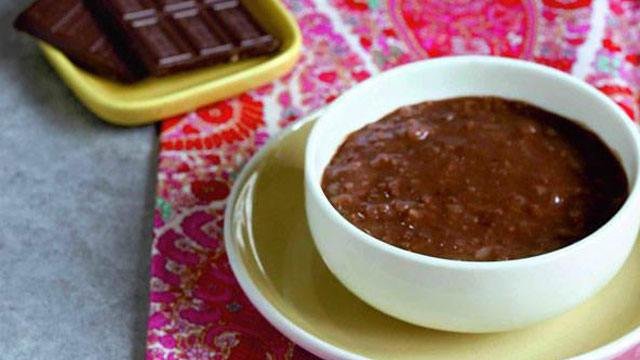 Dark Chocolate Champorado
Posted in:
Recipe
2 Ube Champorado Recipe
Add a twist by making your champorado with ube!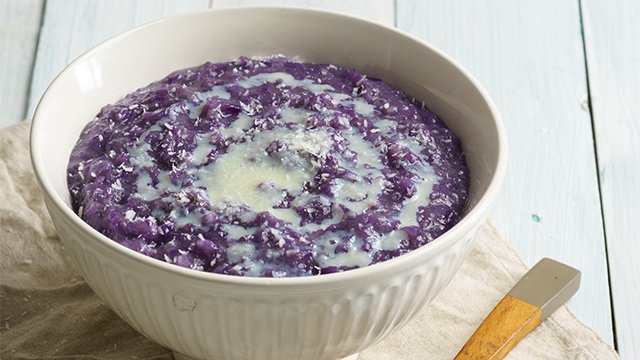 Ube Champorado Recipe
Posted in:
Recipe
***